Eighty years ago on January 6, 1939, a passionate Jazz fan named Alfred Lion produced a recording session in New York City with two Boogie Woogie pianists, founding what would become one of the most respected and longest running Jazz labels in the world, Blue Note Records. Together with a fellow German immigrant, photographer Francis Wolff, recording engineer Rudy Van Gelder and graphic designer Reid Miles, Blue Note records would go one to not only build one of the greatest catalogues of recorded music in jazz history but also shape the sound of jazz for generations.
The skills that this team brought to the table set the scene for a perfect storm that would ensure the label's place in history. Lion's keen A&R skills allowed the label to contract an artist roster of consisting of almost all of the most iconic legends in the world of jazz. Van Gelder's recording skills created the sound. Wolff's photography created many of jazz histories most recognized images and last but not at least Reid Miles tied all of this together defining a look that still to this day screams Blue Note.
Blue Note's legendary catalogue traces the entire history of the music from Hot Jazz, Boogie Woogie, and Swing, through Bebop, Hard Bop, Post-Bop, Soul Jazz, Avant-Garde, and Fusion, and into the diverse and vibrant sounds of today. The artists Blue Note recorded represent the pillars of Jazz history: Thelonious Monk, Bud Powell, Miles Davis, John Coltrane, Cannonball Adderley, Horace Silver, Art Blakey, Jimmy Smith, Dexter Gordon, Grant Green, Lou Donaldson, Donald Byrd, Lee Morgan, Freddie Hubbard, Joe Henderson, Herbie Hancock, Wayne Shorter, McCoy Tyner, Andrew Hill, Ornette Coleman, Cecil Taylor, and many more.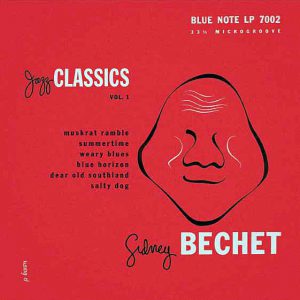 The labels first true commercial success came with the recording in June of 1939 of Sidney Bechet's version of the Gershwin classic Summertime (issued with the catalogue number BN6). Lion had met Bechet some ten years earlier in Berlin and this recording would form a pivotal roll in the history of the label. Summertime was later released on Bechet's album, Jazz Classics Vol.1 as a 10″ long playing record with a distinctive Paul Bacon design on the cover.
In 1941 Lion was drafted into the army for two years and thanks to Milt Gabler at the Commodore Music Store who offered storage facilities and together with Francis Wolff helped to keep the catalogue in print while Lion was in the armed forces. By late 1943, the label was back in business recording musicians and supplying records to the armed forces.
Towards the end of the war, the jazz world was being rocked by BeBop, a style that Lion and Wolff would embrace. During this period saxophonist Ike Quebec who at the time recorded for the label also functioned as a talent scout (a role that he would fulfil until 1963) and played a substantial roll in the labels switch to BeBop. One of the first BeBop artists to record for the label was Thelonious Monk. Monk's first sessions as a leader were recorded in 1947 and included the recording debut of drummer Art Blakey. While these early sessions with Monk initially didn't sell well they have become some of the most important recordings in the label's catalogue. During the forties and early fifties, Blue Note released recordings of other pivotal musicians of the BeBop movement such as pianist Tadd Dameron, trumpeters Fats Navarro and Howard McGhee, saxophonist James Moody and pianist Bud Powell. The sessions by Powell are commonly ranked among his best. J. J. Johnson and trumpeter Miles Davis both recorded several sessions for Blue Note between 1952 and 1954, but by then the musicians who had created bebop were starting to explore other styles.
The 1950's and early 60's were, without doubt, the labels most successful years with watershed recordings being released almost one after the other. Many pundits have offered opinions as to the secret of the label's success however apart from the sound, the look and the feel it's the quality of the performances that makes Blue Note stand out amongst the crowd. Producer Bob Porter of Prestige Records once said that "The difference between Blue Note and Prestige is two days' rehearsal. In this period Blue Note was unique in the jazz recording industry by having a policy of paying musicians to rehearse before recording. This was unique as many of the other labels at the time were producing recordings that were in essence jam sessions.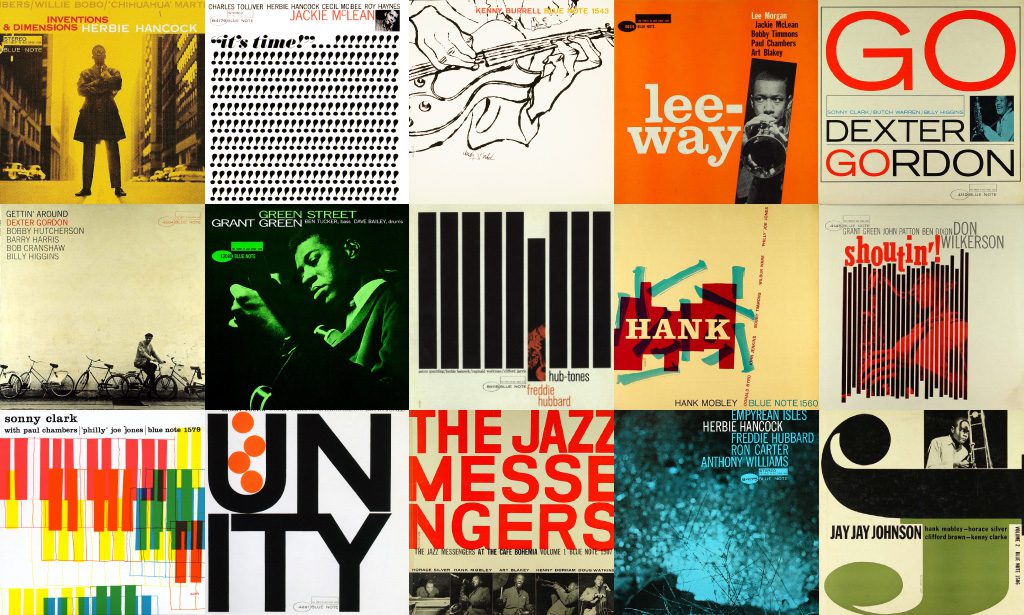 In 1965 Blue Note was acquired by Liberty Records and two years later Lion who was purported to have had difficulty working in a large organization retired. After Lions retirement, Read Miles left Blue Note and returned permanently to Los Angeles. Miles eventually became famous for closing a 1 Million dollars per year contract with Coca-Cola to produce their advertising. Francis Wolff together with pianist Duke Pearson, who had filled Ike Quebec's role in 1963, carried on until Woolf's death in 1971. For the rest of the decade, the label carried on under the leadership of producer George Butler.
In 1979, EMI purchased United Artists Records, which had absorbed Liberty Records in 1969, and phased out the Blue Note label, which lay dormant until 1985. Blue Note returned reinvigorated by the leadership of Bruce Lundvall when it was relaunched as part of EMI Manhattan Records. During Lundvall's 30-year tenure, Blue Note remained a haven for the most creative voices in Jazz, and also had its share of commercial successes from Bobby McFerrin, Dianne Reeves, Cassandra Wilson, Us3, Norah Jones, Al Green, Amos Lee, Medeski Martin & Wood, Willie Nelson and Wynton Marsalis.
Don Was, joined Blue Note in 2011 as Chief Creative Officer and became President of the label in 2012. With Was at the helm, Blue Note has renewed its dedication to Lion's original vision that "any particular style of playing which represents an authentic way of musical feeling is a genuine expression." Lion's words still ring true and provide a blueprint that includes Robert Glasper's visionary melding of Jazz, R&B, and Hip-Hop; eclectic singers from Norah Jones to Gregory Porter to Kandace Springs; and the full spectrum of instrumental Jazz artists from legends like Wayne Shorter, Charles Lloyd, and Dr. Lonnie Smith to future legends including Ambrose Akinmusire, James Francies, and Joel Ross.
Blue Note Records is currently one of the flagship labels of the Capitol Music Group and Universal Music Group.
Throughout 2019 Blue Note will be celebrating the 80th Anniversary of the label with vinyl catalogue reissues, the Blue Note Review boxset subscription series, a documentary film, live events, branded apparel, art prints of classic Blue Note imagery, streaming initiatives, and more.
More Details can be found on the Blue Note Records website.
Last modified: February 15, 2019