Editors note: Grammy award-winning producer Jason Miles attended this year's Jazz Congress 2019 in New York.  All of our team really appreciate Jason and his support.  Read Jason's thoughts and feedback on this growing International  Jazz event.
It started out as a small gathering called Jazz Connect. It was an idea started by Jazz Times Magazine to take advantage of all the people who came to the APAP convention at the NY Hilton. A few panels and lots of familiar faces…it was free the first year.
With its steady success and growth, the venue changed to  Saint Peter's Church where beautiful memorials have been held for musicians and artists who have left us. With its continual growth and popularity, two years ago it moved again to  Jazz at Lincoln Center and renamed the Jazz Congress. It's in a facility that can hold many more people and can offer larger events and panels. This year it flexed its muscles as a full-blown event with what I imagine are a few thousand people who attended over the 2 days. So, now we have an international event with jazz musicians and jazz business people coming together for two days to talk and see what's going on on various panels and discuss the state of the business as it moves forward. Having the muscle of Jazz at Lincoln Center behind the event definitely pumps up the volume as far as what can be offered to the attendees that now pay anywhere between $125 and $250 to attend for both days.
I have been in the business for 45 years and when I go to an event like this I look to reconnect with old friends and people in our business that I may not be able to get close with over the course of the year. I look to see what the panel subject might offer of interest.  There is no doubt that the business side of the business has drastically changed over the last few years for sure. There are definitely some serious experts in their field on some of these panels. Now you can come to an event like this never knowing exactly who you're going to bump into and collect valuable information to help you at least understand what is going on in the world of jazz in 2019. I try to be objective but at this point, after all my years of both paying my dues and music industry experience at a high level, some of the panels for me are not required. I do however encourage others to consider that those panels are a place of education and should be seriously considered. Personally, I am always interested in things that are new for me to explore and enhance and compliment my own business.
I did, however, attend a few panels and a couple of events. Here's the low down on how I saw it. As usual, the first thing that happens for me is I run into a whole bunch of folks I know and immediately start to catch up…This catching up often delays my entrance to a panel as was the case with the management panel.  The same thing of bumping into friends and colleagues then happens all over again. These same people gave very positive feedback on the panel's productive and informative information. One thing that was evident above all other was that the artist often confuses the primary role of an artist manager. Just because one has a manager doesn't mean they will have success. It takes a real connection and vision for an artist and manager to connect…that was a message that time and time again is grossly underestimated. The relationship is two-way and for synergy to happen the manager actually has to feel they can do something for the artist.
I then made it over to the panel on Record companies…if this was 15 years ago there would have been 5-10 jazz labels that would be there and a number of them on the panel…But in 2019 we had basically two labels representing Jazz. Motema and Mack Ave…both label presidents. Jana Herzen and Denny Stilwell were there and talking about how Jazz labels operate in a world where the question really is what does a label do for an artist in this environment of really no physical product. In today's world, so much is actually dependent on the artist themselves to sell the physical product due to a lack of retail outlets. That really was never the job of the artist on tour. The merchandising was handled by the label, but now it is front and center. Streaming is the way of the future. Many talk about the niche revival of Vinyl but when I spoke to some artists at the conference, who've invested in vinyl only to be disappointed that it wasn't selling and that it is very bulky to take on the road. It highlights in today's world that you (the artist) have to actively market to make good sales whether vinyl or CDs.
I came away with really no answer and no better understanding of how labels will operate in the future. I can just talk from my own experience of making records for the last 45 years and what it was like to be really funded and promoted by a record company. Yes, there were definitely obstacles dealing with people. But the album got out there and was promoted and you were able to go and at least have a  semblance that there was a team behind you. I was wondering why Blue Note, Verve and Impulse weren't represented there?
I then went to the Appel room where Darlene Chan was given the Bruce Lundvall award for her total commitment to the music over her many years booking festivals at the Hollywood Bowl and working at the truly great festivals like Jazz Fest and Newport. Darlene has preferred to be behind the scene so she gave a short but very nice acceptance speech. She gave me the opportunity to play at the Hollywood Bowl two years ago opening up for George Benson and not only was it an amazing career highlight but I am truly grateful for getting that opportunity and told her so.
Then one of the major highlights I believe in Jazz history took place. Many surviving members of Art Blakey and the Jazz Messengers came together to celebrate his one-hundredth birthday.
There was a very large crowd in attendance in the Appell room and great musicians like Branford Marsalis, Winton Marsalis, Randy Brecker, John Faddis, Jimmy Owens, Reggie Workman, Cameron Brown, Benny Green, Bobby Watson, Kevin Eubanks, Terrence Blanchard and at least 10 to 15 other all gave their recollections of working with Art and they had some great stories that were both informative and also very entertaining. It made me realize just how really special many Jazz musicians are because of the life that they have lead and experiences they've taken out of life and how they've been able to communicate to us very vividly their stories. The crowd just ate it up and I have to say in all of my years of doing this-this was definitely a world class moment in Jazz. Immediately after this 2-hour event, a reception was held in the main area which was just basically a schmooze. If I had any criticism I felt that for the money that one spent there should have been some refreshments for the crowd. Many had waited all day to attend. Four dollars for a 6-ounce tin bottle of Coke Seems to be par for the course these days at events like this!
I came back the next day with the objective of attending a couple of more panels. I missed the panel on Miles Electric and from what I understand it was more of musicians that worked with him in the early 70s just telling stories about Miles. But not really getting into a lot of musical insight into the music. I heard it was however very entertaining and many enjoyed it. After seeing about 20 other people that I knew I made my way into the panel on the Newport Jazz Festival. It was interesting to hear the new festival creative director Christian Mcbride talk about the festival and with his partner, Jay Sweet discuss how they see the festival moving forward in the future. The real reality is so many submissions so few performance slots.
It was also great to see the guru of the festival George Wein Be in attendance on the panel and talk as well. He has some amazing stories and incredible moments that have happened over the 65 years of Newport. I try to be very diplomatic in my opinion because I realize these guys are in a tough position with so many artists that would love to play the festival but that don't get the chance because of so many circumstances from numbers to politics. The thing that really comes at me is that festivals are the places where an artist can really make some money because it deals with so many people coming in and there is definitely budgets to work with. I believe there needs to be more jazz festival in all different sizes in all different places to help artists grow, and as conduits to larger festivals would also be excellent and help keep Jazz alive for the coming generations. That is a whole other conversation in itself.
I started looking around and I started seeing various different artists that I knew and some that I had worked with who really didn't have a clue how to network and how to make progress to keep moving a Jazz career going. I met several people and introduced them to certain people that I thought could help them. I guess that's my contribution to try to get people together that maybe can help each other when we are all in one room together!  Even I look to network with people that I don't know and that I have never met before. If you can't do it at a place like the Jazz Congress where else can you do it?
I then made it over to the panel with agents and there were a couple of well-known agents there including Katherine McVicker from Music Works International…I heard some very good information on the best way to approach an agent and when you submit stuff to them how to submit. That should be embraced as a very valuable lesson to many artists that are looking for an Agent and want to know how to approach them and what they should send to them. There were talks about festivals and what festivals look like but the most important thing is the agent has got to have enough material and enough good stuff to be able to submit the artist. The room was really crowded and I hope that people got the message.  Your developing growing fanbase is paramount, you must connect with your fans. Use the platforms the modern world provides. Never be apathetic as fans can tell and will migrate!
I then had various meetings with people to catch up and to explore future possibilities. In the end isn't this what the Congress is ultimately about? To continually explore both the future possibilities as well as observing how things have developed over the past year.
With the continued rapid pace of change happening within the music scene, I find myself once again asking – is the jazz community, set up to be able to move forward and keep the music moving forward for the future? I believe some people will always be very optimistic and others won't be as optimistic. Is there a tidal shift? Depends who's telling you!  The trick is accepting change is a constant in everything, with the choice depending on context and what you want to emphasize!
Right after the last panel was over the place started getting packed. The Roy Hargrove memorial was about to take place. I decided at that point that it was probably going to be hours and hours long…I opted to go home and to stream it…even though I know people had a great time there at the actual event the quality of the streaming from Jazz at Lincoln Center is really excellent and I think I enjoyed it as much at home from the comfort of my couch. There are many reviews of the event that are available online. I hope you got a little taste of what was going on from my coverage. If it happens again I probably will be back again next year to see if jazz is moving into the future, going backward, or staying the same. It gets more interesting by the day as events and new paradigms reveal themselves.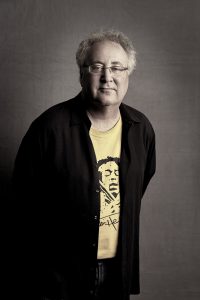 Grammy-winning Jason Miles extensive collaborations with such giants as Miles Davis, Luther Vandross, Grover Washington Jr., David Sanborn and Marcus Miller, to his own critically acclaimed recordings including To Grover With Love: Live in Japan (2016), Kind of New (2015, with trumpeter Ingrid Jensen), Global Noize (2008), What's Going On? Songs of Marvin Gaye (2006) and Miles to Miles (2005), New York native Miles has always been a restless seeker.
As an independent artist, Miles has contributed to recordings by Whitney Houston, Michael Jackson, Aretha Franklin, Chaka Khan, Michael Brecker, The Crusaders, Ruben Blades, Freddy Cole, George Benson, Joe Sample, Herb Alpert, Vanessa Williams and many others. He has performed at top festivals and venues throughout the world, including the Monterey Jazz Festival, Jazz Aspen, Umbria Jazz, North Sea Jazz, Jacksonville Jazz Fest, the New Orleans Jazz and Heritage Festival and Tokyo Blue Note.
Photo Credits: Sharla Feldscher
Last modified: January 20, 2019