"Thursday nights at Ronnie Scott's will never be the same again"…. This, I overheard, being said amongst two chaps who were leaving the venue after Mr Goldblum's gig, happy in the knowledge they had just witnessed a good jazz gig.
For that particular gig, that day, I had to arrive at Ronnies earlier than I normally do as there were to be two separate shows planned (one early and one late). It is always rewarding, I believe, to sit at the bar (where us people from the Press normally get seated) as one can easily be sitting next to a very famous person or just merrily listening in to conversations (can't be helped as the space between the seats is basically non-existent).
After a marvellous support show by Alice Zawadzki and her band, Jeff Goldblum and his band finally came on stage. I say finally as Mr Goldblum had been gravitating around the Club, before and during the support act, being shown where the downstairs dressing rooms were, being smiled at by adoring fans and in turn asking the crowd coming in and the one already seated whether they were having a good time and being looked after well by the staff, as well as stopping for the selfie de rigueur with fans.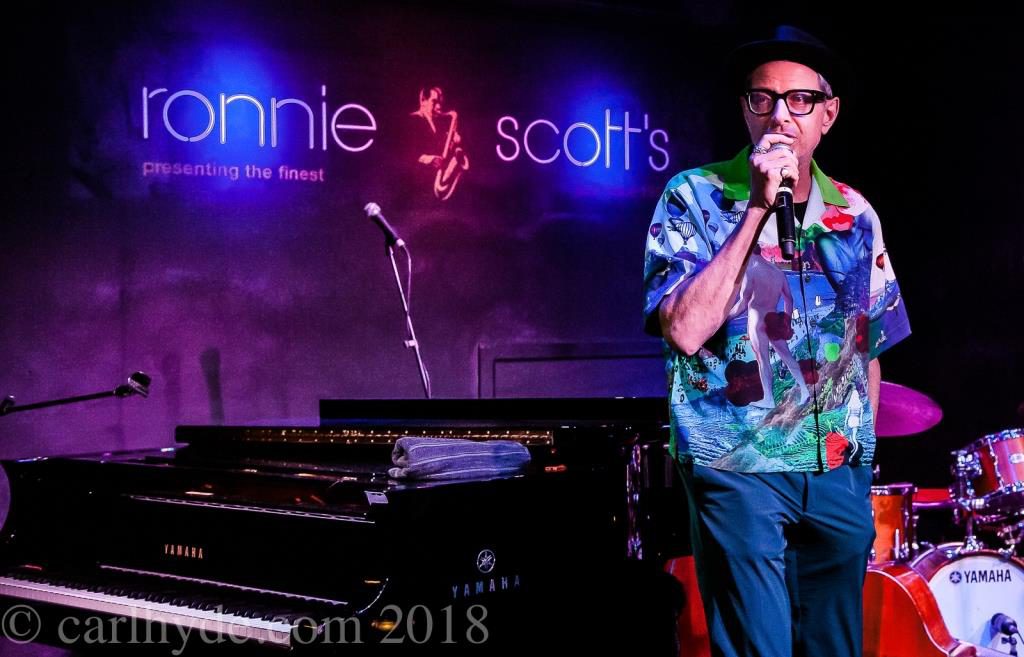 Once on stage, playing did not start straight away, instead, we were offered anecdotes, brief stories and quiz-like interludes. Goldblum asked the audience to guess where his very coloured short-sleeves shirt originated from. Hinting at the fact that he had been wearing a different shirt for every show, it was finally concluded and guessed right that the piece of clothing was by Prada.
Whilst I don't condone generally on my write-ups to give space to gratuitous product placement, in this instance, I believe it is rather relevant to give a clearer idea of the mood of the show.
Many snippets of conversation, quite a few jokes and quizzes inviting the audience to participate in the show in this way to a mere guess on who the designer in question was, actually, quite predictable…
But back to the music with a little hint of notes of the jazz standard "Cantaloupe Island" (originally composed by Herbie Hancock back in 1964) and an awkward diatribe on what the best pronunciation for the word Cantaloupe would be. The show is back on to "talking mode" and leads to an unexpected national anthems singing: the actor, presenter and comedian Rob Brydon had previously been seen taking a seat in the pit so when Goldblum asked him to sing one, he (Brydon) marvelled everyone with a clear and apt voice singing the Welsh (what else) anthem!
Charlie Mingus made a musical appearance during this very sold-out show but soon disappeared for more talking interludes and sheets reading. Solos by Joseph Bagg and Till Brönner were, in my opinion, the best. The band seemed to lead most of the times and I became a bit worried when I found myself distracted by looking at my nails…
Performing a composition by Thelonious Monk made sure the audience stayed impressed whilst guest vocalist Imelda May gave the show a sense of forced style on to the general pathos, especially with a sanitised version of "Come On-a My House" (originally performed by Rosemary Clooney back in 1951). Duke Ellington's music was also part of the show featuring a smooth solo by trumpeter Till Brönner and after a few more interludes and a Michael Caine's voice through the ages imitation by Brydon, the time to wrap up the first show came about.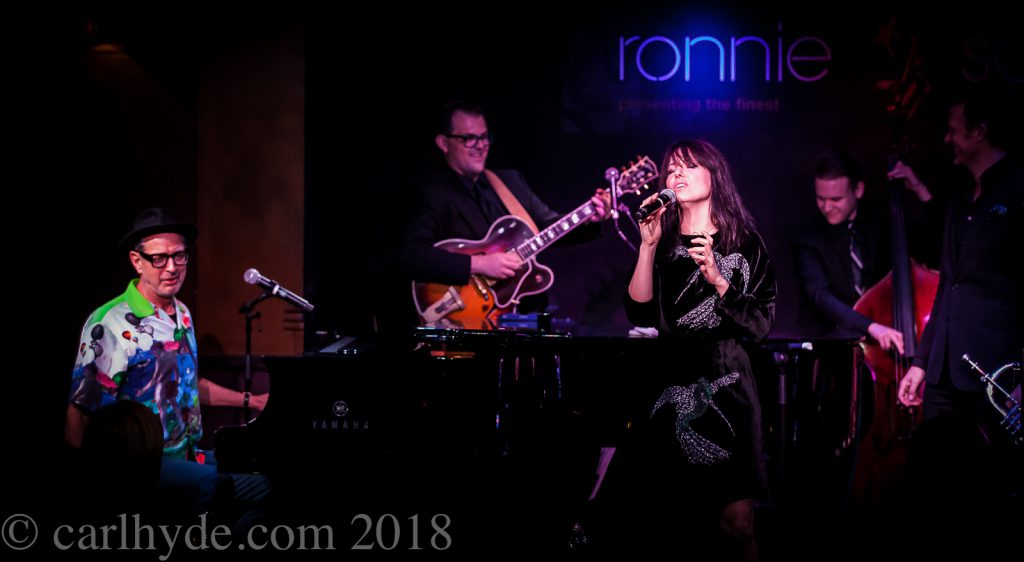 As the great Prince sang a few years ago "If you ain't gonna break the mould, even at the centre of the fire, there is cold and all that glitters ain't gold" (from The Gold Experience – 1995).
Personnel: Jeff Goldblum – piano; John Storie – guitar; Alexander Frank – bass; Kenneth Elliott – drums; Joseph Bagg – organ; James King – tenor sax; Till Brönner – trumpet (special guest); Imelda May – vocals (special guest)
Writer: Erminia Yardley
Photo credit: Carly Hyde Photography
Last modified: April 10, 2019