The first time I ever saw Take 6 perform was about ten years ago in London; it has since been etched in my memory as the best gig I've ever seen. So, to have the chance to see them again in the newly renovated Alexandra Palace Theatre, felt like the perfect Christmas treat.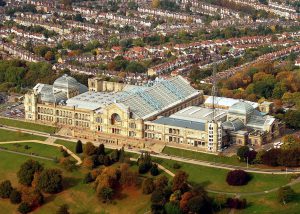 Originally opened in 1875, the theatre was a place of spectacle and delight where audiences of up to 3,000 people were entertained by pantomime, opera, drama and ballet. However, it struggled to compete with the might of the West End and the theatre went on to be used as a cinema, a chapel and the home of music hall stars before a spell as a BBC prop store and workshop. For 80 years it has been closed to the public, only to be reopened, fresh and renovated mere days before this concert.
The gorgeousness of these historical surroundings made for an especially festive atmosphere. We were lucky enough to be treated to a multitude of Christmas songs scattered throughout Take 6's set – a rare treat that only audiences fortunate enough to catch them at the right time of year get to experience. Classics like 'I'll be home for Christmas', 'Let it Snow'; an extremely sophisticated arrangement of Tchaikovsky's 'Dance of the sugarplum fairy', aptly renamed 'The sugarplum dance' chastened off with a set of traditional carols, awed the audience.
It is immediately clear from the first note how incredibly out- of- this- world talented, innovative and virtuosic these singers are. Having started the group 38 years ago, with a plethora of Grammy awards and countless other accolades to boot, you might be forgiven for thinking that Take 6 might be getting a bit tired. And there you would be very wrong. They explode onto the stage with their first song filled with incredible energy, synchronised dance moves, filling the theatre with what can only be described as infectious pure joy. Take 6 are beyond tight. Whether they are wowing us with classics from their earlier albums 'Spread Love, 'I've Got life', 'Feels good', or showing us their unique take on our favourite covers, Stevie Wonder's 'Overjoyed, Eric Clapton's 'Change the World', Al Jarreau's 'Roof garden', singing spiritual religious songs 'Family of God', they never fail to completely bowl over their audience leaving them totally awestricken.
Nothing is left to chance, all have been expertly and meticulously architected to leave audiences desperate for more, proof lying in the two encores and multiple standing ovations they received. The first half was an acapella set showcasing how these six voices can totally own any room, beatboxing and vocal acrobatics providing all the texture they need. The second set introduced the accompaniment of the piano, keyboard and two guitars which they used to expertly accompany themselves, all whilst singing in the sublime perfect harmony we have come to love.
There was a perfect mix of repertoire designed to please all as they effortlessly flitted between groove tunes to jazzier numbers, to carols, featuring some pretty involved choreography at times! As the concert was reaching its climax the audience participation element grew, culminating in a beatboxing/dance battle between Mark (the architect) Kibble and Khristian (the newbie) Dentely where they exchanged quotes of Michael Jackson songs during a heated beatboxing challenge. The audience went wild, everyone completely stunned by the display of virtuosity and innovation. And almost when you think it can't possibly get any better than this, they decide to reunite everyone in a rousing chorus of 'Oh come all ye faithful' with bells on… to finish; the perfect end, to the Take 6 experience.
Ten years later I wasn't expecting to have the same heart-stopping response. If anything I think Take 6 seems to be maturing like a fine wine… it seems to only get better with age… and long may it continue!
Artist website: Take 6
Writer: Paola Vera
Paola Vera also had exclusive backstage access to interview Take 6  – Interview coming soon in our Spring 2019 print magazine.
Feature Photo Credit: Ed Keane and associates took by John Shyloski
Concert Photo credits: Paola Vera
Last modified: February 21, 2019