Editors note: Chris Gall is a well known Munich based pianist who justifiable has a great reputation both in the jazz community and beyond. Chris naturally migrates across musical genres. Comfortable with a well-grounded training as a classical pianist, constantly challenging himself to musically evolve.
Room of Silence is German pianist Chris Gall's latest studio album, the second solo album he has recorded. It was released in November of this year.
The title track is the second on the album. It sings out the title from the very beginning. Then, the standard
It Never Entered My Mind Richard Rodgers.
Immediately it's obvious that he's playing a different piano. This is because he wanted the standards on the album to be more original – he didn't want the same rendition of a standard, something that many players have attempted, to be played on a concert instrument. He wanted it to be more interesting, less 'clean-sounding', warmer.
This makes complete sense. The piano is an ancient Feurich upright with the casing removed. It is imperfect; worn-sounding, ringing and noisy. It conveys a mood of nostalgia – sounding like the instrument many youngsters would learn to play on. The song is given a flowing 6/8 treatment which does set it apart from other versions of this song, reminding me of Mendelssohn's Songs Without Words.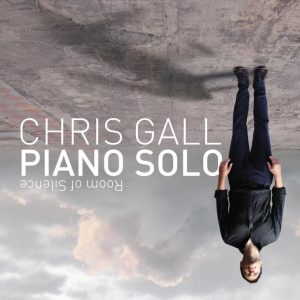 Interlude 1 is reminiscent of the juxtaposed ostinatos of Steve Reich. Gall is using a dampened instrument. This polyrhythmic piece would not be out of place as the theme tune of a science programme. The listener may wish to hear more, hear the piece develop, but then perhaps it wouldn't qualify as an interlude. Later, it's reiterated twice, punctuating the intensity of the other tracks with its playful mood.
Another Love Song is a melodic piece with ornamented Phrygian passages. There are vestiges of Satie here until the piece builds towards the end, Gall enjoying himself with chords, rising and falling, chiming and subsiding, whilst in contrast, Mosaic is dark, oscillating, relentless; a cracked, crazed surface almost tangible amidst the notes.
Backstage Cadence's whole tone and diminished scalar passages and running left hand has echoes of both Debussy and Beethoven. There's also more of the modern piano jazz language in this piece than in many of the others, more sophisticated harmonies and recognisable licks.
Oscar Peterson's Hymn to Freedom is the standout track on this album. Although a first listen pointed towards Gall playing a prepared piano à la John Cage, he is playing a third piano – the one in his own studio – and laid a sheet of music over the strings of the piano to affect the keys under his left hand. He produces a dry woody slapped bass sound as well as a percussive sizzle which gives this piece a firm resonance and rhythm.
The final piece, Hays, is a life-affirming melody with some subtle gospel-influenced chording.
Chris Gall's approach to using different sounding instruments does indeed set his work apart from other pianists'. The mathematical but spirited Interludes punctuate the other the atmospheric, sometimes brooding pieces mood momentarily.
The entire album has a feeling of calm. Listeners will surely feel as though they had spent a contented hour in Chris Gall's Room of Silence.
Artist website: Chris Gall
Purchase: Room of Silence
Writer: Wendy Kirkland
Photo Credits: Mark Meyer
Last modified: April 10, 2019