Hand in Hand is the latest release from Belgium based duo Ivan Paduart and Patrick Deltenre. According to the press release that accompanied this album, the album title Hand in Hand "…contains two meanings. Firstly, of course, it reflects the artists' collaboration as a duo; two creative individuals pursuing a musical goal together. Secondly, it is the combination of two harmonic instruments; their sounds are interwoven in such a way that individuality is maintained, while at the same time, a genuine dialogue is created rather than simple musical duplication." On first listening, I would have to agree with this statement and to continue the analogy I would go so far as saying that these musicians fit together like a "hand in glove".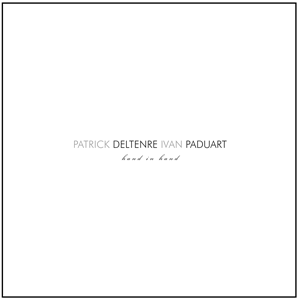 Ivan Paduart and Patrick Deltenre have known each other for many years originally working together in the fusion quintet Aftertouch in the late 1980s. Since this time their careers have diverged. However, the two always held the desire to work together again on another project. The opportunity arose in 2017 when the two musicians performed a Duo concert sparking the idea of recording a duo album together. Fast forward to 2018 and the result is here.
This album is without doubt European in nature, lyrical and yet firmly rooted in the jazz tradition. The set features ten original compositions with each of the two musicians contributing five tracks each. Sonically the album is superb, the piano sound is mostly transparent, perhaps a little edgy in the top end however this is in no way distracting. Patrick Deltenre uses little or no effects on this recording allowing the instrument to largely speak for itself, a refreshing thing in this day and age of over-produced acoustic instruments.
The album opens with a jazz waltz titled "Menorca" penned by Ivan Paduart, it becomes immediately clear these two musicians fully understand the intricacies that come with a duo album featuring duel chordal instruments. Throughout the album, both guitar and piano weave through the material with great respect for each other and at no time cluttering the sonic space. I particularly enjoyed The following track also written by Ivan titled "Aperoses". This track is melodically more complex than the opening track with both players taking sections of the melody often individually and at times in unison. I recommend a number of listenings for this track as it tends to reveal new layers with each spin.
Other personal highlights on the album include the first composition by Patrick Deltenre "Pigeons" with it's enticing muted intro and refreshingly voiced melody played by the composer and "Lianes" that immediately conjured flashbacks to Pat Metheny's Bright Sized Life.
Throughout the album, Ivan Paduart's playing is superbly tasteful, restrained when needed and extrovert when appropriate. Guitarist Patrick Deltenre's playing is highly melodic and leans heavily on the tradition and is often infused with a Blues tint. As I mentioned above, both players compliment each other perfectly and this is undoubtedly an album where the whole is greater than the sum of its parts.
I highly recommend this album.
Track Listing:
1. Menorca | 2. Aperoses | 3. Pigeons | 4. Hand in Hand | 5. La Grazia | 6. Lianes | 7. Draisiennes | 8. Fringale Matinale | 9. Mignardises | 10. Ravioli's Blues
Line-up:
Ivan Paduart, Piano | Patrick Deltenre, Guitar
Release Date: 23 November 2018
Format: CD | Digital
Label: Mons Records
You can purchase or stream the album here.
Last modified: December 13, 2018