Psychedelic jazz has been in a resurgence and likely connected to the commemorations of 1967 (50th year anniversary of the Summer of Love last year) and so many recollections this year comparing 2018 to 1968 the violent and unsettling year that witnessed the unravelling of the Flower Power era.
Meanwhile, in our own psychotic times, the Heliocentrics, a collective of musicians based in London, led by drummer Malcolm Catto, are at the forefront of neo-psychedelic jazz, though they are not trapped in any genre whatsoever, incorporating psyche rock, African roots and trance, drone and improvisation.
To hone their collective cohesiveness they have recorded and toured extensively and most frequently with some of their strongest influences including the Ethio-jazz maestro Mulato Astake, the Afro-beat, groove pioneer Orlando Julius, and the Persian/Afghan jazz expert and saxophonist, Dr Lloyd Miller.
One of their most recent recordings ("A World of Masks," 2017), is with another exotic non-British collaborator as front person, who is also from the East but not meaning the Orient in this case. Their new vocalist, Barbora Pátková, is from Slovakia, Eastern Europe, though now based in London.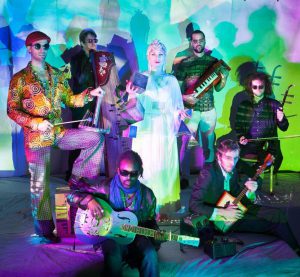 On most tracks, Pátková chants more than sings,  giving "A World of Masks" an exotic Oriental and Indian flair that merges with some of the deepest funk and groove around for an all rhythmic thrust. The instrumental tracks toward the end of the recording also recall the intense and long grooves of the jazz-influenced '70s era German Kraut rockers, Can, more than Sun Ra or fellow space jazz travellers.
They take this psyche-sound further in another 2017 recording, "The Sunshine Makers" (2017), an instrumental soundtrack to a feature-length documentary about a couple of missionaries for the propagation of LSD in the era of mid-60s Haight-Ashbury, San Francisco, which then went global.
Psychedelic jazz at its peak in the 1960s through the mid '70s had some remarkable groups based in the UK and Europe including the Dave Pike Set, Wolfgang Dauner, Volker Kriegel, Julie Driscoll with Brian Auger and the Trinity, the Pyramids, the Kuhn Brothers and the Mad Rockers, Okko Bekker, the Mike Nock Underground, and others; while the Heliocentrics greet these predecessors then rise above.
Catto has said that one of their influences preparing them for sessions with Julius Orlando was the Psychotic Aliens from Ghana, a '70s blend of Afrobeat, Funk, Soul and Pop or as they called it at the time, Psycho African Beat. It is their African-Ethio-jazz groove mixed with all of the other expected ingredients that propel the Heliocentrics into its own psychedelic stratosphere, and high up there it is.
Artists Facebook: The Heliocentrics
Upcoming concert: Friday, December 7 – Palac Akropolis, Prague, Czech Republic
Writer: Tony Ozuna
Last modified: November 27, 2018