It's here, Maxine Gordon's biography of Dexter Gordon titled "Sophisticated Giant, The Life and Legacy of Dexter Gordon" is now available.
Published by University of California Press, this book has been a long time coming. In a recent interview with Fiona Ross published in our Winter edition of the Jazz In Europe Magazine Maxine said. "I mean I promised him (Dexter Gordon) I would do this, but when I made the promise I didn't really know what it would take. I mean he died in 1990, I had to go back to college – I wanted to write about jazz in the context of African American history, – but you know, I had to study it. You have to learn research methods, oral history. I mean I didn't want to just write another jazz biography – that wasn't what he had in mind."
It's now 28 years further down the road and the book is now here and what a work it is. Reading like a jazz composition, the blend of research, anecdote, and a selection of Dexter's personal letters reflects his colorful life and legendary times. It is clear why the celebrated trumpet genius Dizzy Gillespie said to Dexter, "Man, you ought to leave your karma to science."
Earlier this month Maxine completed the US leg of her Book Tour. Now back in Europe she will be doing two events to promote the book. On Wednesday the 21st of November, Maxine will be at the Barcelona Jazz Festival where there will be a screening of "Round Midnight", the 1986 American-French film directed by Bertrand Tavernier that stars Dexter Gordon and includes cameo roles from Herbie Hancock. Martin Scorsese and Wayne Shorter.
Prior to the screening Maxine will give a presentation and of course be available to those in attendance to sign copies of the book. The following evening Joan Chamorro & Friends will perform a concert titled "Sophisticated Giant: Dexter at 95!". Maxine will also be in attendance at the concert.
A week later on the 28th of November, Maxine will be in London to do a meet and greet, book signing and LP Listening session at Honest Jon's Records in Portobello Road.
After London Maxine will return to the states where she will do a number of signings and presentations in Philadelphia, Washington, and New York. Of note will be the book signing at Uncle Bobbie's Coffee & Books in Philadelphia on the 5th of December where Maxine will be joined by author and Professor of English and Comparative Literature and African-American Studies Farah Jasmine Griffin. Griffin is the author of "If You Can't Be Free, Be a Mystery: In Search of Billie Holiday" and "Clawing at the Limits of Cool: Miles Davis, John Coltrane, and the Greatest Jazz Collaboration Ever" and wrote the Forward to Sophisticated Giant.
This book is a vital addition not only for fans of Dexter Gordon but for jazz fans in general. If you have the opportunity we can recommend attending one of these sessions. As Fiona concluded in her extensive interview "Maxine Gordon not only holds and shares the flame of Jazz, she is an actual part of that fire."
Details of Maxine's appearances are listed below"
Filmoteca screening of Round Midnight, events sponsored by the US Consul in Barcelona with Maxine Gordon
November 21, 2018 [6:30 PM] Venue: Barcelona Jazz Festival
Concert Tribute to Dexter Gordon with Maxine Gordon
November 22, 2018 [9:00 PM] Venue: Luz de Gas, Barcelona, Spain
Book Signing and LP Listening Session with Maxine Gordon
November 28, 2018 [7:00 PM] Venue: Honest Jon's Records, 278 Portobello Road, London, England, W10 5TE United Kingdom
U.S.A
Book Signing and Discussion with Farah Jasmine Griffin and Maxine Gordon
December 5, 2018 [7:00 PM] Venue: Uncle Bobbie's Coffee & Books, 5445 Germantown Avenue, Philadelphia, PA, 19144 United States
Screening of Round Midnight and Discussion by Maxine Gordon
December 13, 2018 [6:30 PM] Venue: Library of Congress, Mary Pickford Theater, James Madison Building 101, Independence Avenue, Southeast Washington, DC, 20540 United States
Book Signing and Discussion with Maxine Gordon
December 18, 2018 [12:00 PM] Venue: 92nd Street Y, 1395 Lexington Avenue (between 91st and 92nd Streets), New York City, NY United States
Book Discussion and Signing with Wayne Winborne, Executive Director – Institute of Jazz Studies, Rutgers University, and Maxine Gordon
December 20, 2018 [7:30 PM] Venue: Clement's Place, 15 Washington Street, Newark, NJ United States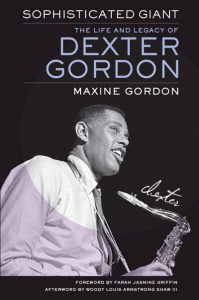 Sophisticated Giant – The Life and Legacy of Dexter Gordon
Sophisticated Giant presents the life and legacy of tenor saxophonist Dexter Gordon (1923–1990), one of the major innovators of modern jazz. In a context of biography, history, and memoir, Maxine Gordon has completed the book that her late husband began, weaving his "solo" turns with her voice and a chorus of voices from past and present.
Dexter Gordon the icon is the Dexter beloved and celebrated on albums, on film, and in jazz lore–even in a street named for him in Copenhagen. But this image of the cool jazzman fails to come to terms with the multidimensional man full of humor and wisdom, a figure who struggled to reconcile being both a creative outsider who broke the rules and a comforting insider who was a son, father, husband and world citizen. This essential book is an attempt to fill in the gaps created by our misperceptions as well as the gaps left by Dexter himself.
More Information can be found on the Publishers Website.
Last modified: November 26, 2018