Jazz In Europe Magazine
Winter 2020
Jazz In Europe magazine is available as a full-colour glossy publication and in digital eBook format for iOS and Android devices. Produced quarterly, the magazine features interviews with European and International jazz musicians as well as interesting articles related to the world of jazz.
The Jazz In Europe Magazine is dedicated to the European Jazz scene and beyond. While our focus is on Europe our reach is worldwide and this is represented by our large global readership. With the overwhelmingly positive response of our Autumn 2019 edition, we're more excited than ever to present our follow-up Winter 2020 edition.
Order your Print Version Here.
For our Winter 2020 edition once again we've listened to what you'd like to hear about Jazz In Europe and beyond. Our team has once again been successful in response. Here is a quick overview:
Our lead story; Composer and arranger Maria Schneider speaks to Andrew Read about her up-coming album Data Lords and a great deal more. Bob Mintzer sat down with Thomas Fletcher to discuss his work with the Cologne's WDR Big Band and of course the Yellowjackets.
We also hear from Carsten Dahl, one of the most creative pianists currently on the European Jazz scene. Erminia Yardley get's the back story. Award-winning trumpeter, singer and songwriter Bria Skonberg speaks with Fiona Ross and we have a exclusive interview by Scott H. Thompson with legendary drummer Jimmy Cobb. Connie Han, one of the jazz worlds rising stars of the piano speaks to Andrew Read and Darrell Craig Harris has a one on one with Sryro Gyra's Jay Beckenstein.
This edition's photo feature 'Behind the Lens' – focuses on the work of the Dutch photographer Maurits van Hout.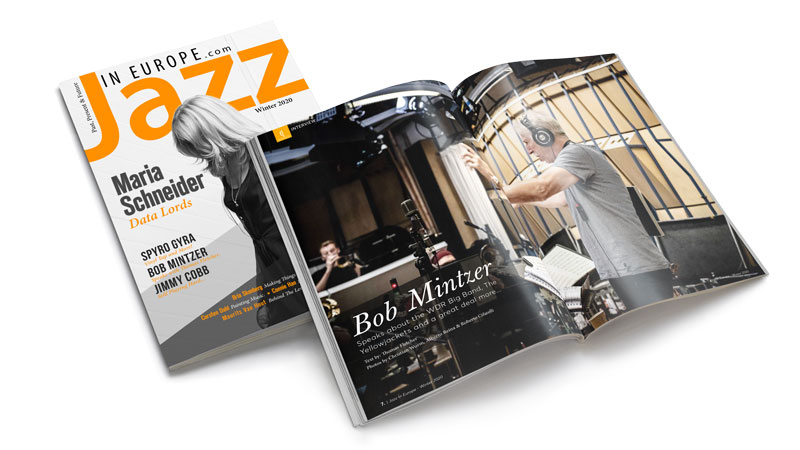 Product Description:
The magazine is perfect bound (glued spine) and printed on 100 grams gloss paper with the cover on 350-gram gloss card. And sealed in clear plastic for protection. The magazine is ordered online via our Jazz In Europe webshop. Delivered direct to your door. Order NOW!
Order Your Copy Here.


Last modified: January 30, 2020