Jazz In Europe Magazine
Summer 2019
Jazz In Europe magazine is a full-colour glossy publication. Produced quarterly, the magazine features interviews with European and international jazz musicians as well as interesting articles related to the world of jazz.
The Jazz In Europe Magazine is dedicated to the European Jazz scene and beyond. While our focus is on Europe our reach is worldwide and this is represented by our large global readership. With the overwhelmingly positive response of our third edition, we're more excited than ever to present our follow-up Summer 2019 edition.
Order your Print Version Here.
View The Web Version On Issuu.com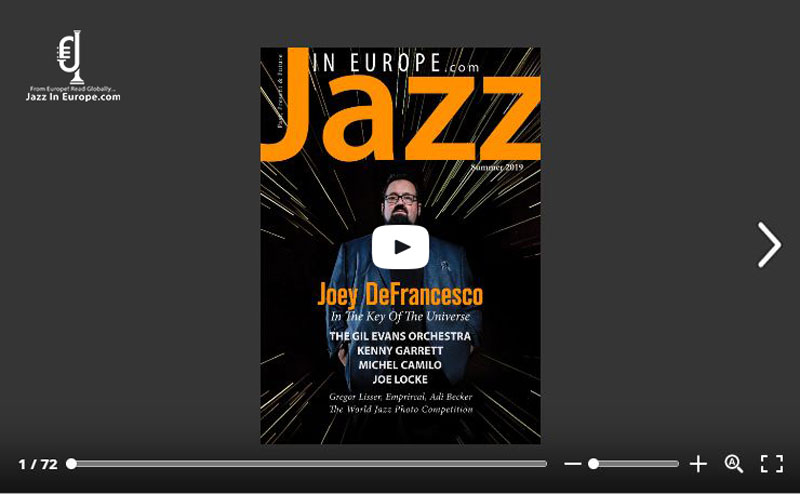 The Summer 2019 edition is once again packed with a fascinating mix of interviews and articles.
For our lead story, Andrew chats with Joey DeFrancesco. Covering many areas from Joey's inclusion into the Miles Davis inner circle. To the reason for the title of Joey's latest album – 'In The Key Of The Universe' that's very much a spiritual statement.
Adi Becker takes the natural step from consummate sideman to a big band leader. Fiona Ross interviews multiple Grammy-winning Michel Camilo. Originally from the Dominican Republic, Michel's energy and passion are clearly expressed in this fascinating interview.
Vibraphonist Joe Locke is considered by many to be one of the leading voice of this instrument. In this interview, Joe covers a lot of ground, A great read. Grammy award-winning saxophonist Kenny Garrett is Interviewed by Darrell Craig Harris. The Legacy of Gil Evans lives on through his son Miles Evans. This interview is very personal and insightful and worth the time to read more than once.
Tony Ozuna, takes us on an appreciative story, sharing how the founders and family connections inspired them to develop the now renowned Jazz World Photo Competition. Gregor Lisser speaks about his new album "On Eleven". To finish up Jan Veldman Interviews the London based quartet – Empirical. This quartet has now established itself as a leading force on the London jazz scene.
Product Description:
The magazine is perfect bound (glued) and printed on 115 grams matte paper with the cover on 250-gram gloss laminated paperboard. The magazine is ordered online and printed-on-demand at a printer near you.
To make sure your new quality Jazz In Europe Magazine arrives quickly and safely, we've partnered with Peecho the print-on-demand specialists. Peecho's handpicked global network of quality printers best ensures your order is of the highest quality print and the lowest shipping and handling costs. Delivered safely at your door. All backed by an excellent online customer service team who quickly answer your question, should you have any, no matter your location.
You might wonder what is Print-on-Demand? It delivers a modern 21st Century Environmental Tree Saving, Carbon Footprint Reducing Solution. Get More Oxygen, Relax, Enjoy, and Breathe More Jazz, order…NOW!
Order Your Copy Here.


Previous Issues​
Last modified: August 13, 2019