Jazz In Europe Magazine
Autumn 2019
Jazz In Europe magazine is available as full-colour glossy publication and in digital eBook format for iOS and Android devices. Produced quarterly, the magazine features interviews with European and international jazz musicians as well as interesting articles related to the world of jazz.
The Jazz In Europe Magazine is dedicated to the European Jazz scene and beyond. While our focus is on Europe our reach is worldwide and this is represented by our large global readership. With the overwhelmingly positive response of our third edition, we're more excited than ever to present our follow-up Autumn 2019 edition.
Order your Print Version Here.
View The Web Version On Issuu.com
For our Autumn 2019 (5th) edition and subscription launch issue, once again we've listened to what you'd like to hear about Jazz In Europe and beyond. Our team has once again been successful in response. Here is a quick overview:
Our lead story; bassist and record label owner Michael Janisch talks about his 6th album as a leader – 'Worlds Collide' There is a fascinating back story on Michaels move from sports to music and the USA to being a resident in the UK.
We hear from Binker Golding, already a multi-award winner and a rising star on both the UK and European Jazz scene. Read this interview with Grammy-nominated jazz saxophonist Chris Potter from one of our new younger writers, Thomas Fletcher. Our label feature focuses on the award-winning Los Angeles based Resonance Records. This article on the early years of Nat King Cole are sure to provide a much deeper appreciation for this artist and the impact his artistry has had across the globe.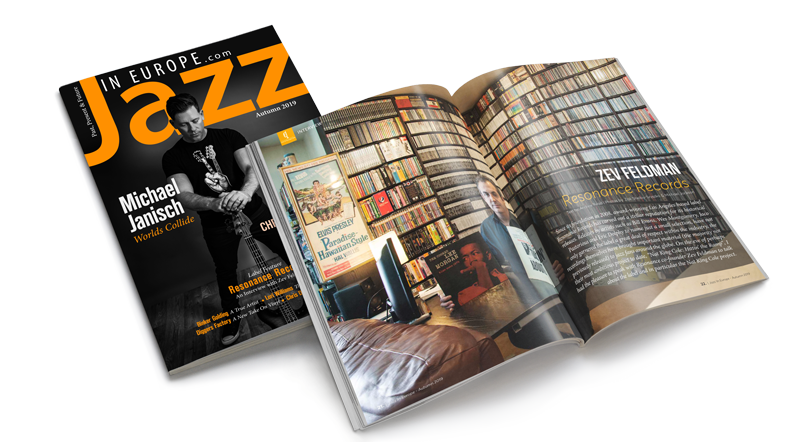 Six-time Grammar winning bassist Christian McBride discuss a wide range of topics that you're sure to find very interesting. Our photo feature 'Behind the Lens' – focuses on the work of photographer and designer, Chris Drukker. A new take on vinyl production from a company named 'The Diggers Factory' based in Paris, France. The article also explores historical and current industry related statistics to help you gain a deeper insight.
The lovely vocal artist, educator, songwriter, producer – Lori Williams spends quality time talking on many topics, including the power and importance of words in songwriting, focusing on vision and hope. Her latest album 'Full Circle' truly exemplifies this!
Product Description:
The magazine is perfect bound (glued spine) and printed on 100 grams gloss paper with the cover on 350-gram gloss card. And sealed in clear plastic for protection. The magazine is ordered online via our Jazz In Europe webshop. Delivered direct to your door. Order NOW!
Order Your Copy Here.


Last modified: November 17, 2019