Jazz artist Fiona Ross will play at the Colchester Arts Jazz Centre on December 2nd – with special guest Marco Piccioni.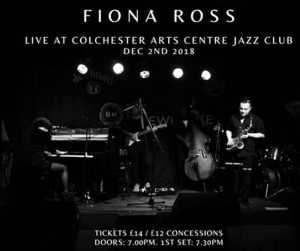 Fast becoming known for creating a new contemporary jazz sound, incorporating fast-paced Latin jazz, a hint of vintage jazz club and a soupçon of soul, allied to her distinctive vocal prowess, singer/pianist Fiona Ross has received stellar reviews for her two previous albums, A Twist of Blue and Just Me (And Sometimes Someone Else).
Fiona's latest offering, Black, White and a Little Bit of Grey, explores the story of a husband, a wife, and a mistress: a web of emotions, of desires, of regrets, of ecstasy.
Enrolled in dance, drama and singing lessons at the age of two, then piano at six, by the age of eight, Fiona was starring in London's West End. At the age of 14, she lied about her age and talked her way into gigging in jazz clubs throughout London. No one even suspected that a voice that startling in its maturity and passion could belong to a singer barely in her teens.
As Head of the British Academy of New Music, Fiona was responsible for training high-profile artists such as Ed Sheeran, Rita Ora and Jess Glynne, to name just a few.
A singer influenced by artists as diverse as Billie Holiday and Prince, Fiona's also been inspired by the Japanese jazz piano phenomenon that is Hiromi. She's also chosen some very gifted young musicians to accompany her.
"Fiona brings class and a rare ability to get everyone engaged and on their feet. A winning act in any setting, said Something Else, while Kind Of Jazz commented that her styles "are juxtaposed between jazz, Latin, waltz, swing, contemporary and neo . . . music for everyone's unique taste."
With her last two albums as vocalist, pianist, composer, arranger and sole producer, this classy, sassy lady has definitely found her place in today's jazz firmament and knows exactly where she's heading. A bold woman, who's ready to set the world on fire.
Joining Fiona is a special guest, Marco Piccioni, an exciting blues, rock and jazz guitarist who has collaborated with numerous high-profile artists, including Cleveland Watkiss. He's also part of the Modal Contemporary band Collocutor and the Dele Sosimi Afrobeat Orchestra. "The intricacy, phrasing and tones of Marco's guitar are exceptional," said Blues Matters when reviewing his debut album, Far.
With Loren Hignell (Saxophone), Gibbi Bettini (Guitar), Derek Daley (Double Bass), Adam Hayes (Drums), Ashaine White (Backing Vocals).
Fiona Ross Concert & Ticket Information.
". . . a style and sound that should become a part of everyone's soundtrack. An inspiration to all who know her." – Jazz UK
"An incisive honesty and humanity that takes each song's message straight to your heart." – Ola Onabule
'Her style is poetic and the messages ooze with Millennial angst'  – Jazz weekly
"A tonal range I've not heard since the days of a young
Lisa Stansfield." – Kind of Jazz
Photo Credits: Feature Image – Steven Tiller. Gallery – Alexander Barnes-Ross & Steve Tiller. Marco Piccioni image by JK Photography
Last modified: April 25, 2020