The Israeli Contrabassist and composer Avishai Cohen has in the past 15 years interwoven all kinds of music genres: from jazz to traditional Latino songs. But what many people do not know is that singing is also a big passion for him.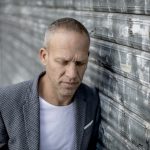 This time he decided to do it completely differently, by releasing a more mainstream album with a pop sound in which he not only plays bass and composes but also sings. For the first time, he has handed over the production, even though he works with trusted musicians.
On his latest album '1970' you will hear African and American-African musical influences, but also those of Stevie Wonder.
JazzInEurope.com is giving away 2×2 tickets for his performance in Melkweg, Amsterdam,
on Sunday, November 04th.
If interested, send us an email to info@jazzineurope.com with Avishai Cohen in the subject line.  We will also add your details to our Newsletter for future articles and giveaways etc. We will contact the lucky winners on Thursday, Nov 1st  with all the details.
More:  Avishai Cohen concert details.
Photo credit: Andreas Terlaak
YT Video: Avishai Cohen Channel
Last modified: October 29, 2018