When she was a child living in south-west Germany, Nicole Johanntgen would be woken every morning by her father playing the trombone. The experience has clearly had lasting effects: ¾ of the instruments on her largely self-written new album are wind – Johanntgen herself on alto saxophone, plus New Orleans musicians Jon Ramm (trombone), Steven Glenn (sousaphone) and Paul Thibodeaux (drums). That famous jazz city has been the inspiration for the music on this album, most notably perhaps Nachtspaziergang, a slow blues with an interplay between sax and trombone over a sort of death march played by sousaphone and drums.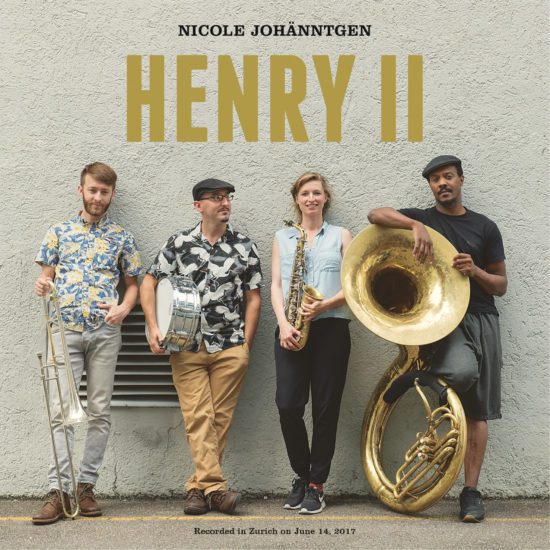 The band is not afraid of space and silence: on this album, the sousaphone solos have only the drums for support. The sparseness of the sound creates musical tension – as do all line-ups with no chord instrument – and rhythm and melody assume even greater importance than usual. But gloom is the last thing we experience on listening to Henry II. The album overall is a joyous and danceable thing, as we discover with the first track I'm Feelin' Dank (by which, I think, Johanntgen means 'thankful' rather than 'clammy' or 'humid' – although that could easily describe the New Orleans weather). Good Morning New Orleans has that familiar 2nd-line backbeat, while alto and trombone enjoy a yak-yak-yak conversation.
The only non-original on the album is a version of Ray Parker Junior's Ghostbusters. And it's here we realize the potential for funk in this unlikely instrumental line-up. Glenn gets the tune started, his solo extending over more than a minute before he establishes a consistent bassline, and Thibodeaux weighs in with his contribution. After another minute or so, the other horns finally reveal the identity of the tune.
One expects Henry II to sound weirder or more old-fashioned than it actually does. For my personal taste, the music would probably be more enjoyable live than as a recording. Fortunately, the band is on tour in Switzerland and Germany throughout the month of October, beginning in Johanntgen's adopted home town of Zurich, so we will get the chance to judge for ourselves.
Line-up: Nicole Johanntgen (alto saxophone), Jon Ramm (trombone), Steven Glenn (sousaphone), Paul Thibodeaux (drums).
Track listing: 1. I'm Feelin' Dank | 2. Nachtspaziergang | 3. Good Morning New Orleans | 4. Ghostbusters | 5. Tanzbär | 6. Henry X | 7. Sweet and Honest | 8. One More Piece of Chocolate
The band's October tour runs as follows: 18th Zurich, 19th Biel, 20th Liestal, 21st Mannheim, 22nd Pforzheim, 23rd Regensburg, 24th Jena, 25th Frankfurt, 26th Einbeck
Artist website: Nicole Johaenntgen
Written by: Peter Jones
Last modified: October 24, 2018