When you think of John Scofield, one word that doesn't come to mind is complacent. The last few years have seen a number of releases are from the New York native including his 2015 release, Past Present, earned him not one, but two Grammy Awards for Best Jazz Instrumental Album and Best Improvised Jazz Solo. His highly successful follow-up, the eclectic Country For Old Men, once again caught the attention of the Recording Academy earning him once again Grammy's for Best Jazz Instrumental Album of 2016 and Best Improvised Jazz Solo ("I'm So Lonesome I Could Cry").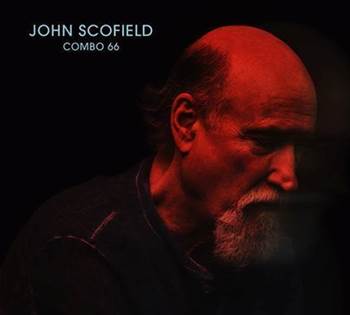 In 2017, Scofield joined forces with old friends Jack DeJohnette, Larry Grenadier and John Medeski with what was titled as the "Super Band Of The Year", Hudson. The release of this album on Motema Music received rave reviews and saw the band touring throughout the USA and Europe.
On September 28 Scofield will release a new album titled "Combo 66" (Verve/Universal). Combo 66 finds Scofield with a new quartet and fresh compositions celebrating what else? Scofield's 66th birthday! "I wrote all new tunes for this record, Combo 66," says Scofield. "I called it that because—I'm 66! And 66 is the coolest jazz number you can get because if you hit 66 you're doing ok. Remember all the great records from the 60s? Brasil 66. 'Route 66.' It hit me that it would be poetic to use that title."
Combo 66 swings effortlessly to the condor-like rhythms of drummer Bill Stewart, Scofield's percussionist of choice since 1992's What We Do. When it came to bass rhapsodies, Scofield chose upright bassist Vincente Archer of Robert Glasper's Trio. And, for the first-ever keyboard chair in his acoustic quartet, Scofield called upon 34-year-old organist/pianist Gerald Clayton, son of bassist John Clayton of the Clayton-Hamilton Jazz Orchestra.
"Guitar and keyboard is not always the easiest match," Scofield says. "Because of its percussive nature, the piano is very similar to the guitar. But Gerald has a beautiful touch and though he is quite modern, his touch reminds me of Hank Jones or Tommy Flanagan. And that really is a beautiful legato sound that works well with the guitar. Even though he's got super roots in traditional jazz, he can do everything. I'm just thrilled to play with Gerald."
"If you can't have fun with the music, let's go home," Scofield says, alluding to his working credo. "I am so deadly serious about jazz, but the fact of the matter is, jazz only works if you are relaxed and don't give a shit. If you try too hard, it doesn't work. Humour really helps me to get to a better place with music."
With Combo 66, Scofield takes us to a better place with another extraordinary album. John Scofield's Combo 66 will be available on Verve records on CD and all digital platforms.
Format: CD | Digital
Label: VERVE
Release Date: 28 September 2018
For those that can't wait, you can pre-order the album here.
Last modified: September 28, 2018