With her debut Mack Avenue Records album Crime Zone (available October 12), next generation Los Angeles pianist Connie Han has created an edgy blend of modern and traditional jazz. Han's parents, both practicing classical musicians, instilled an appreciation for music and a strong work ethic in Han very early on, enrolling her in piano lessons at the age of five. 
"Learning the piano as a child was a gift. By the time I became interested in jazz at the age of 14, I had great technical proficiency on my instrument allowing me to focus all of my energy on the more sophisticated elements of jazz music. More importantly, I was able to tackle the social equation of learning how to play with others. It takes a lot of time and patience to internalize the essence and heartbeat of jazz."
The 22-year-old's connection to jazz began at the Los Angeles County High School for the Arts where she met and was mentored by drummer Bill Wysaske, who produced CRIME ZONE and has also become the musical director of her trio. Han shares her LACHSA alumni status with several major players in the entertainment industry such as Josh Groban, Jenna Elfman, Christina Milian and GRAMMY® Award-nominated jazz pianist and composer Gerald Clayton. After a three-week stint at UCLA, Han immediately began her professional piano career at 17-years-old; a step that Han believes gives her an overall edge against most players her age.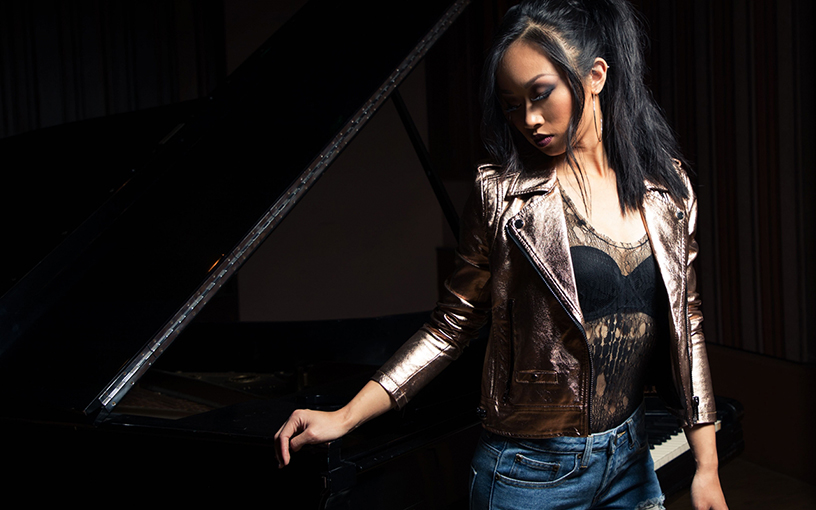 "Because I never received training from a formal jazz piano teacher, most of my musical perspective actually came from interacting with a professional drummer when I was just a youngling, trying to hang on for dear life. I think that experience has given me a unique edge which informs the heavily percussive elements of my playing."
Crime Zone features Han's in-the-groove working trio which includes Wysaske on drums and Edwin Livingston on bass. She's also enlisted the considerable talents of guest players tenor-saxophonist Walter Smith III and trumpeter Brian Swartz for the album.
On Crime Zone, Han has staked her claim as a fresh new voice on jazz piano, one whose sense of visual style might even draw audiences who normally wouldn't listen to straight-ahead jazz. "Even though jazz is meant to be fearless in its creative limits, I strongly believe in preserving the musical foundation," Han states. "As a new artist, I want to show that it is possible to create infinite fresh ideas without having to deconstruct the building blocks of the jazz language. To me, that language is universal."
1 Another Kind Of Right 5:26
2 Crime Zone 7:34
3 By The Grace Of God 5:32
4 Pretty Women 6:21
5 Southern Rebellion 6:42
6 Grüvy 7:34
7 A Shade Of Jade 3:55
8 Member This 6:50
9 Is That So? 5:53
10 Extended Stay 5:30
Connie Han, Piano, Piano/rhodes, Rhodes | Edwin Livingston, Bass | Walter Smith III, Tenor Saxophone [1-4, 9] | Brian Swartz, Trumpet [1] | Bill Wysaske
Drums
The Album will be available on the 12th of October on Mack Avenue Records.
More Information and pre-order here.
Last modified: September 11, 2018