In 2015, award-winning saxophonist, bassoonist, composer Ben Wendel released a music-video art project entitled 'The Seasons' – inspired by a set of twelve piano pieces written and released each month by one of his favourite classical composers, Tchaikovsky, in 1876. Wendel's modern take on the idea was to compose and release twelve original jazz chamber duets in video format with modern luminaries such as Joshua Redman, Aaron Parks, Gilad Hekselman, Eric Harland, Matt Brewer, Julian Lage, Ambrose Akinmusire, among others.
"The idea and goal of 'The Seasons' was a simple one: 12 original pieces dedicated to 12 musicians I deeply admire, released over 12 months via YouTube. Though this ended up being one of the most challenging and complex projects I've ever attempted, it also turned out to be one of the most rewarding," says Wendel.
This video in the series is November and features Aron Parks on Piano
Wendel continues, "the reception was positive and fascinating!" Although Wendel never played the music live nor released it as a CD, it was nominated as one of the best 'albums' of the year by The New York Times and featured on NPR's All Things Considered. A few years passed, he was further inspired by Lee Krasner's work titled The Seasons (on permanent display at The Whitney Museum), and in 2018 was given the incredible opportunity to lead his own group at the famed Village Vanguard in New York. "I thought this was the perfect moment to take 'The Seasons' project into the next phase. I put together a quintet made up of artists from the original video series and the music was transformed from the intimate setting of duos to something much grander in the hands of these master musicians," states Wendel.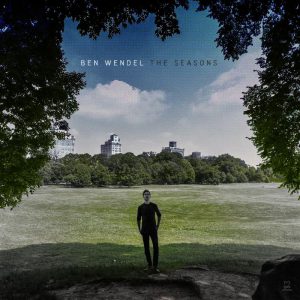 The uniqueness of this recording and the upcoming tour dates is that this music was never played live or released as a traditional album. So this is the premiere of an exciting new chapter in 'The Seasons' project. "I couldn't be more grateful and excited", says Wendel.
Born in Vancouver, Canada, raised in Los Angeles, and currently living in Brooklyn, Ben Wendel has become highly proficient in audience engagement via social media and YouTube with his latest video series, 'Standards With Friends' (featuring sessions with Mike Moreno, Jonathan Blake, Justin Brown, Larry Goldings, and others). Wendel has enjoyed a varied career as a performer, composer and producer, including tours with artists such as Ignacio Berroa, Tigran Hamasyan, Antonio Sanchez, Gerald Clayton, Eric Harland, Taylor Eigsti, Snoop Dogg and the artist formerly known as Prince. Wendel is also a founding member of the GRAMMY nominated group Kneebody, whom he will be touring with this September, performing music from Anti-Hero (on Motema), including the single, "How High" (featuring Inara George).
As a composer, he has received an ASCAP Jazz Composer Award, in 2008, 2011 and the 2017 Chamber Music America "New Works Grant". Most recently Ben was awarded the Victor Lynch-Staunton award and the Concept to Realization grant by the Canada Council For The Arts. He also co-wrote the score for John Krasinski's adaptation of David Foster Wallace's, Brief Interviews With Hideous Men.
Wendel's recent work includes producing and playing in jazz and many other genres, including the GRAMMY nominated album "Life Forum" for pianist Gerald Clayton on Concord Records, the new Kneedelus album (Kneebody + Daedelus), released on Brainfeeder, appearing on Julia Holter's new film score and producing live concerts at the Broad Stage in Santa Monica, CA with the help of Quincy Jones and his production team. He also recently worked with conductor Kent Nagano in producing a series of concerts for the Festspiele Plus in Munich, Germany.
In October this year, Ben will premiere the project live at a number of leading European venues. Tour dates are listed below. Accompanying Ben on the tour will be the "The Seasons Band" featuring Aaron Parks (piano), Gilad Hekselman (guitar), Matt Brewer (bass) and Eric Harland (drums).
Tour Dates are:
Oct 14 & 15 – Duc Des Lombards, Paris, France
Oct 17 – Blue Note, Milano, Italy
Oct 18 – Sunset Jazz Club, Girona, Spain
Oct 19 – Zig Zag Jazz Club – Berlin, Germany
Oct 20 – Jazzclub Domicil, Dortmund, Germany
Oct 21 – Palais des Beaux-Arts, Bruxelles, Belgium
Oct 23 – Jazzclub Unterfahrt, Munich, Germany
Oct 25 – Belgrade Jazz Festival, Belgrade, RS
Oct 27 – Lantaren Venster, Rotterdam, Netherlands
Oct 28 – Bimhuis, Amsterdam, Netherlands
Ben Wendel's new album will be available on October 12 on Motema Records. The album is available for Pre-order here.
Stay tuned for Darrell Craig Harris's extensive interview with Ben Wendel coming soon on Jazz In Europe.
Photography Courtesy of Josh Goleman
Last modified: April 25, 2020