British based pianist/vocalist Wendy Kirkland will be touring and playing music from her current album "Piano Divas" from August through to early December this year. The Album was released late in 2017 and presents her own personal take on the music and the female artists that have inspired her over the years. Recently I had the pleasure to speak with Wendy to find out more.
We started our conversation speaking about the album and tour. I was interested to know what inspired the project. Wendy explained that the album "started out as a live show. We received a lot of positive feedback from people that attended the shows so we decided to record the material for an album." Wendy went on to say that her husband, guitarist Pat Sprakes, who also performs in Wendy's band, was one of the driving forces behind the album and together they honed down the wealth of potential material to the 12 songs that appear on the album.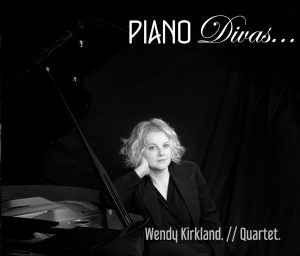 While the album is largely a homage to the female artists that played a role in influencing Wendy's development as an artist it was never her intention to produce an album of covers. Wendy said that it was important to take the material and make it her own but also to incorporate elements of the artist's style that they were honouring. Wendy said, "It's more of a celebration of these incredible women who don't often seem to get enough recognition,"
Since the release of the album, Wendy and the band have been performing regularly however it's only now that she has been able to put together an official tour. "It's (the Tour) been a long time in the making. Most venues have a long lead time and thanks to a grant from the Art's Council of England we've been able to put together quite a substantial list of dates."
Starting in August Wendy and the band will be performing 18 dates in venues that will see them traverse the UK. The tour continues through September and October with a few final dates in November and early December. The full schedule can be found below and on Wendy's website.
I asked Wendy if she considered herself a pianist that sings or a singer that plays piano. She replied that she is most definitely a pianist that sings. Wendy started to play piano at a young age. Her father was a pianist that played regularly in local clubs, so music was part of her upbringing. She travelled the traditional route studying classical piano and following the standard ABRSM curriculum. She remembers when she was in her early teens her farther handing her a book of transcriptions of music by Dave Brubeck and learning his solos. After listing to the albums and looking at the transcriptions she realised that they were improvising. She recalls that at this moment she discovered jazz.

It was later on that Wendy started to sing. She recalls a gig with a guitarist that asked her if she wanted to sing. Wendy agreed and with the audience reacting well she became inspired to further pursue this side of her artistry. We discussed a number of other artist's known for both their vocal and pianistic abilities and it wasn't long before we came to Blossom Dearie. Wendy stated that she really enjoyed her sense of humour. "She had a way of bringing humour into her performance that I really loved". Shirley Horn was also an obvious choice, Wendy mentioned that she admired her timing, "In fact the album opens with "Come Dance With Me" one of her classic songs."
As the interview progressed we moved on to the subject of music education. Wendy followed a classical training however in Jazz she is largely self-taught. Wendy surprised me somewhat when she told me that she had a degree in Mechanical Engineering. "Technical things have always fascinated me" she said, "Sometimes I can't help looking at things and analysing how it's made." She went on to say that it doesn't matter what your education is, the result is that education teaches you how to learn and when you need to ask an expert. I agreed and asked her whether or not she felt that music education is doing enough to prepare the students for a career in the music business. Wendy replied with "No, it takes a lot to survive in this business and being a great player is just a part of it." Wendy has demonstrated that this is true. "I'm not only the artist, I'm also the booking Agent, Tour Manager, publicist and all other things that are needed. The main thing is to reach out and ask those who know what they're doing. I was told by a colleague that there may be the possibility of receiving some funding from the Arts Council, but I had no idea how to go about this. A Facebook post lead me to an Artist Manager, Mary James who had experience with grant writing and she helped me prepare the application."

We closed off the interview discussing what her plans were moving forward. "Well, right now I have the tour on my mind, but we will be looking at recording a new album in the near future. I have lot of idea's, but they still need to be worked out. We discussed if we can expect to see Wendy and the band in Europe soon and she replied. I would love to, but I don't really know the scene there that well.
Given her tenacity and ability to make things happen I can only expect that she will find a way and will succeed at this as well.
You can find Wendy Kirkland's Tour dates here.
Last modified: August 31, 2018