Born and raised in the beautiful town of Agrigento in Sicily (Italy), Viviana Zarbo  was raised in a family where the arts, music, and theatre were a constant influence. Her strong "desire" to learn and see different scenes, brought her to London where she studied at the American Musical Theatre Academy and the rest is history.
Viviana, whose elder brother is a famous Italian actor, has successfully managed to build her own path with her new album release "Take Away", a mélange of old jazz standards and Italian classics.
Not a very long album in duration, in fact just over 30 minutes, "Take Away" is the expression of a strong will and a velvety voice that Viviana has learnt to use well. With a production by Italian tenor saxophonist and "Upstairs at Ronnie Scott's" habitué, Renato D'Aiello, the album flows smoothly throughout its nine tracks.
The 1940 tune by Rodgers and Hart, "Bewitched, Bothered and Bewildered" is an interesting choice, whilst the rendition of the old and funny "Ho un sassolino nella scarpa" (I have a little pebble in my shoe), penned by the Southern Italian jazz artist Nicola Arigliano, a famous tune which Viviana describes as a parallel representing life's problems and hurdles along one's journey to yet another great Italian choice, "Senza Fine" (written by the mighty Gino Paoli, one of the greatest singer-songwriters in Italy).
Good solos on piano and on sax by, respectively, Renato Chicco and Renato D'Aiello.
"This album is very listenable and a debut worth noting on the jazz platform of 2018."
– Erminia Yardley, senior writer @ JazzInEurope.com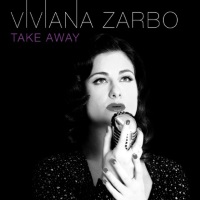 33 Jazz Records, a label that I respect and keep an eye on all the time, have done it again. I look forward to hearing more from Miss Zarbo in the future.
Artist website: Viviana Zarbo
Text: Erminia Yardley
Photo credit: Lorenzo Abate – and (c) info: all rights go to original recording artist/owner/photographer(s).
Last modified: October 24, 2018