German vocalist Miriam Ast and pianist Victor Gutierrez met while studying for their masters degrees at the Royal Academy of Music in London. Having only performed together briefly the two almost immediately realized that there was a certain simpatico and decided to develop a duo. After just twelve months of working together and developing repertoire, in 2017 the duo were awarded the first prize for 'Best Vocalist" at the International Jazz Competition in Bucharest.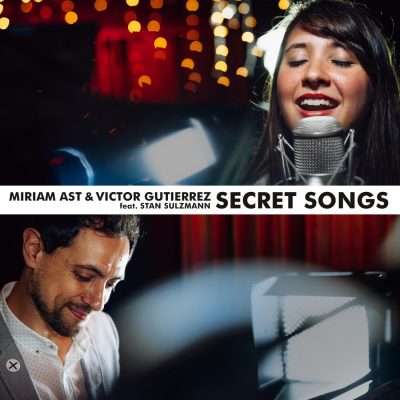 This album titled "Secret Songs" is the Duo's debut recording, and what a recording it is. Apart from the excellent recording quality these two musicians go together like "hand in glove" producing a recording that is without doubt proof of the saying "the whole is greater than the sum of it's parts." Joining the Duo on a number of tracks is British saxophonist Stan Sulzmann whose playing complements both the voice and piano beautifully.
The Album, released on German label Mons Records, contains ten tracks with six of these penned by either Ast, Gutierrez or as a collaboration between the two performers. The rest of the album is comprised of standards, including Thelonious Monk's classic "Round Midnight, Cole Porters "Night and Day", "Alone Together" by Arthur Schwartz and Howard Deitz and the closing track Jerome Kern's "The Song Is You".
I have to show my colour here and admit I'm not a huge fan of vocal duo CD's, I often find them lacking in consistency and quickly become boring. I can assure you this is NOT the case with this recording. The opening track, a composition of Victor Gutierrez titled "Don't get too Cocky", grabs you from the opening vocal rhythm and draws you into the world of these two musicians.
Of particular note is the duo's performance of Thelonious Monk's classic "Round Midnight". Often a track that falls into the "Done to Death" category, Ast and Gutierrez bring a fresh vision to the tune with Ast navigating the melody over a well formed triplet based accompaniment that breaths new life into Monks harmonies. 'Song for Stan" introduces saxophonist Stan Sulzmann to the mix in a track penned by Miriam Ast. The track opens with a solo saxophone introduction prior to the entry of the piano and Mirian Ast's vocalise. It's impressive how these two voices blend often intertwining and then coming together displaying perfect intonation, a true joy.
It's interesting to note that it's the original material presented on the album that truly stands out. With the exception of Round Midnight, it's the standards that left me with a slight feeling of disappointment for no other reason than I felt a sense of restraint from both musicians. That said, the closing track, Jerome Kern's "The Song Is You" works very well with Ast giving a wonderful rendition of the verse that unfortunately is too often left off.
On this album Miriam Ast's vocals display a confidence and maturity rarely heard even in vocalists with far more life experience. I enjoyed her sense of rhythm, phrasing and in particular her almost instrumental approach to presenting melody. Pianist Victor Gutierrez, shows himself not only to be the perfect counterpart to Ast's vocals but also a vital exponent in the way these two navigate through the well crafted arrangements. His sense of harmony and rhythm ensure that the lack of a dedicated rhythm section is not at all missed.
Secret Songs is an album that will be played over and over in the Veldman residence. Highly recommended.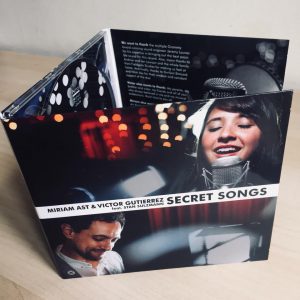 Line-up:
Miriam Ast – Vocals | Victor Gutierrez – Piano | Stan Sulzmann – Tenor Saxophone (Traks 3., 8. & 9.)
Track Listing:
1. Don't Get Too Cocky | 2. Round Midnight | 3. Song for Stan (feat. Stan Sulzmann) | 4. Love Song | 5. Alone Together | 6. Divergence | 7. Night and Day | 8. Spanish Song (feat. Stan Sulzmann) | 9. Ode to a Lost Love (feat. Stan Sulzmann) | 10. The Song Is You
Label: Mons Records
Format: CD | Digital
To stream or purchase this album click here.
Last modified: October 24, 2018