Recently vocalist Rebecca Angel released her new EP titled "What We Had". Still, in her formative stage as an artist, Rebecca has already started to make head-roads into the Contemporary Jazz and Adult Contemporary genre's. The release of "What We Had" builds on her earlier releases including the successful Jet Samba and see's this emerging vocalist finding her voice.
We were introduced to Rebecca by producer and pianist Jason Miles who has been responsible for some of the most iconic jazz recordings of recent years including Miles Davis's Tutu and Amandla. Jason not only produced Rebecca's recording, he was also responsible for most of the arrangements.
After hearing the EP, we thought it a good idea to speak to Rebecca about her background and the recording as well as speaking to Jason to get the producers perspective.
Andrew Read: Hi Rebecca, thanks for taking the time to speak with us. You recently graduated with a degree in Vocal Jazz from Ithaca College, where you studied with Kim Nazarian and Carol McAmis along with coaching's from Roseanna Vitro and Cyrille Aimèe. What would you say are the greatest takeaways you gained from this?
Rebecca Angel: I was extremely fortunate to learn from the best! In college, I had the honour of working with Kim Nazarian of the New York Voices, a vocal group I idolized in high school so it was a dream come true. Kim would push me to my fullest potential and taught me a lot about expressing myself through strong technique and phrasing. Through her support, I was able to bring my music to a new place. Carol McAmis helped me build my voice from a classical standpoint and helped me get grounded in my body and open myself up physically and emotionally. Learning from Cyrille Aimee was very exciting for me since she was another musical idol. Cyrille helped me with scatting, connecting to the lyrics and helped me to find my own voice/ style. Roseanna Vitro was my first jazz voice teacher who I studied with during high school and would take occasional lessons when I would come to NYC. Roseanna introduced me to traditional swing, blues, jazz standards, etc., and always came to lessons with tons of warmups and exercises to practice with! I took away different lessons from each teacher in the diverse genre of jazz. Each teacher gave me different ideas to think about and I believe that through their guidance I developed a style uniquely my own.
AR: Your career started at a young age performing with your father's band in NYC. I can imagine this would have led to some interesting experiences. Do you have any interesting anecdotes you can pass on to our readers?
RA: Growing up with a musical father has shaped who I am as a person and musician today, I was able to learn from the best musicians at a young age which gave me insights on how to work with a band. I was extremely lucky to have the support of my father, a musician, and it was exciting to get the chance to work together with him on stage. Starting from a young age my dad would introduce me to songs he wrote and sometimes we would co-write together. Starting that process at a young age was fun and translated to us co-writing two of the songs on the EP! "What We Had" and "Feel Alive."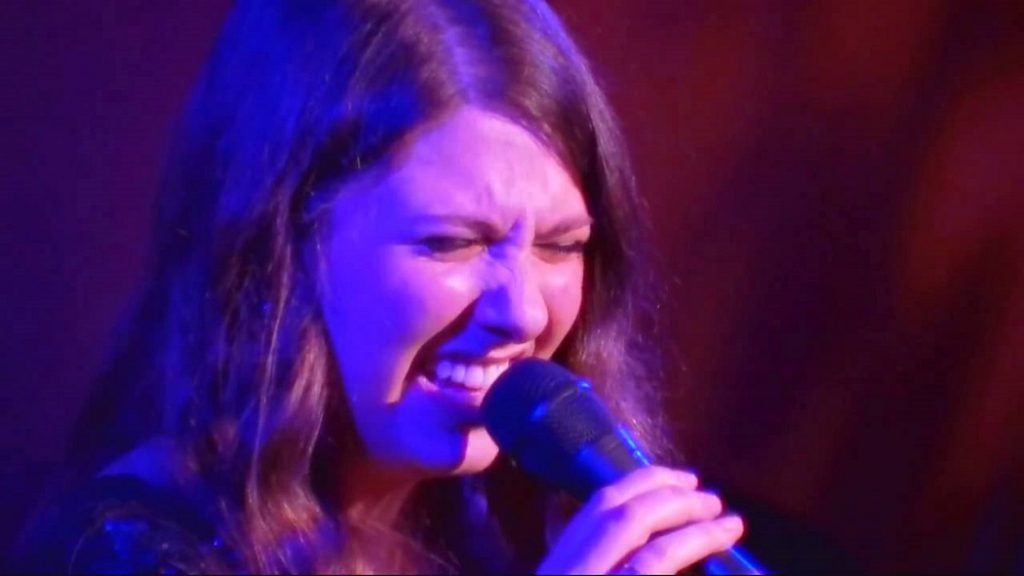 AR: Just before we move on to the EP, I'd like to ask you a little about your influences. I read in your bio that your father would play Peggy Lee, Louis Armstrong, Ella Fitzgerald, Elvis and the Beatles in the car. Who would you say has influenced you the most?
RA: Yes, at a young age my dad could tell I loved music so on the drives to school he would introduce me to all genres of music, I loved it all. I have been influenced by so many artists throughout the years but more recently I have been infatuated with artists such as Sade, Astrud Gilberto, Bebel Gilberto, Marcos Valle, Wanda Sa, Elis Regina and many other Brazilian artists. I find the Brazilian style extremely melodic, rhythmic, smooth and relaxing which inspires me to incorporate those aspects into my own style. I was fortunate to have the talented Brazilian musicians Cyro Baptista and Ricardo Silveira on my EP along with other renowned musicians such as James Genus, Reggie Washington, Mino Cindelu, Hailey Niswanger, etc.
AR: Let's talk about the new EP. The set includes a mix of originals and standards. Can you tell us about the choice of repertoire for a set?
RA: Keeping the tradition of Brazilian, Jazz and a little pop I have an eclectic mix of love songs and tunes reminiscing about the past. Winter Moon the first track isn't covered often but I love the haunting melody and lyrics, and it always resonated with me. As it is a more traditional style jazz ballad, I thought it would be a nice one to re-vamp and Jason Miles helped to come up with a nice vibe. "What We Had" and "Feel Alive" are both originals I co-wrote with my dad and "What We Had" was also co-written by Jonah Prendergast. My dad came up with the melody on both and I wrote the lyrics. Agora Sim is a Brazilian vocalese that highlights my scat singing, and Jet Samba has two versions, the original version and a danceable remixed Ipanema version for the dancefloor. The goal of the EP was to create a fresh innovative sound that is uniquely my own and different from what other people are doing.
AR: When listening to the EP, I particularly liked the arrangements of "Stand By Me" yet it seems from a stylistic perspective the odd man out. What was your vision for this piece and the reason for the two mixes?
RA: "Stand By Me" is a song I have loved since a kid and would often play and sing it on the piano. I heard in recent years Cyrille Aimee do a version of the song on her loop machine which inspired me to make my own arrangement of it on my looper as well. On both versions, you can hear me singing the background vocals and bass line. Even though the song had been covered many times, I wanted to take something preexisting and make it fresh, innovative and new, something that has historically been done in jazz. The electro mix is more funky and unique while the radio mix is a little more traditional in instrumentation. The reason for releasing both was because we thought different people would like different versions.
When I spoke with Jason Miles, I asked him exactly the same question. Jason replied "I thought that with Rebecca being from a younger generation may be a more electronic mix would be a good idea… I felt it fit in even if it was a bit different."
Speaking of Jason Miles, I went on to ask Rebecca how it came to it came to pass that she was able to have the opportunity at this early phase in her career to working with a producer of top calibre. Rebecca went on to say.
RA: Jason worked with my dad on his albums throughout the years so my relationship working with Jason actually began 7 years ago when I was only 15. Jason has been instrumental in developing my musicianship throughout the years and has helped me carve out a unique style and path that is my own, not trying to copy other artists. It was very exciting to finish my first full project with his guidance as in the past we had only recorded singles together, putting the EP together took much more craftsmanship, creativity and brainstorming. Rebecca went on to speak about the earlier recording she did with Jason, the Single Jet Samba. Jet Samba was an exciting song for me because my recording marked the first time the instrumental song by Marcos Valle was recorded with vocals. We were able to release it around the time of the Rio Olympics.
As Rebecca mentioned above Jason Miles has played a strong role in her artistic development. I was interested to ask Jason, having worked with many of the biggest names in the industry, if he felt the need to tailor his approach when working with younger less experienced artists. I also wanted to know Jason's view on the producer's role from a mentoring perspective. Jason said the following.
"I believe if I am working with a younger new artist the one thing that will happen is they will definitely learn if they pay attention. I paid attention when I was around so many of the greats that I worked with and saw their approach to the music both in the studio and live. There are tried and true messages that have worked over the years that you have to understand how to adapt to your productions. I can't stress enough about learning from people that know more than you do. Although you can learn things on your own and being around some true masters for years opened my eyes to many things. I want the music to survive and the younger generation has to realize that my generation of musicians truly was around many musical geniuses and legends both live and in the studio. So at the end of the day, I hope that some of the artists learned from me because it's my job to pass along the knowledge to the next generation."
The EP includes some great studio musicians mostly selected by Jason. I was curious to find out the reason for these choices from a production point of view. Jason answered.
"I hear a lot of great musicians out there these days but there is something about making an album that requires a higher skill set in the studio. The ability to craft parts that work with the vocal. The sound, choice of notes. that's an art in itself and over the years I've worked with some truly amazing musicians that understand that Live is Live and Studio is Studio and that always rings true. Once it's recorded on the track and the music is released it's there forever.
You want to use musicians that can create timelessness with music and with you and the artist. The choices that I made were musicians that not only had the studio chops but the live chops as well, you know, to be able to find that perfect space. The musicians on the project are some of the best in the world and a young singer like Rebecca who is going for the direction that we were in needed to be surrounded by musicians that can push her to the next level. I believe we were able to get there because she worked hard to make those vocals work."
Wrapping it all up, I asked Jason from a producers point of view, what, in his opinion, is the most important factor in getting the best vocal performance possible during a recording session.
"It's first and foremost up to the artist to come to the studio prepared to work and to work hard. Once I feel and know That the song is ready to go I want to make sure that the singer is as comfortable as possible and feels confident in my ability to help them get that great vocal. I guess again the only thing I can say is that having the experience Of working with many great singers and watching their approach has helped me Create an environment in the studio of encouragement and nurturing to get the best performance out of the artist. I know with the young artist it's not going to be like being in the studio with Luther Vandross. But it's what I learned from Luther that helped me get that great vocal out of the artist, them being both experienced and not experienced."
Summing it all up, Rebecca Angel is a vocalist I can expect we will be hearing a great deal from in the coming years. In speaking with Jason Miles just last weekend he informed me that he has just completed a new project with Rebecca so stay tuned for more.
To Stream or Purchase, Rebecca's latest EP click here.
Last modified: April 25, 2020