DCH: I think really one of the most iconic scores in American musical theatre!
BS: Yeah, in musical theatre. It's still considered one of the most complex difficult scores. The thing is you're taking jazz, lyric opera, opera, chamber ensemble music and also Latin music and then combining that with ballet! As we would say in the Bronx, it's all that and a bag of chips!
DCH: And it seems that that music, lyrics and film really speaks to New York,  and the Puerto Rican culture in a way from that time period in American culture.
BS: It's speaks to the Newyorican experience, a Newyorican is someone who's born and raised in New York or brought to New York at a very young age from Puerto Rico and raised in New York. So they call us Newyoricans!
Anyways the film speaks to our experience, and of course, there are people that criticize the movie, especially the Puerto Rican intellectual community but most of those people are from the island and they don't understand what it is to grow up in New York City!
There was gang life in New York City, but it's funny the movie was chock full of nuance for example if you notice the Puerto Rican characters all speak in complete sentences, they have jobs where the white gang they speak in broken English, they don't have jobs and they're very disrespectful. The Puerto Ricans in the film are always portrayed majestically and as people of dignity!
Just to have a movie where the major characters were Puerto Rican, I mean there are some flaws in the movie but I think everyone should see West Side Story because it deals with one thing, how do you deal with hate and especially in this day and age we need to address that even more so!
But the music in and of itself with the opening whistle with the tri tone, to the chase scene in the beginning. My favorite piece of music from the movie is "Cool" because it's basically a jazz fugue and it's very complex and it swings like hell too!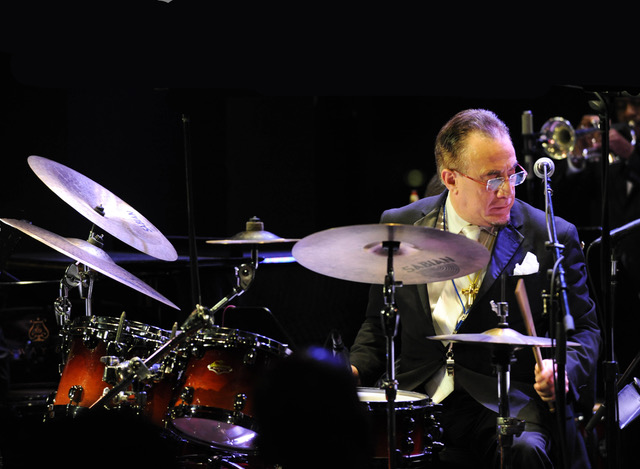 DCH: What was your first time really digging into the West Side Story Music as a bandleader/musician?
BS: About ten years ago at the Manhattan School of Music I did a concert adapting movie themes to a Latin jazz orchestra and one of the pieces was that we used to close the Concert was from the Mambo scene from West Side Story, so I kind of put that in the back of my head and one day I'm going to tackle this, you know the whole thing! Finally, I started thinking about this three years ago and I realized, wow, it's going to be the 60th anniversary of the musical soon and then I looked up the date and realized oh wow, that's the same year I was born when the Broadway show premiered! So yeah it was kismet or serendipity!
So I started in earnest on the arrangements, and what I did was I used it as a teaching tool because I started asking several of my students and former students to start working on certain pieces and also certain people in my band. So I was sort of like Dr. Frankenstein putting all the elements together!
DCH: Well, that's such a huge project putting all those arrangements and pieces together for one person to handle, especially when you have great young arrangers and others in your band that you can call upon.
BS: Well yeah, even Bernstein had the help of orchestrators but he supervised everything!
The great thing for me is I'm in the vortex of everything because on the recording I'm playing drums and conducting at the same time from the drum set and it was recorded live at Dizzys Club Coca Cola in New York City, November 19th of last year (2017) and it was another serendipitous occurrence actually, because my wife goes to me you know what November 19th is don't you? She says that's the day Columbus landed on the shores of Puerto Rico in 1493!
So this was meant to be!
DCH: You had contact directly with the Bernstein estate/offices in Manhattan to arrange the permissions/publishing for this project, tell me about that?
BS: It was nice, when I walked into their offices in New York they said oh Mr. Sanabria your reputation precedes you, so I guess they had done some research on me so it was great! Very easy!
DCH: To me when I first heard this album on my advance copy I was really blown away by the energy of your band, yourself and of your arrangements! Such a vital and fresh approach in a truly authentic way to the culture the film portrays!
BS: You have to have knowledge of the rhythms and of the different cultures! What I did with this project was to bring in the many different communities and cultures that have come to live in New York City since this music was first written.
During the time period the maestro Bernstein composed this music Puerto Rican forms of music like the Bomba and the Plena where not very prevalent, the Bomba which is our most African rooted style was just being adapted at that time for band performance by a gentleman named Rafael Cortijo, and the Plena had just started to be adapted by Sorsa Concepcion in a big band format. So they weren't really part of the mainstream of Latin dance culture yet because Cuban music was so big, but in this reimagining you hear these different styles of rhythm in full force. Different types of Bomba such as Bomba Sica and then there's Bomba Yuba and that's prevalent in the score. There's also Dominican rhythms, Haitian rhythms, and Brazilian rhythms!
DCH: And included in this recording with the packaging there's a book of rhythms,  correct?
BS: In the booklet, it has rare photos of maestro Bernstein and photos of us performing and recording this live at Dizzy's and it also has text explaining each movement in the score and what rhythms are being performed, so just the booklet itself is worth the price of the CD.
Dizzy's Club Coca-Cola where we recorded this CD funny enough is located at 60th street and Columbus circle and that's part of the area where the original West Side Story occurred is a nice serendipitous thing!
DCH: The album is on the Jazzheads label, and was released on July 20th, correct?
BS: Yes, and if you get the recording, partial proceeds will go to Puerto Rico, to the Jazz Foundation of America who has a special Puerto Rican relief fund to help musicians on the island, many of whom have lost their homes, can't pay their rent, many have lost their instruments due to the two recent hurricanes! Tourism is a big part of Puerto Rico but no one wants to go there now because the island has been destroyed, so it's a tough situation!
DCH: Are you going to be performing the cuts from this album live? If so where will you be performing?
BS: Yes, we have a big performance August 10th at Lincoln Center out of doors and it's going to be a monumental mega concert, it's interesting because we are going to have video and photo projections behind us corresponding to each piece and that will be provided by a group of 6 photographers all Newyorican a group known as "Six from the South" all from the South Bronx! Then January 18th we will be performing it at the Kennedy Center in Washington DC.
DCH: People can view your schedule on your website and full bio at www.BobbySanabria.com and other social media outlets of course!
BS: The main thing I want to get across is that Puerto Ricans have been so instrumental in the transformation of New York making it a vibrant city in rhythm, and changed the city culturally, artistically from dance to painting, art work, poetry, drama and of course through music as well!
I must say that all of the musicians on the CD are fabulous and the arrangers did a fantastic job this is a true jazz orchestra. I like collaborating and many of my collaborators on this are my current as well as some former students of mine.
DCH: Thank you so much Bobby for your time and lifetime of musicianship, and hopefully we will get a chance to talk again in the future!
BS: Thank you so much for the opportunity!
Interviewer: Darrell Craig Harris    Artists website: Bobby Sanabria
The New album 'West Side Story' produced by Jazzheads Records can be purchased at the following outlets: Jazzheads (JH1231) For digital: Amazon – iTunes  For streaming:  Spotify 
Photo Credits: Feature image – Sarah Escarraz. Jazzhead label – and (c) info: all rights go to original recording artist/owner/photographer(s).
Last modified: April 25, 2020