The North Sea Jazz Festival is one of those Iconic European festivals that has gone along way in defining the genre. Founded in 1976 by entrepreneur Paul Arket the festival is not the oldest jazz festival, however over the years it has become one of the largest and most influential. After the death of it's founder the festival was taken over by Mojo concert's and in 2006 the festival moved from it's original location in The Hague to Rotterdam. It's interesting to note that Rotterdam played a role in the birth of the festival as founder Paul Arket first made his mark in the jazz festival world as the co-producer together with the American impresario George Wein with the European edition of the Newport Jazz Festival held in Rotterdams main concert hall "De Doelen" from 1966 until 1975.
Since the move to Rotterdam the festival has continued to grow and is now the worlds largest indoor music festival with more than a thousand musicians, spread over 150 performances and fifteen different stages. This year the festival expects to welcome over the 3 days between 65.000 and 70.000 visitors. I recently had the pleasure to speak with the Festivals director Jan Willem Luyken to discuss the festival, the state Jazz today and the future of Jazz Festivals. Enjoy…
Andrew Read: Jan Willem, thanks for taking the time to speak with us. The North Sea Jazz Festival is without doubt one of the largest and most well-known Jazz Festival's on earth. In a little under a month the 2018 edition will take place. Perhaps you could give us a short rundown of this years highlights.
Jan Willem Luyken: First of all, we have a very special artist in Residence: Mr. Michael League. This fantastic musician, bandeader and producer will perform with three different projects: Snarky Puppy with the Metropole Orchestra, a super trio with Antonio Sachez and Pedrito Martinez and Bokanté & special guests.
One of our central themes is UK Jazz: New British Invasion which highlights the new wave of superb jazz form the UK with Nubya Garcia, Moses Boyd, Sons of Kemet and many others. Other special projects: Queen of Sheba, a symphonical project of Ibrahim Malouf with Angelique Kidjo, Maria Schneider with Ensembe Denada form Norway and superband R+R=now with Glasper, Scott, Hodge, Martin and Mcferrin. Next to all the other 150 concerts on 15 stages for three days, all under one roof!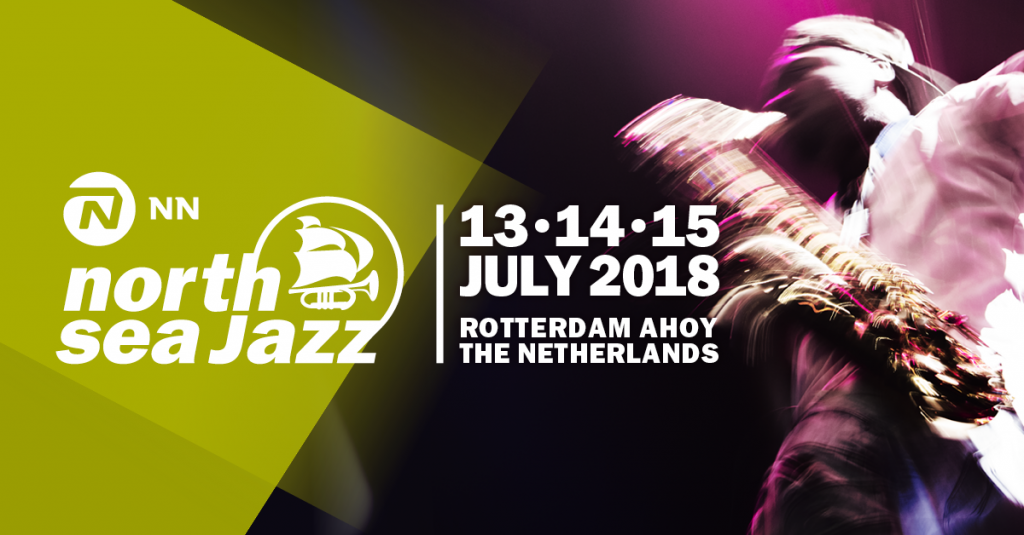 AR: You've been director of the North Sea Jazz Festival for well over 10 years now. Perhaps you could tell our readers a little about your background.
JWL: I joined Mojo Concerts (Mother Company of NSJ) in 2001 as Head of Marketing & Communications. After university, I had several corporate jobs in PR and marketing. My predecessor left the company just before the festival moved from The Hague to Rotterdam in 2006, and that's when Mojo's management asked me to take over and become director. This was more than a dream come true; I never missed an edition of the festival since 1982, when my father took me there for the first time. A big step for me – I was just 35 years old – but I took de chance and never regretted it for one second.
AR: In the time you've lead the festival the music industry has faced a number of paradigm shifts. What have been the festivals greatest challenges during your time at the helm?
JWL: The biggest challenge is the continuous rising of artist fees. Since the live business took over from the recording business as primary source of income for artists, it's harder and harder to keep tickets affordable for the audience and keep your budget healthy. At one point the only thing you can do is scale up your number of visitors and/or raise ticket prices. Another challenge, which is in line with the first one, is the growing number of festivals worldwide. Everybody is after the same acts in the same period, which makes it harder to book all the things you want and makes the international festival market very competitive.
AR: Since Mojo took over the festival after the passing of Acket a great deal has taken place with the festival including a far broader programming. This has brought some criticism from the purists among us however it has broadened the audience base. What is your vision regarding the programming of the festival?
JWL: This criticism is as old as the festival itself. What a lot of people don't know is that Paul Acket was a very smart business man and a big rock and pop promoter, who understood back then that jazz alone wasn't commercially strong enough to pull it off and make the festival profitable. So, next to a strong jazz line up, he booked acts like Van Morrison, James Brown and Ray Charles to sell the tickets. Basically, that's still the way we think today. Only difference is that the music has moved on and we will have to keep up with trends and new acts to keep the younger audiences interested. But we will always stay true to our root, which is a strong basis of jazz, in all its forms.
AR: This leads into my next question; recently I've been asking many of the musicians I interview a standard question that, at times, tends to provoke some controversial answers. As a festival director, I would love to get your take on it so here we go, what is your opinion of the state of jazz today?
JWL: Jazz is a resilient genre, with ups and downs through the decades. At the moment, a strong revival is going on, both artistically and commercially. Thanks to a new, strong and eclectic generation that is not afraid to cross over with other genres and are free from stereotypical thinking from the old days. You see acts like Kamasi Washington, Snarky Puppy and Kamaal Williams playing rock festivals. The fact that in recent year's mega stars like David Bowie, Kendrick Lamar and Lady Gaga did jazz related stuff helps too. But these are fluctuations with peaks and troughs and we are obviously at a peak now.
AR: Traditionally from its beginnings back in 1976 the festival took place in Den Haag. In 2006 the festival moved to Ahoy in Rotterdam. What prompted this move?
JWL: The former venue, the Congresgebouw, was sold by the government to a private company in 2001. To make the venue profitable, the new owner had to take down the most important festival halls, which made it impossible for us to continue the festival there. The only venue where we could move was the Rotterdam Ahoy, where they have the perfect combination of small, middle and big venues, which is very important for our concept.
AR: Since the move to Rotterdam the festival has introduced a number of fringe events such as North Sea Around Town, North Sea Kids etc. I can imagine this has a positive impact and expands the festival in the cities wider community. What impact has this community outreach had on the festival as a whole?
JWL: That the support and connection with the city has grown a lot over the years. Rotterdam is proud of us and we are proud of Rotterdam. In many aspects, the city is doing very well and that has a positive effect on the festival, and vice versa.
AR: Over the last few years we've seen a number of top brands in the industry adopt a franchise model for their Brand. A few examples are Jazz At The Lincoln Center in Qatar, Montreux Jazz Festival in Japan. The Blue Note Jazz Club in Milan, Hawaii and Tokyo etc. In 2010 the North Sea added Curacao, what was the strategy behind this?
JWL: A strong brand gives you possibilities, also abroad. We get offers from all over the world to bring in our concept and our experience. We have tried to bring the festival abroad a few times, unfortunately not always successful. Because of its complexity and big financial risks, this is harder than you might think. Our sister festival in Curacao (Dutch Caribbean) has successfully been running for eight years now. We will always keep our eyes and ears open for new possibilities, as we  these foreign adventures.
AR: To finish up, I'd like to know what we can expect from the North Sea Jazz Festival in years come.
JWL: In general: basically, we will keep doing what we do, but we'll always keep looking for ways to do it better. Standing still and leaning back is dangerous. You must have the guts to reinvent every aspect of the festival, every year. And keep investing in new elements, keep your audience surprised. As long as the artists and the audience stay happy, we will be fine for many years to come. Practically: in 2021, a new wing of the Ahoy will be finished. This gives us a lot of extra space and possibilities which I look forward to.
For tickets and the full program schedule vist the North Sea Jazz Festival website.

Advertisement
Beverley Beirne – Jazz Just Wants To Have Fun
Last modified: April 25, 2020