Jazz artists have always covered the popular tunes of the day, such as Miles Davis' recording of "My Funny Valentine," and John Coltrane's exquisite version of "My Favorite Things." But it's fair to say that the music of the 1980's hardly springs to mind when it comes to jazz covers. After all, this was the decade of synthesizers, MIDI and bombastic record productions. But British jazz singer Beverley Beirne grew up in the 80s and the music she heard then formed the soundtrack of her life. What's more, she's in good company – Miles Davis covered a number of tunes from the 80s including Michael Jackson's "Human Nature," and Cyndi Lauper's "Time After Time."
The album title gives you a clue to how this album sounds – fresh, fun and upbeat. There can't be many jazz albums featuring tunes from British groups such as Slade, Bananarama and Kajagoogoo, but Beirne's arrangements make them swing. With a core band of piano, double bass, drums and sax (plus several guest musicians), Beirne reworks and reinterprets a dozen songs from the 80s, ably guided by producer Jason Miles.
The album opens with a swinging version of Slade/Quiet Riot's "Cum On Feel The Noize," with the intro featuring just Beirne's vocals and bass. The track includes a sizzling piano solo by Sam Watts, accompanied by Flo Moore's walking bass line. Adam and the Ants' "Prince Charming" is driven along by hand claps, a catchy bass riff, piano and Ben Brown's agile drumming. A sleek rendition of Kim Carnes' "Bette Davis Eyes" features some fiery sax from Rob Hughes. The Specials' "Ghost Town" finds Beirne scatting, soaring and stretching syllables over Hughes' slinky sax lines. A swinging version of Right Said Fred's "Deeply Dippy" includes Jason Miles on Hammond B-3 organ. ABC's tribute to Smokey Robinson, "When Smokey Sings" was originally an uptempo homage to the Motown sound, but Beirne and Watts' gorgeous arrangement slows it right down. Beirne's vocals are sublime, and the seven-minute track also features superb piano and sax solos. Bananarama's "Cruel Summer" is a lovely salsa-tinged number featuring Romero Lubambo on guitar and Hughes on flute, and includes another tour-de-force vocal performance from Beirne.
M's "Pop Muzik," is turned into a homage to jazz with a sassy vocal performance from Beirne that includes scatting and improvised lyrics. Kajagoogoo's "Too Shy" is an energetic uptempo number with Beirne's hyperactive vocals jousting with Hughes' blazing sax. Billy Idol's "Hot In The City" is performed to a marching rhythm, while Foreigner's "Waiting for a Girl/Man Like You" features a powerful, pleading vocal performance from Beirne, as well as Miles on Hammond organ. The closing track, a jaunty version of Cyndi Lauper's "Girls Just Want To Have Fun," reminds me of Nina Simone's "My Baby Cares For Me" and features Dean Brown on guitar. It's a fun-filled rendition that neatly concludes the album. If much of the music from the 1980's leaves you feeling a little cold, then the performances and imaginative arrangements on this excellent album could make you see this period in a whole new light.
Addendum:
Beverely Beirne Press Event June 14 2018
Jazz in Europe was at the world-famous Ronnie Scott's Jazz Club in London yesterday for the press launch of Beverley Beirne's new album, Jazz Just Wants To Have Fun, launched today (June 15).
The enthusiastic crowd were joined by Noddy Holder, lead singer of Slade, whose song, "Cum On Feel The Noize" is the album's opener. The event took place at Upstairs at Ronnie's and guests were treated to a "taster gig" of selected songs from the album.
The set-list consisted of:  "Too Shy," "Prince Charming," "Bette Davis Eyes", "Cruel Summer", "Pop Muzik" and "Waiting For A Girl Like You." Beverley and the band – Sam Watts piano, Rob Hughes sax, Flo Moore bass and Ben Brown drums – gave a swinging, rousing performance of jazz interpretations of songs from the 1980s. In between tunes, Beverley further entertained the audience with humorous anecdotes about the songs and the recording of the album. A mention of the album's producer Jason Miles, generated spontaneous applause from the guests. As befits the album's title, it was a fun-filled event. Beverley and her band are doing a series of gigs to promote the album, and if they are appearing at a venue near you, be sure to check them out!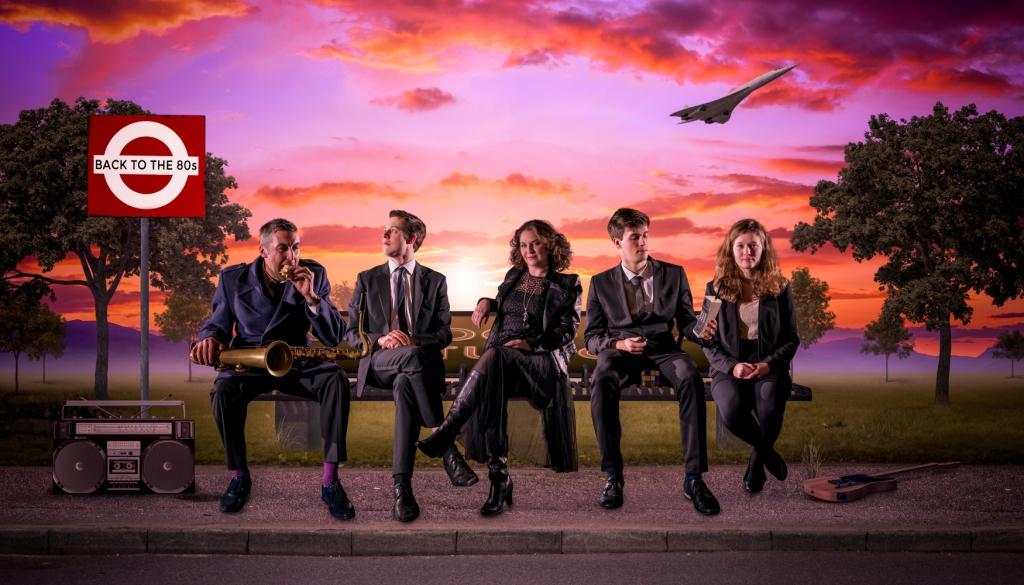 Track Listing:
1. Cum On Feel The Noize (3.29) 2. Prince Charming (2.40) 3. Bette Davis Eyes (4.09) 4. Ghost Town (3.30) 5. Deeply Dippy (3.11), 6. When Smokey Sings (6.58) 7. Cruel Summer (3.04) 8. Pop Muzik (4.50). 9. Too Shy (2.39) 10. Hot In The City (2.58) 11. Waiting For A Girl Like You (4.56) 12. Girls Just Want To Have Fun (2.29).
Line-up:
Beverley Beirne (vocals), Sam Watts (piano), Rob Hughes (saxophone/flute), Flo Moore (double bass), Ben Brown (drums), Romero Lubambo (guitar "Cruel Summer"); Dean Brown (guitar "Girls Just Want To Have Fun"); Jason Miles (Hammond B-3 organ "Deeply Dippy" and "Waiting For A Girl Like You.")
Label: Nova/Universal.  To visit Beverly's website and all Buy links – Click HERE 
Last modified: July 3, 2018