It's been a long time coming however the biography of Dexter Gordon, written by his wife and longtime manager Maxine Gordon, is now available for pre-order ahead of it's official release date planned for November 2018.
Speaking about the book and it's journey Maxine said "Before Dexter's death in 1990, he asked me to complete the book he began after the Academy Award nomination and what he referred to as the movie star year."
The late 1980's were successful years for Gordon and his reference to the "movie star year" was appropriate as he was nominated for an Academy Award for Best Actor in a Leading Role for his performance in the Bertrand Tavernier film Round Midnight (Warner Bros, 1986), as well as winning a Grammy for Best Jazz Instrumental Performance, Soloist, for the soundtrack album The Other Side of Round Midnight (Blue Note Records, 1986). Also just prior to his passing in April 1990 he also had a cameo role in the movie, Awakenings.
Maxine Gordon, has kept the legacy of Dexter Gordon alive and well by giving lectures and donating of all of Gordon's archival work to the Library of Congress. Maxine also established the licensing group Dex Music LLC and The Dexter Gordon Foundation. As a historian and archivist in the fields of jazz and African American cultural history Maxine Gordon has had an illustrious career working with the world's most iconic jazz musicians.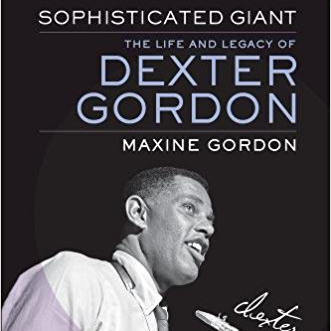 The biography titled "Sophisticated Giant' details the life and legacy of Gordon who without doubt was one of the major innovators of modern jazz. In a context of biography, history, and memoir, Maxine Gordon has completed the book that her late husband began, weaving his "solo" turns with her voice and a chorus of voices from past and present. Reading like a jazz composition, the blend of research, anecdote, and a selection of Dexter's personal letters reflects his colorful life and legendary times. It is clear why the celebrated trumpet genius Dizzy Gillespie said to Dexter, "Man, you ought to leave your karma to science."
The forward to the book was written by Farah Jasmine Griffin, Director of the Institute for Research in African American Studies at Columbia University with a After-forward written by Maxine's son, Woody Louis Armstrong Shaw III. Woody III was curator, co-producer and project director for two box sets covering the mid-to-late 1970s recordings by Dexter Gordon (his stepfather) and the great trumpeter Woody Shaw (his father), both called The Complete Columbia Albums Collection and both released by Columbia/Legacy in 2011..
28 years later, Maxine has kept her promise to Dexter and to his countless fans worldwide.
The book to be published in November 2018 on University of California Press. The first edition is in Hard Cover and contains 284 Pages and is now available for pre-order direct from the Dexter Gordon website or at Amazon.
Last modified: January 20, 2021