SHAKE STEW is Austria's jazz band of the hour. After playing more than 25 gigs during the first months since premiering at Jazzfestival Saalfelden 2016 and selling out their debut record "The Golden Fang" within half a year, the unique septet is making waves in Europe with a hypnotic mixture of afrobeat and jazz grooves shaken up by the intense and mysterious soundscapes created with a combination of 3 horns, two drummers and two bass players!
Shake Stew released their highly anticipated new album "Rise And Rise Again" (with Shabaka Hutchings as a guest on 2 tracks) on April 6 as well as kicking off an international touring marathon that will carry the band around the globe. Everywhere they've been so far, the press has been more than enthusiastic, often trying to create new terms and genre-labels to put their live experiences into words.
Shake Stew brings together seven unconventional musicians, all of them interesting characters of the young Austrian and German jazz scene. They are united with bandleader Kranzelbinder (1988) by the pursuit of new, enhanced sound possibilities and by concepts beyond boundaries of genre, which are by now already considered a guarantee with Kranzelbinder. His own distinct combination of virtuosity, entertainment and uncompromising energy comes out in many of his projects and has meanwhile become a kind of trademark of the hard working musician, composer, and arranger.
As the youngest musician so far in the history of the prestigious Jazzfestival Saalfelden, he was chosen to put together a new project for the festivals opening concert in 2016, which is also connected with a 4 day residency. He put together a septet and prepared the festival show for a whole year, before not only recording the debut album "The Golden Fang" within a day of the residency but also playing a concert to remember.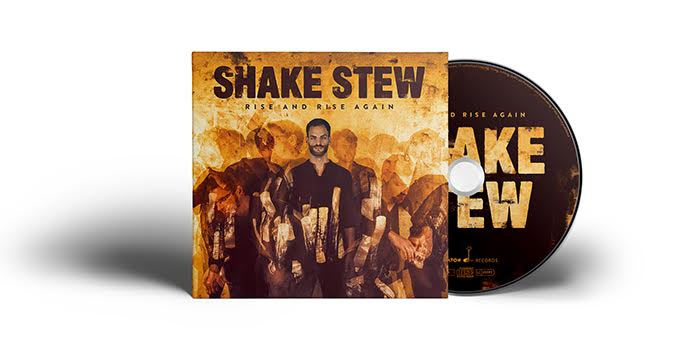 From this point on Shake Stew was on a unique journey. In their 6 month residency as a Stage Band they managed to sell out Vienna's biggest jazz club Porgy & Bess for every show, developing and presenting a new program at each of their performances. When Kranzelbinder invited Shabaka Hutchings for one of the evenings, the musical and spiritual connection between Shake Stew and the Tenor Wizard was felt almost immediately. Right after a 4 day tour they went into the studio and recorded an album that reflects the many musical souls that lie within this group of musicians.
Release Date: 20 April 2018
Format: CD | Digital
Label: Traumton Records
Artist website: Shake Stew
Line-up:
Lukas Kranzelbinder: double bass, e-bass, guembri | Clemens Salesny: alto saxophone, crackle box, flute | Johannes Schleiermacher: tenor saxophone, flute | Mario Rom: trumpet, flute | Manuel Mayr: double bass, electric bass | Niki Dolp: drums, percussion | Matthias Koch: drums, percussion
Special guest: Shabaka Hutchings: tenor sax (track 2 & 5)
Track listing:
1. Dancing In The Cage Of A Soul | 2.How We See Things | 3. Goodbye Johnny Staccato | 4. Fall Down Seven Times | 5. Get Up Eight | 6. No Sleep My King?
Last modified: July 16, 2018