Israëli ex-pat Hadar Noiberg has established herself not only in her adopted home of New York City but also on the world stage. A Jazz musician with a vast Classical background and experience in playing Cuban, Brazilian and Middle Eastern styles, Hadar brings it all to the table fusing Jazz and World Music to create her own distinctive voice.
Noiberg's trio has been described as a "Power Trio – tight, full of groove and passion". With it's piano less format (Flute, Bass and Drums) Hadar exploits the harmonic freedom this line-up allows to craft a unique blend of styles that is evocative and powerful. While one may not associate the flute as a powerful lead instrument, Hadar's use of electronic effects and sampled loops expands the tonal range of the instrument delivering a soundscape that needs to be heard to be believed.
April 28 will see the release of Hadar's third album as a leader titled "Open Fields" (JammincolorS JM18-005). While resident in New York City, Hadar is no stranger to Europe having toured extensively on the continent. Her European connection was further cemented when she signed with Belgium based label JammincolorS for the release of her new album that will be officially launched on the release date with a concert in Brussels at Theâtre Marni. In addition to the CD Release in Brussels, Hadar and her trio will also perform a select number of concerts in Spain and France.
Prior to these concerts, Hadar will launch a new Duo project together with renowned pianist Chano Dominguez. Performing at Porgy and Bess (Vienna), Moods (Zurich) and the Unterfahrt (Munich) the duo will play a set of music the is inspired by the rhythms and traditions of their respective homelands.
Recently I sat down with Hadar to discuss her new release, Her new collaboration with Chano Dominguez and her view of the state of Jazz.
Andrew Read: Hadar, thanks for taking the time to speak with me and congratulations on the new album. I'd like to start with the new album that will be released on Jammin'colorS at the end of April. This album is your third album as a leader and reading the liner notes it would appear this album marks a milestone in your personal journey. Can you tell our readers about this.
Hadar Noiberg: It's my pleasure and thank you for having me! Yes, this is my third album as a bandleader with my trio. It's been a little over two years since my last album came out and in those two years, many things in my life changed. About two years ago I felt unhappy in my life, I knew that something was fundamentally wrong but couldn't put my finger on it. I knew that I needed to make a big change in myself but I had no idea how elaborate and deep it was going to be.
I started a process of taking responsibility in my life in a whole new way. That initiated a chain reaction of changes; one of them was that I got divorced and, as a result, had to redefine many aspects of my life. I got to know new people who brought positive energy into my life and my work. I met some really amazing people who became my community and chosen family. I believe that music and life are extremely connected so naturally, there was a change in my musical being as well. This CD represents who I am now and who I'd like to be. This is a part of the reason that the album is called Open Fields. It talks about our inner freedom and our openness and truthfulness to ourselves and the world around us.
AR: I see that for this album you have planned the official CD release to be on 28th of April at Theâtre Marni in Brussels. As a New Yorker, why did you plan the release to take place in Europe?
HN: I've been living in NYC for the past thirteen years but I've been spending more and more time in Europe in the past 5-6 years. I feel like there's an audience which loves and accepts my music for what it is which is a kind of hybrid between jazz and world music while using effects, loops etc. I love the audiences in the US as well, but I feel like the jazz scene can be a bit conservative at times. Moreover, my label is in Belgium so it made perfect sense!
AR: The trio on this album, and for that matter your previous album "From The Ground Up" is comprised of yourself with bass and drums. Why did you choose not to have a harmony instrument in the line-up?
HN: I've always liked to venture out of the "norm" and to look for new sounds and ways of expression. I'm playing a melodic instrument but was always quite jealous of harmony-oriented instruments, and I'm looking for ways to create that with my flute. For example, this album has more layers of flutes which, at times, create the harmony. In addition, I'm using some loops and some singing with the flute (playing one note and singing another) and the absence of a harmonic instrument allows me and the bassist to create our own harmonic world. A strong instrument such as piano could easily overpower the flute as well as restrict the harmony- sometimes I also like to play some quarter tones and to be able to have the freedom and the space to feature the flute as the colorful soulful instrument that it is.
AR: This coming tour is not your first venture into the European scene. Do you find any differences between European and US audiences?
HN: That's interesting! I started saying something about that before without seeing this question. I feel that the definition of European jazz is  more open. There are many people who are merging together jazz, improvisation and freedom with elements of folk music from different traditions. Actually, New York has all of that because you have musicians who come here from all over the world and mix their own traditions from back home with jazz, but, if I had to generalize, I'd say that there's more segregation between jazz and world music in the US. Having said that I'll also say that the audiences in the US have always been extremely open and receptive to my music.
AR: You have a new duo project with Chano Domínguez, in fact you'll both be playing concerts together in Europe next week . Tell us a little about how this collaboration came about?
HN: This is a very special story. Last year I came back to the jazz conference jazzahead! in Bremen, Germany, after being featured there with my trio two years ago. I was checking out a lot of beautiful music and when my agent told me that she was going to see a show by a very special pianist named Chano Dominguez I was more than happy to join. In these kind of conferences you listen to so much music and talk to so many people that at the end of the day it's hard to stay concentrated, especially in an intimate setting like in a solo piano concert. Chano kept me captivated for the whole time and really took me on a musical journey. At the end of the concert I came to him, introduced myself and said that his concert was wonderful and that I'd love to play with him. We realized that we both live in Brooklyn. Within two weeks we  already had our first session together. Chano is very connected to the Spanish culture where he comes from and I feel that I'm very connected to the Israeli/Middle Eastern tradition which I come from. We found a lot of similarities in these Mediterranean musical cultures as well as in the way we both feel music,  and started meeting and examining new ways of interacting and using our musical languages to create something new. After some meetings we both knew that we have a special connection and decided to create this duo project.
AR: Your trio albums all have a fusion of Jazz and World Music flavors as does many of Chano's recordings. Can you tell us a little about the repertoire you are performing with Chano and what the public can expect.
HN: Sure! The repertoire consists of a mixture between some Spanish and Israeli songs (for example an old Israeli folk song and a song by Paco de Lucía) with our own interpretation. We are also playing our original songs with new special arrangements for the duo. It's important to us to change the usual format of a flute & piano duo and we are finding new ways of presenting these two instruments together as equals. We recently made our own arrangement to an amazing piece by the Argentinian composer Astor Piazzolla which was composed originally for flute and guitar but I felt like the spirit and the melody of the piece could really fit our duo so we made it our own. The whole process is really a lot of fun. I think the audience will enjoy it.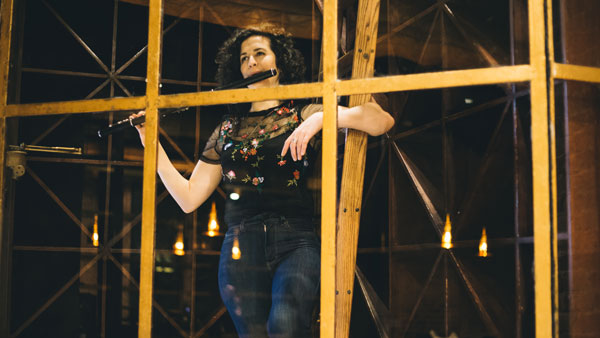 AR: In your live performances you often utilize electronic effects. How important is technology to your music and do you use this in other setting's, i.e. the duo with Chano?
HN: In the recent years I started venturing out and using some more effects as well as loops. I'm actually a big fan of acoustic instruments and acoustic music but I also like the combination with electronic music. I'm just starting to understand more about this world and it definitely interests me. For now, I'm using my effects in a way which will sound very organic to the music and will serve it. I'm planning on expanding my knowledge and introducing some more effects as well as triggers as part of my music. With Chano the music is mostly acoustic but I use different sounds with my multi effect. We are speaking about being more experimental though, so we may introduce more technology in the duo setting as well.
AR: I've asked this question a great deal in recent interviews and it's provoked some rather interesting answers so far, so here I go. What are your thoughts on the state of Jazz today and where do you see the future of the genre?
HN: Yeah, this is a great question. I think that what keeps the jazz alive and relevant is to let its flavors and colors mix with different musical traditions. I think a good example is what Chano or I or many other musicians out there are doing. I think that straight ahead jazz is a bit like Classical music these days- it's great and important that it'd being preserved and performed by musicians all over the world and, at the same time, I believe that if the great jazz minds like Charlie Parker or John Coltrane would have been alive today, they would have kept inventing and expanding their music and would not have played the same thing they did seventy years ago. I think that letting jazz evolve by letting it mix with other musical traditions is the way to keep this style relevant and alive.
AR: The rise of the #Metoo movement has lead a lot of talk recently about the position of women in jazz and the struggle to be heard as equals – do you have any opinions on this issue? How has your experience been?
HN: Well, I'd like to make a clear distinction between my opinions and my experience. My opinion is that there shouldn't be existing a term like "women in jazz". Women who happen to play jazz are just like men who happen to play jazz but were born as women. Bottom line is that we're just jazz musicians. Just like any other jazz musician. Many times people ask me in interviews how it is to be a woman in the 'jazz world' and I wish that nobody had to ask me this question. I'm also gay so for me then comes the question of being a gay female jazz artist. Don't get me wrong- I'm a huge advocate for equality for women as well as LGBTQI rights.
Growing up, I was never aware that I was a 'female artist'. To me, I was always 'an artist'. But now let's talk about my experience- my experience shaped me up to be more aware about what it means to be a gay woman in the jazz world. I had to be aware of it because I had to shield myself from men who were constantly trying to belittle me or get in my pants. Men who are professionals who allow themselves to tell me to "maybe you forgot to turn down the volume on your effect pedal honey", like I'm not a professional musician who's been on stages my entire life. This angers me.
It also angers me that every female musician who I've spoken to has been through the same. Now I deal with it better though. I also realized that as women, we're raised to be more apologetic and accepting and I've learnt to connect to my inner power and to project it outwards. I'm able to better understand that it's "theirs" and not "mine" and to be the most professional I can be. I'm an Israeli woman- we can be very direct and forward and I'm staying honest to my true self even if it's making some men uncomfortable. I've recently realized that not everybody's going to like me. Or my art. It's perfectly fine with me. Those people shouldn't be playing with me or working with me or in my chosen work/personal surrounding. And if I must deal with someone like that because of my job, I try my best to show my best self and to not apologize for who I am or what I represent.
AR: What's next for Hadar Noiberg?
HN: Well, I'm super excited for the tours ahead- the one with Chano is starting on March 11th in Vienna and after that I'll be playing a CD Release tour with my trio in Europe as well as some shows in the US and back to Europe again in the summer and fall. I'm working on a flute solo show which I'd like to start performing with this year, I'd love to go back to Brazil after the successful debut my trio had there last year and to keep composing and expanding myself musically as well as personally. I also hope to get to Japan this year or early next year for a Japanese CD Release tour.
For those that would like to see Hadar Live her tour dates are listed below.
Duo with Chano Dominguez:
March 11th- Porgy and Bess, Vienna
March 13th- Moods, Zurich
March 15th- Unterfahrt, Munich
With the Hadar Noiberg Trio:
March 20 – NH Suecia / Blue Note, Madrid
March 28 – CD RELEASE, Theâtre Marni, Brussels
May 02 – Sunset-Sunside, Paris
May 09 – Jazz dans le Bocage, Rocles
Last modified: July 15, 2018