Editor's note: Read Fiona Ross's Interview with the acclaimed pianist Dave K. Mathews. Tomorrow (Saturday) you can read Fiona's CD review of the new album by Dave K. Mathews – 'The Fantasy Vocal Sessions Vol 1' a collection of Jazz standards.
David K Mathews is currently the keyboard player for Santana having previously been Etta James pianist for 20 years. He has worked with an absolute dream list of musicians including Wayne Shorter, John McLaughlin, Ruben Blades, Pee Wee Ellis, Robert Cray, Bonnie Raitt, Herbie Hancock, George Duke, Dr. John, Tito Puente, Jose Feliciano, George Benson, The Marsalis Brothers, Bobby McFerrin, Jaco Pastorius, Marcus Miller, Esperanza Spalding, Ronnie Wood, Chaka Khan and Jimmy Heath. He is releasing his 'The Fantasy Vocal Sessions Vol 1' a collection of Jazz standards, which is his first outing as leader in 15 years. It was an absolute joy to talk to him about his new project and his life as a musician.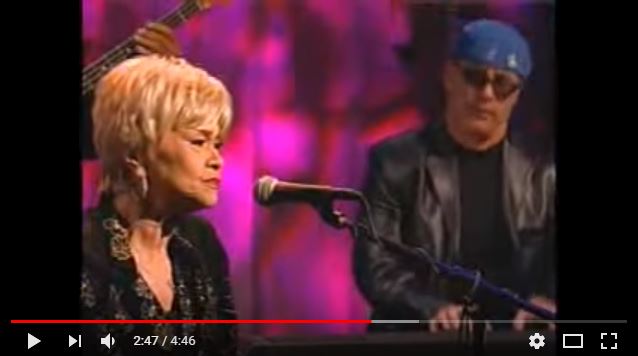 Here's Fiona Ross (FR) Interview with Dave K. Mathews…
FR: The press release for your new album says that 'the regal presence of Etta James looms large over this unusual and invaluable album' How?
DKM: I worked with Etta for 20 years, and she was like my mum. You don't work with someone for that long without loving or hating them and I loved Etta very much. I had been doing 50/60 gigs a year with Etta and I had saved some money to do a project for myself and I thought I'd ask her to sing a few tunes. We had such a good musical rapport. And ultimately, she was one of the inspirations for me to start this project. But then she started to kind of fall apart. Her health had gone up and down over the years and you know, she was like Miles Davis – someone who had lived several lifetimes within one lifetime. By about 2007, which is when I had decided to do this project, things were starting to get inconsistent. She was cancelling gigs, having to go in and out of the hospital and her health was really starting to decline. Everyone was wanting to hire her and she could easily have worked 150 gigs a year at that time and she was finally getting what she deserved. All these celebrities wanted to hire her to sing 'At Last' and her marketability was at its peak. So of course, I didn't want to put any pressure on her for my project, we were just all trying to keep it together for her to make her gigs.
FR: As Etta's health really started to decline, you lost your savings and were struggling to pay your bills. Financial security as a musician is a challenge, but you achieved this for many years. It must have been very hard to suddenly be faced with this.
DKM: Yes, tours were cancelled and I basically had to live off my savings – the economy crashed and any equity I had just went. We did a show, and she forgot the lyrics to 'At Last' which she had been singing since like 1960. At this moment, I thought, that's it, she's done, she's falling apart. But she bounced back and she was feisty and kicked ass but then she fell apart again and the last time I played with Etta was May 2009. I was basically out of work from then until July 2010, doing some teaching and in fact I was giving Jefferson Starships keys player, Phil Bennett, a lesson when I got the call from a friend of mine, saying that I'd got the Santana gig, but it was top secret and not to tell anyone. I'd had my eye on the Santana gig for a long time and I played with Tower of Power before and one of my heroes was Chester D Thompson. I knew that he had left Santana, but I didn't know the gig was available. And I was really broke at this time. I never missed any payments, but I did have to call my mum and ask for a loan at this time – first time in 20 years. She said she was so proud of me and of course, she knew how hard it was to be a musician. I told Phil – I think I've just got the Santana gig?! And later that evening, they did call me saying that Carlos wanted me to go to Vegas and play with him for two weeks and then Europe for six weeks etc…and the first thing I did with my first pay packet was send my Mum the money.
FR: Did you feel any pressure replacing Chester Thompson? They are big shoes to fill…..
DKM: I kicked ass. I got a 20% raise after I played my first show.
FR: This album is the first album for you as a leader in 15 years. Why now?
DKM: It's the first record in a series of about 5/6 CD's and they are all going to be called 'The Fantasy Sessions'. I'm going to use all the great musicians I know and have worked with in the Bay Area. It's like a family legacy project for me. Everyone on this record is a world class musician and I have made sure in the linear notes that everyone has a bio. I like sleeve notes and I like commentary, like we used to have on vinyl's. I have wanted to do this since 2007, and I just wanted to record with some people I really loved playing with. I had some money saved –  the time was just right to do this  and I just wanted to do something for myself – it's a little bit of soul satisfaction.
FR: The new album was created with a more traditional approach – no rehearsals, the singers chose the songs – what led you to that decision?
DKM: For the most part, I told the singers to pick three medium tempo songs and two or three ballads. I was in the studio for about four days and cut about 40 tunes with about 12/13 vocalists. Everything was a first or second take and we just basically went in and played – it was very informal. I recorded some soul tracks too and I'm ready to start working on volume 2 of the series. The series is going to be eclectic. There's going to be soul music, pop music, rock 'n' roll, blues, Afro Cuban and Brazilian music – it's totally exciting.
FR: Who/what inspires you and why do you do what you do?
DKM: That's an interesting question. I mean, you know I'm a musician. That's my life. I've been playing the piano since I was seven and at about the age of nine, I sort of had a vague instinct that music would be the best way for me to negotiate my way through life on this planet. I grew up around great bands and musicians from the Bay Area and I have been so influenced by them all. I'm just a student really. I listen to everything and I love all kinds of music and I have a love of playing all kinds of music.
FR: I read in a previous interview that you said, 'I really wanted to learn how to play some Fats Waller, so I thought maybe if I got a tattoo of him, I'd have to be able to back it up' and I understand you have quite a few music tattoos. Who do you have and why?
DKM: I have Ravel, Fats Waller, Nat King Cole, James Booker. I've been thinking about getting rid of Ravel because no one knows who it is and he didn't quite get his mouth right – everyone's always asking who's that guy? If I got Ravel removed, I would probably have him replaced with some kind of Santana thing – the first tattoo I ever had done was Tower of Power – but I didn't want to get Santana yet as I didn't want  jinx it! I thought I would wait for several years before I get that one done, so I've been holding out. I love Ravels music, I just don't feel I need that on my arm anymore.
FR: You have been working in the industry since the seventies. You've seen some changes and you have been at the heart of it. How do you find working as a musician in today's industry compared to when you first started?
DKM: I don't own a television although I do have a big screen where we can stream movies, although it doesn't happen very often. I read books. I have a library and I own about 4000 books and I love to read. I think the digital revolution is a great thing because its empowering people all over the world – women especially in third world countries and women, as you know, are an oppressed minority. As far as music goes, kids these days have so much access to the kind of things that I had to play over and over again on a record. Back in the day, piano players would get piano rolls, and they would unlock the mechanism on a player piano so they could slow it down and by putting their fingers on it, they could mimic what the keys were doing. Now you can go on You Tube and see an incredible amount information that is available for the digital savvy youth of today. But there is also a lot of information that people don't need to see and everyone seems to get their 15mins of fame. There's always negatives to progress. I think it's important for a musician today, who wants success, to be knowledgeable in the digital realm as well as to be a great player. It's not OK to just be a great player anymore. Like Esperanza Spalding did a thing, and I've played with her once in Portland, and in fact I saw it on your magazine, and she was very brave. I looked at this and thought I would not be comfortable with doing this – unless I was really sure that everything I was going to play live was perfect or close to perfect.
FR: Who would you still like to play with?
DKM: Golly. I've played with some great musicians. Sadly, a lot of the people I would have loved to have played with are dead now. Mmm…Chick Corea gave me a quick informal lesson once…who do I want to play with?…..Jeff Beck. Blow by Blow was an inspiring album for me.
FR: Thank you so much for talking to us, it has been an absolute joy.
DKM: Thank you Fiona!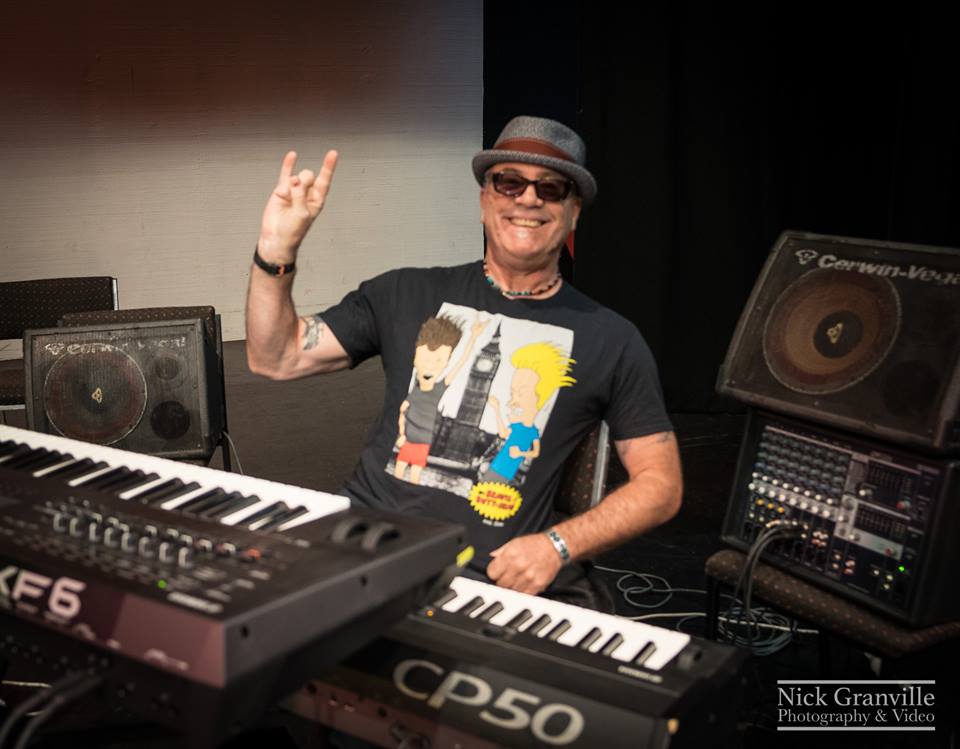 Interview: Fiona Ross
Also read Fiona's CD Review of Dave K Mathews latest offering: The Fantasy Vocal Sessions Vol. 1
Photo credits: Nick Granville –  and (c) info: all rights go to original recording artist/owner/photographer(s)
Last modified: July 15, 2018