As a bass player, when asked who my influences have been I would always put Scott LaFaro at the top of my list. This month marks 56 years since the release of Waltz for Debby, the album that best defines the artistry of this bassist that in my mind single handedly changed the roll of the bass within the piano trio format. With this in mind I felt it a good time to take a look at Scott LaFaro's legacy and how he along with Bill Evans and drummer Paul Motian redefined the piano trio format.
In this article It's not my intention to delve into the background of Scott LaFaro. For those interested in this aspect I can highly recommend the biography "Jade Visions: The Life and Music of Scott LaFaro" written by Scott's sister Helene LaFaro-Fernandez and published in 2009.
It's 1959 and Scott LaFaro had just signed on for a six-week stint of one-nighters with Benny Goodman. LaFaro's good friend, Herb Geller recalls that it was the end of the first night of the tour when LaFaro and Goodman went "…around to hear Bill Evans. Paul Motian was on drums, Nobby Totah on bass. Scotty sat in. There was great rapport. Bill had first heard Scotty with Chet Baker three years earlier…Not long after we were back off the Goodman tour, there was a call waiting for Scotty…that Bill wanted him to work with him."
In October of that year, LaFaro, Motian and Bill Evans worked together on a session for clarinetist Tony Scott. This session has become known as "The first meeting of the Trio". Two months later, on December 28, 1959, this famous incarnation of the Bill Evans Trio made its première recording for Riverside titled "Portrait in Jazz".
Prior to this album the piano trio format had been a rather conventional vehicle designed mainly to provide a base for the pianist to show his or her wares. Great examples in the period came from the likes of Bud Powell, Tommy Flanagan, Wynton Kelly and the list goes on.
Some would add Ahmad Jamal to this list however, in my opinion, it's Ahmad Jamal that heralded the idea of using arrangements to change the role and participation of the bassist and drummer in the trio format.
Jamal's concept was somewhat different, the music was heavily arranged and within these arrangements the bass and drums were provided room to explore area's not usually occupied by these instruments. In an article looking at the development of the piano trio written by poet and writer Freddington and published on the Jazz.FM91 website Freddington stated in relation to Ahmad Jamal's trio:
"The artistry may not be completely obvious at first listen, but these early records are mostly standards, and a comparison to any other piano trio recording reveals the difference. With Ahmad's arrangements, the bass and drums became key to the presentation of the songs. They were no longer just providing unobtrusive background support and the occasional solo."
While this maybe the case, the music remained composed and arranged. This was not the case with the Evans, LaFaro and Motian trio. This is a monumental shift in thinking, no longer did we have a pianist being accompanied by bass and drums, we now have a three way conversation between three equal partners. In fact Evans even called the approach "conversational."
Equal partners is the key here. Prior to LaFaro entering the trio, Evans had worked with many great bass players including Teddy Kotick, Sam Jones, Jimmy Garrison, and Paul Chambers. While all great players and accomplished soloists in their own right, when working with Evans they were traditional role players with every now and then a slot for a solo.
LaFaro changed all this. In an article published in the New Yorker, The trio's drummer Paul Motian said "LaFaro was the one man who could be tough on Bill. Like, if he didn't think the music sounded right—if it was great but not perfect—he'd say to Bill, 'Man, you're just fucking up the music. Go look at yourself in the mirror!' He'd even say it to me, when he didn't think I was playing right. And he had only been playing the bass for a few years."
People often say that the true interaction was between Evans and LaFaro. However this, I believe, underplays the roll the Motian played in the trio. Motian was without doubt an equal participant in the conversation, at times sitting back and where necessary coming to the forefront. Motian rarely played straight time, it was more implied than stated but always present. Without the stability of Motian in the mix it would have been far more difficult for Evans and LaFaro to explore the melodic and harmonic realms they were able to reach.
Portrait in Jazz was released in 1960 to great critical acclaim and is without doubt one of histories most iconic jazz albums. The trio went on to record four albums before the untimely death of LaFaro in a car accident on July 6, 1961, just ten days after the final Village Vanguard recordings with the Bill Evans Trio.
Two of the four albums were studio dates, "Portrait in Jazz" and "Explorations" and produced by Orrin Keepnews. While both exceptional albums in their own right it's the two live albums "Sunday at the Village Vanguard" and the iconic "Waltz for Debby' both recorded at New York's Village Vanguard" that truly capture the magic of this trio in it's natural environment.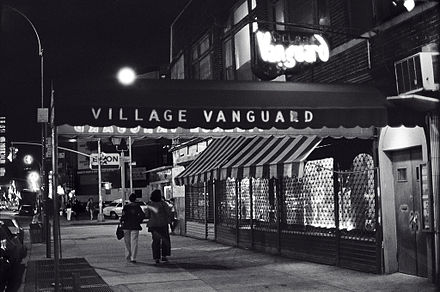 The trio did not tour extensively during it's brief existence. In July 1960 Evans fell ill with hepatitis and went to Florida to recuperate at his parent's home amid rumors that he'd died. Evans illness also resulted in the cancellation of a long engagement at the Jazz Gallery.
It's well known that in this period, Bill Evans and Heroin were frequent partners. This was not the case with Scott, he had a major aversion to drug use. Pianist Steve Kuhn said of Scott "he was healthy as a pig…didn't smoke, drink, use drugs, but he liked to drive fast." Evans drug problem was a concern for Scott and maybe one of the reasons the trio toured so little. Producer Orrin Keepnews said that when the trio recorded its second session, Explorations, on February 2, 1961, "Scott was being very explicit about his problem; he was very reluctant to go back on the road unless it was for a lot more money. As he put it, being out with a leader who was a junkie put him at risk of being stranded…"
Although his performing career lasted only six years, LaFaro's innovative approach to the bass redefined jazz bass playing, liberating the instrument from it's traditional role and inspiring a generation of bassists who followed him.
In my opinion it's the duty of all young jazz bass players to study the work of Scott LaFaro. Along with many of the other great legends of the bass throughout the history of jazz, including Jimmy Blanton, Oscar Pettiford and Paul Chambers, Lafaro's legacy is of great importance and can be heard in the styles of many of the great players that followed in his foot steps.
In 2009, Resonance Records released "Pieces of Jade", the first album released featuring LaFaro as a bandleader. The album includes five selections recorded in New York City during 1961 that showcase LaFaro with pianist Don Friedman and drummer Pete LaRoca, as well as 22 minutes of LaFaro and Bill Evans practicing "My Foolish Heart" in late 1960 during a rehearsal. This is a must have for all Scott LaFaro fans.
On a final note, below are a number of quotes from renowned bass players, many of whom followed Scott LaFaro in the Bill Evans Trio: These quotes are sourced from an article written by John Goldsby and published in Bass Player Magazine in 2010:
Eddie Gomez, who played with Evans from '66 to '77: "When you look at the way Scotty played the bass, that aspect by itself is extraordinary. But the interactivity between all the instruments, the dialog, the space they created was unique. I began to fathom that later when I played with Bill: How much music you can personally create is related to how much you create as a group."
Marc Johnson, who played with Evans from '78 until the pianist's death in '80: "The things LaFaro did in-between piano phrases and across the time were phenomenal and made a deep impression on me. It was a conceptual thing; he served as a melodic counter-voice to everything else that was happening. He wasn't walking all the time in 4/4, yet he had a real groove with Bill and Paul Motian.
"When they played ballads, the groove would go from first gear to second gear and back to first gear with an implication of double-time and other meters. He played with ideas that went over the bar line and obfuscated the one. His approach was truly creative and beautiful."
Joe La Barbera, the last drummer to play with Evans: "Paul Motian was playing the time, and I think that was exactly what Bill needed. The real interaction was happening between Bill and Scott."
Stanley Clarke: "Everyone tends to label the trio's concept as 'group improvisation, the word I find to describe it is 'interplay…. What was cool about the Bill Evans Trio was that regimentation was thrown out the window, there was a lot of interplay, and the music was going in all directions, linear, forwards, backwards."
Last modified: July 15, 2018