Resonance Records has just announced the release of The Quest, the third recording from twenty-year old guitar virtuoso and Quincy Jones protégé Andreas Varady.
A native of Slovakia, and now resident of Ireland, Varady emerged from thin air and put the guitar playing world on notice that there was a new force on the instrument to be reckoned with.
In a recent press release the label stated "On The Quest, Varady's artistry has reached new heights. His unadulterated command of the guitar, his highly-developed skills as a composer, his rhythmic facility (which speaks volumes about his roots in Gypsy music), and his ability to craft an astonishing flow of single-note lines while traversing chord changes, all by ear, has attracted the attention of many legends of this music, not the least of which is Varady's mentor, manager, producer and friend, the esteemed Quincy Jones."
The Quest, available on April 6, 2018, features Varady in the company of his father Bandi on bass, younger brother Adrian on drums, fellow Slovak Radovan Tariska on alto saxophone, and Venezuelan native (and current New York City resident) Benito Gonzalez on piano.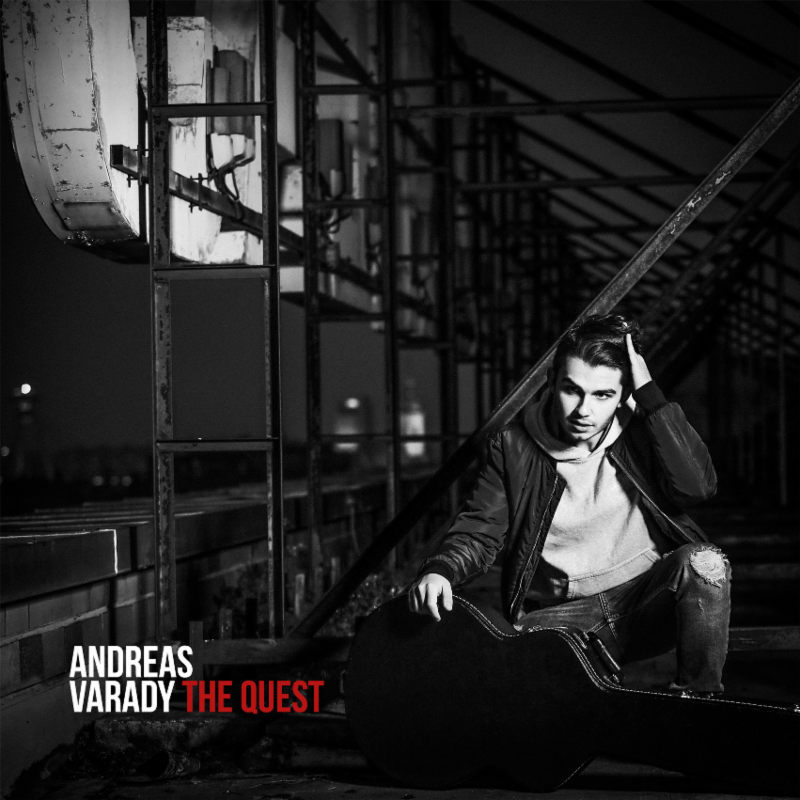 At just twenty, Varady has already performed at major festivals and venues around the world. The next exciting new chapter in the journey of this uber-talented musician begins with the release of The Quest. Varady has expressed that this album, comprised of all original music, feels very much like his first fully realized artistic statement, and indeed it showcases Varady's evolution from child prodigy to consummate artist, one with an abundance of fresh, bold energy. "I feel like I'm giving you a piece of me on this album," said Varady. The album title, which also reads like a mission statement is, "about this whole quest that I'm on in music – seeking cool things, playing cool music in cool places, enjoying it all and having fun and doing what you wanna do," said Varady. The album is also his debut release on the boutique non-profit jazz label, Resonance Records, which signals a departure from his self-titled major label debut on Verve in 2014. Two other Quincy Jones protégés, Justin Kauflin and Alfredo Rodriguez, will also be releasing new albums in 2018.
Resonance EVP General Manager (and executive producer on The Quest) Zev Feldman said about first hearing Varady, "Upon first listen, I was struck by his talent and artistry. Then getting a chance to meet him in Ireland, and spending some time talking with him, he just fits the mold of what Resonance is all about in terms of promoting younger artists and sharing their music. We're very happy to have him on the label. It's also a great honor to work with Quincy Jones and his team, and partnering with them to get Andreas' music out there is something we're very proud of. Resonance believes strongly in living artists also, not just those from a bygone era, and it's going to be very exciting to continue to watch him develop and we're thrilled to be able to add a chapter to his legacy on our label."
Varady has many influences. As expected, guitarists such as George Benson, Django Reinhardt, Kurt Rosenwinkel and Peter Bernstein have greatly impacted his playing, but Varady explains, "I've always been obsessed with saxophone players. I get as much influence listening to John Coltrane as I get from guitar players. But at the end of the day, I could list every musician that I've ever listened to as an influence. I act like a sponge that way. Whatever I listen to I always pick up some things, no matter if it's Radiohead or A Tribe Called Quest or Trane. It can be from hip-hop to rock and jazz…everything kind of all inspires me and influences me."
Track list:
1. Lost Memories | 2. Radio Joint | 3. Follow Me | 4. The Time Is Now | 5. Patience | 6. The Quest | 7. Story | 8. Her Dream | 9. Radiska | 10. Outro
Release Date: 26April
Format: CD | Digital
Label: Resonance Records
Last modified: July 15, 2018