Muddy Waters performance at the Newport Jazz Festival in 1960 was recorded and released as his first live album,  his live performance of "Got My Mojo Working" was nominated for a Grammy award.
McKinley Morganfield (April 4, 1913 – April 30, 1983) better known as Muddy Waters, was an American blues musician who is often cited as the "father of modern Chicago blues.
Muddy grew up in the Mississippi Delta during the early years of the 20th Century and learned how to play and perform through the likes of early blues masters such as Son House and Robert Johnson. Muddy developed his sound throughout the late 1930's through the 1950's and came up with masterpiece blues tracks that spurred entire new genres of music, not the least of which is Rock & Roll. How can we forget that some of the largest figures in music have credited Muddy with laying the template for their sound. Chuck Berry was mentored by him in the early years of Chess Records. The Rolling Stones even named their band after one of Water's most prominent tracks "Rollin' Stone".
In the early 1950s, Muddy Waters and his band, with Little Walter Jacobs on harmonica, Jimmy Rogers on guitar, Elgin Evans on drums and Otis Spann on piano. They recorded several blues classics, some with the bassist and songwriter Willie Dixon. These songs included "Hoochie Coochie Man", "I Just Want to Make Love to You" and "I'm Ready". In 1958, he travelled to England, laying the foundations of the resurgence of interest in the blues there.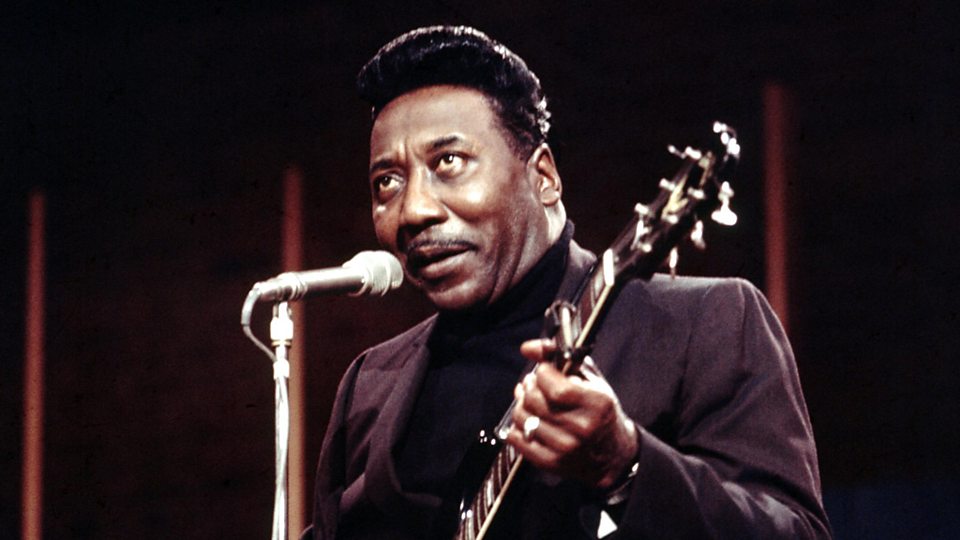 Muddy Waters' influence was tremendous, not just on blues and rhythm and blues but on rock and roll, hard rock, folk music, jazz, and country music. His use of amplification is often cited as the link between Delta blues and rock and roll.
Other notable Songs of Muddy's include "Mannish Boy", "Honey Bee", "I Want to Be Loved", "I Can't Be Satisfied", "I'm Ready", "Champagne & Reefer".
In 1972, he won his first Grammy Award, for Best Ethnic or Traditional Recording for They Call Me Muddy Waters, a 1971 album of old, but previously unreleased recordings.
He won another Grammy for his last LP on Chess Records: The Muddy Waters Woodstock Album, recorded in 1975 with his new guitarist Bob Margolin, Pinetop Perkins, Paul Butterfield, and Levon Helm and Garth Hudson of the Band
In 1982, declining health dramatically stopped his performance schedule. His last public performance took place when he sat in with Eric Clapton's band at a concert in Florida in the summer of 1982
Muddy Waters died in his sleep at his home in Westmont, Illinois, on April 30, 1983. Throngs of blues musicians and fans attended his funeral at Restvale Cemetery in Alsip, Illinois, to pay tribute to one of the true originals of the art form.
Find out more and buy ALL Muddy Waters music direct from his estate website
YT Video: lewisldurham
Images: Muddy Waters Discography – and (c) info: all rights go to original recording artist/owner/photographer(s)
Last modified: July 15, 2018