It's that day of the year again and the team at Jazz In Europe want to wish all our readers a peaceful and happy Christmas day, one filled with family, good friends and joy.
With the divisive state our world is in at the moment we are constantly humbled by the spirit of inclusion and the celebration of diversity found within the jazz tribe, once again showing that music can truly unify. We at Jazz In Europe are proud to play our own small role in this.
As the year draws to a close, we are grateful to all our writers for their contribution to the continued growth of our platforms. We are thankful to all of our advertisers that help keep us online and most of all we are humbled by the thousands of readers who choose to visit our platforms each day to engage with and like our content.
One of our favorite vocalists, Ola Onabulé together with pianist John Crawford went into the studio to record a Christmas present for his fans complete with Christmas lights and a plate of homemade sausage rolls. If you've not had a chance to check it out, here it is.
To finish up, if you looking for some great music to play or sing-along with throughout Christmas day, check out our Christmas Spotify playlist carefully curated by the Jazz In Europe team.
So from all of us, we wish you a Merry Christmas, Fröhliche Weihnachten,  Joyeux Noël, Vrolijk Kerstfeest, Glædelig Jul,  Feliz Navidad,  Feliz Natal,  Buon Natale,  Priecigus Ziemassvetkus,  Linksmu Kaledu, Il-Milied It-Tajjeb, Chestita Koleda,  Wesolych Swiat Bozego Narodzenia,  Hyvää Joulua, Crăciun fericit,, Iloista Joulua, Veselé Vianoce,  Kala Christouyenna,  Vesel Bozic,  Kellemes Karácsonyi Ünnepeket, God Jul,  Nollaig Shona Duit, Veselé Vánoce and Happy Holiday.
The Jazz In Europe Team.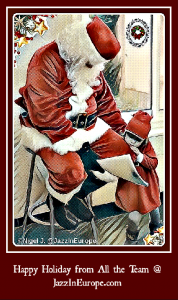 Like us on  Facebook & Follow us on Twitter
Last modified: July 15, 2018