Editors note: Part 2 of this informative article includes a full CD Review of  Beyond The Call of Dury and will be published tomorrow – Saturday 16th Dec, 2017)
The Blockheads have almost become national treasures to a loyal group of followers. For forty years they have been the reassuring backdrop of people's musical lives. The album of the first 'Stiff Tour' in 1977 was one of my first record purchases and, one way or another, the paths of various Blockheads – current and ex- have crossed mine so I start this review with a small admission to being a little bias. The erstwhile front man of this band was one of my earliest fascinations and later, the music itself was what I went to listen to, with the jazz influences so prevalent, particularly in their earlier recordings and the fact they were older, wiser (?!) and flew in the face of what was then the expected criteria for 'pop musicians'- because they never were really.
All the musicians come from different musical backgrounds and what Ian Dury did, first with The Kiburns (who drew members from the world of free jazz, notably The People Band) and later with The Blockheads, was somehow held together, albeit sometimes not very happily and often not cohesively, a band of stellar musicians.  Presenting them as a unit, a force for musical inclusion ranging from funk to jazz to music hall. 'New Boots and Panties' was a high point of their early recordings in a commercial sense and the music on this record was so definitive it held the hearts of followers for many years, even given the changes in the line-up of the band from time to time, the disbanding and coming back together and the deaths of originals Charlie Charles and later Ian Dury himself and the departure of their enigmatic sax player with his characteristic free jazz-influenced playing.
After the loss of Ian Dury, guitarist Johnny Turnbull took over vocal duties for a period, followed by various guests on 'Dury duty' including Phil Jupitus. Saxophone player Gilad Atzmon, who had been recording with Chaz Jankel in his studio, was swiftly drafted in by Ian as reedsman and flute player. Gilad has gone on to become an astute and highly regarded jazz player in his own right so the saxophone role is enhanced latterly with a rolling line up including Terry Edwards, Dave Lewis and Ed Jones when Gilad is committed elsewhere.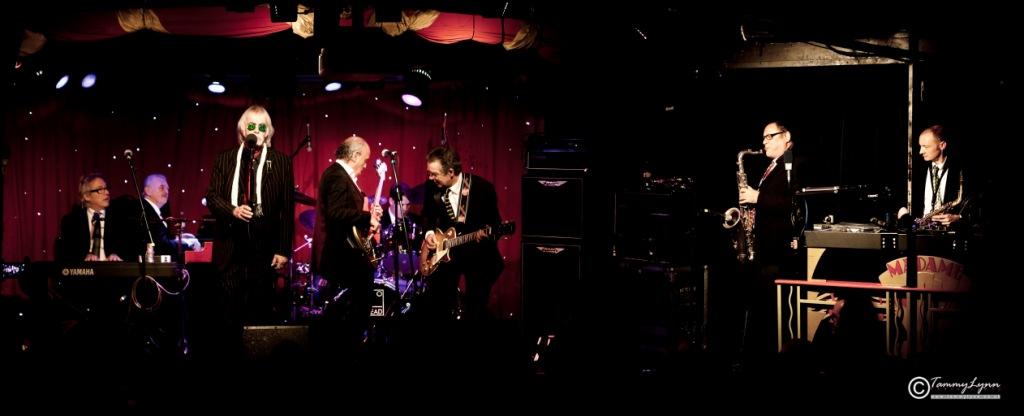 For a while after Ian's death, the band considered not continuing but happily, they did and have proved that, whilst Ian Dury without The Blockheads never achieved the stature he had before, even though he pursued many different projects, including The Music Students and acting roles, The Blockheads without Ian Dury are another matter. Derek Hussey, long-time friend and companion of Ian, became their front man, never replacing Ian but bringing his own brand of lyrical high-jinks and vocal style and the band continues to record and develop their music. There has been a film, a play and many other projects but it is the music which drives them on. A Blockhead gig today includes some of the familiar favourites from the past but also a range of different and varied music which continues to engage and keep listeners interested. I have had interactions with the Stiff label originals, including a letter and 'phone call from Wreckless Eric when his album 'Big Smash' came out, to writing with and about several others as well as writing with both the original Blockheads sax player and Gilad Atzmon. Both these musicians contributed to my book 'All That's Jazz' in 2017. John Roberts joined as drummer when Dylan Howe left and it turns out I knew his manager in a previous band, Phil Lloyd and shared many conversations with him on music. So, like I said, slightly biased.
The Blockheads have had several releases since Ian's death. They have now done more gigs without Ian than with him and their musical catalogue is greater now than then. They can still fill venues and play regularly, though many are involved in other projects. Live, they remain one of the best bands to see and have transformed from the driven, perhaps surprising hit they were in the 1970s (though Ian probably never had any doubts) to a broader, tight, heavy stage presence and experience they are today. Though only 4 of the originals remain, they are as entertaining as ever. The musical pedigree today is even more impressive than it was when they first began as a unit. From The Animals, Bob Geldoff, Frankie Goes to Hollywood, Wilko Johnson, to Wreckless Eric and Howard Jones, the band have played with many other great musicians and many pop hits had parts supplied by these musicians. They love performing and they still have fallouts, albeit smaller ones than with past personnel perhaps.
For this, their 40th anniversary a documentary is being made by Freeseed films titled, 'Beyond The Call of Dury' and an album has just been released of the same name.  The CD (there is a review to follow in part 2) has artwork by Kosmo Vinyl, appropriately, as he was their PR man in the 19700s-mid 1980s.
One person who was part of the original Blockhead sound and their success early on is missing from the line up and latter gigs and that is their original sax player. At a recent gig, after one of Gilad's solos, a guy turned to me (I was Gilad's guest and Derek had stopped the music to check if I was in the audience) and said, 'Great, but he's no Davey Payne though, eh?' I had no answer – no, he is not, but he is Gilad and that in itself is enough.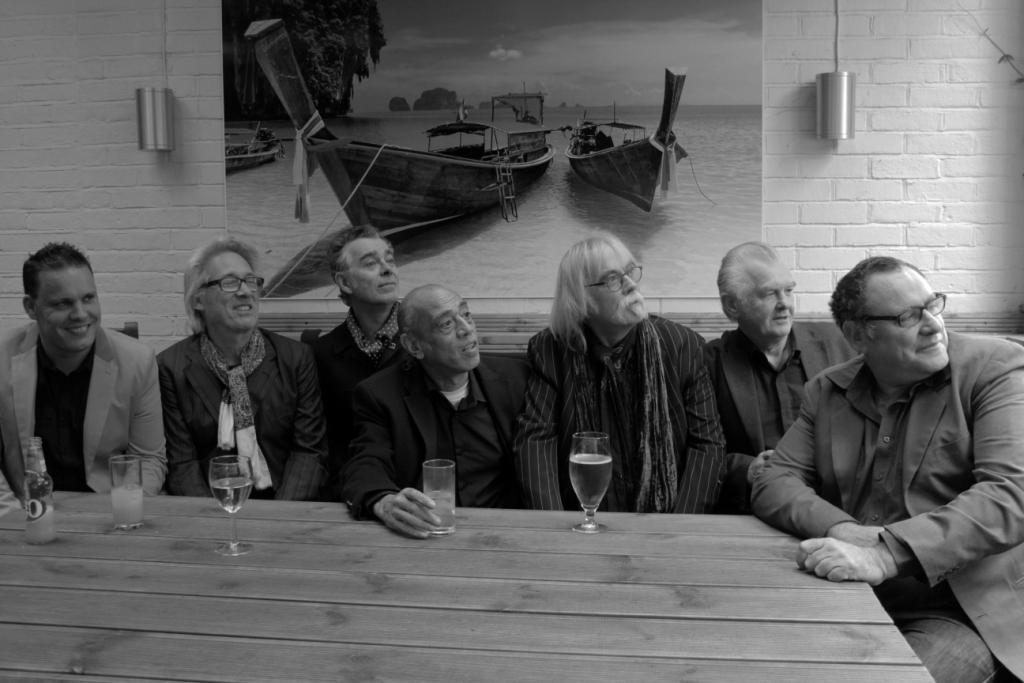 And what of the erstwhile sax man – who surely was also associated with the Blockheads success back in the day and was part of the first half of their 40 years in so many people's minds? Well, he still plays, though it is more likely to be free jazz and nowadays for charity or friends, but there are forays into gigs at perhaps café Oto, Iklectic or The Vortex in London and his music has featured on a couple of CDs in 2016 with 'The People Band Live At The Vortex' and a release from the Krakow Jazz Ensemble, recorded for the film 'Stormy Monday' in 1980, 'Out of Control' (both on 33jazzrecords). He lives in Cornwall in a house which was has a history but one previous incarnation was as an art gallery. He paints and plays and told me he was known for his Christmas window displays using various Kenny and Sindy dolls to give messages. He and his wife serve a mean vegetable curry and Davey will talk for ages about everything and anything but especially music and mouthpieces. He has a Super King Mk6 and a gorgeous Leblanc clarinet – (with a slightly sticky A key). He speaks of Ian and their times together, including wandering around places like Cardiff and elsewhere with fondness. I have written with both him and Gilad and consider both talented in very different ways. When I last spoke to some of the band there was a small sense of disharmony about the signing of a book for a pledge site but many followers who remember the original line up might be hoping they might play together again and Davey mentioned maybe the possibilities of a special or two a few years back. He once told me something like, "when I was on stage with the Blockheads, I would look at Chaz and say to myself,"yes, we are a band". Meanwhile, the band marches on with a continuation of musical development and engaging both regular and new listeners.  Happy Birthday Blockheads. As Ian might have said, Why Bother At All About Blockheads, Why shouldn't they do as they please? You know if it came to a brainy game, you could baffle a Blockhead with ease." That may have been the case but these days; the Blockheads continue to please – with ease. Happy 40th  Birthday.

The bLOCKHEADS new album  and information
Text: Sammy Stein – YT Video: Free Seed Films
Main feature image credits include: Tammy Lynn
– and (c) info: all rights go to original recording artist/owner/photographer(s).  Sidebar Images: Blockhead Discography
Last modified: July 15, 2018