Bassist Reggie Washington was a key participant in the Modern Jazz revolution of the 80's and 90's. His list of credits include touring, recording and performing with musicians such as Steve Coleman, Branford Marsalis, Roy Hargrove, Chico Hamilton, Oliver Lake, Cassandra Wilson and Lester Bowie to name just a few. He has been described as a versatile, 360-degree jazz musician who is equally at home in the Funk, R&B, Blues world. Reggie has a natural and contagious energy, and his bass lines are both sophisticated and explicit.
Today sees the release of Reggie Washington's new album "Rainbow Shadow – Vol2". This album is the second in a series that pays tribute to the late and great Jef Lee Johnson and features Reggie's current band with Marvin Sewell – Guitar, Dj Grazzhoppa – Turntables and Patrick Dorcean on Drums. I had the pleasure of speaking to Reggie to discuss the new album, his work as a sideman and his view of that state of Jazz in 2017.
Andrew Read: Reggie thanks for talking with us. You grew up in New York City in the 1970's and 80's. Both you and your older brother Kenny ended up professional jazz musicians. Tell us a little about those early days and the road that led you to your profession?
Reggie Washington: First off; along with my brother Kenny, my sister Yvette (who's the better musician of the three of us) is an excellent violinist/violist and a teacher of stringed instruments with 30+ years tenure at a prestigious Academy in New York. All 3 of us were immersed in all genre's of music everyday!
My father Charles had an extreme love and passion for music and passed it on to his children. He had a hi-end stereo system and over 3,000 albums and reel-to-reel tapes ranging from jazz, blues, R&B, classical, gospel & big band. My brother still has those same records along with more than 350,000 other albums, CD's and audio media. We also had access to instruments, sheet music & big band charts when my father helped form the Staten Island Music Workshop during the 70's.
He would bring professional musicians to Staten Island to work with and help the "local young musical talent". My Dad had musicians like Reggie Workman, Jimmy Knepper, Jimmy Owens & Dizzy Gillespie come to the house to hang out, listen to records and tell stories while eating my Mom's home cooking! Kenny & I were able to sit "up close" and observe the Thad Jones & Mel Lewis Orchestra concerts every week during the Summer of '72 and '73! A whole lot to take in for a 10 year-old boy but what a great experience it was!
AR: Wow, what an amazing thing to exposed to at such a young age. It's not often one can say they've had the likes of Dizzy and Reggie Workman round for dinner. Even though you were quite young do you have any specific memories of those visits?"
RW: One of my earliest memories is of Reggie Workman coming to the house (in '68 or '69) and he had his acoustic bass with him. He stood it up near the front door against the record closet. The two things that stuck in my head was seeing an acoustic bass for the first time and the guy holding it was also called Reggie! He called me "Namesake" and he still calls me that to this day when I see him. My Dad liked to show off his record collection and play records, drink, eat and talk crap into the early morning hours. Things often got really loud after my parents sent me and my sister to bed. I think about it now and flip out because at that time Reggie was playing with John Coltrane!
I also remember attending a concert around 1970 (not sure of the year) at Wagner College in Staten Island that my Dad put together with Dizzy Gillespie guesting with the Staten Island Music Workshop. We were backstage and my Dad was as always singing the praises of his kids to Dizzy! He said to him; "My little son here loves your tunes, especially The Land of Ooo-bla-dee" (sung by Joe Carroll). Go ahead and sing it for Dizzy!" I was petrified when he asked me to sing that song, I knew it up and down…true but sing it for Dizzy Gillespie ????
The look on my father's face was; "don't you embarrass me boy"! I felt a lot better when Dizzy's facial expressions changed from skepticism to amazement when I sang through all the lyrics to his trumpet solo…and sang that too! My father was gushing with pride!
AR: In the early 1980s you joined Chico Hamilton's band where you stayed for most of that decade. Was this your first major gig and how did working with Chico impact your development as a musician and in particular as a bassist.
RW: It was at the beginning of a lot of things for me. I was trying to grow into a professional musician at the time. I was SO NEW!! Saxophonist John Purcell recommended me for Chico's gig. Chico was a genius, an innovator and a mentor to the Cats in the band. He not only impacted my bass playing stamina through kicking my butt night after night, he encouraged composing and arranging in the band. He also played a part in my development as a young black man travelling in the World! He taught me to be open and respectful of other cultures & people. He taught all of us in that quartet (Cary DeNigris, Eric Person and myself) through example how we need to respect ourselves and to let us know what our mission was as a musician and where it can take us! His teachings are practiced every time I hit the bandstand.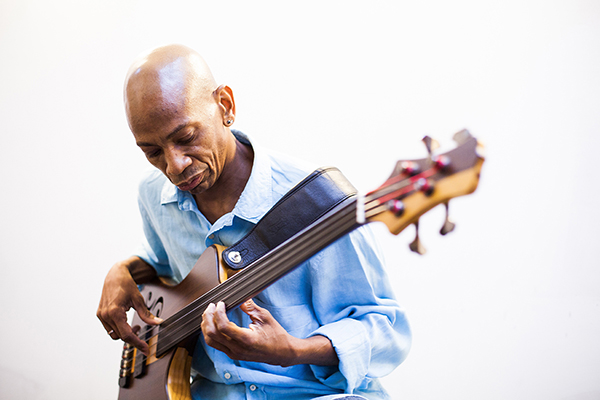 AR: As a sideman you have an impressive list of credits. It wasn't until 2006 that you released your first album as a leader, what led to this change of focus and what do you feel are the main differences between being a hired member of the rhythm section and the responsibility of being a band leader.
RW: In 2005, I found somebody who believed in "Me" a lot more than I ever could! Stefany Calembert-Washington (my wife/manager) gave me a much needed "push" to be a leader. It was my musical challenge. I've helped support some great ensembles from the bass chair over the last 30 years so it was about time I started one of my own. That's when I started playing trio with Ravi Coltrane & Gene Lake! One of my favorite albums is "Freedom Suites" by Sonny Rollins! I wanted that kind of space, fire and sensibility that Sonny had with Oscar Pettiford & Max Roach! From there, I just stayed humble to the music continuing to learn, grow and develop as an artist.
AR. Although I don't want to dwell on your work as a side-man, I would like to ask you about one association in particular. You worked with Branford Marsalis's 90's jazz/hip-hop/rock group Buckshot LeFonque where you toured with the band on their first tour and appeared on the second album Music Evolution. At that time Buckshot LeFonque was seen as a ground breaking ensemble fusing jazz and HipHop. I hear some of these elements in your recent work. Is there a connection?
RW: Definitely! I had a great time with Bran and crew giving me an opportunity to get my doubling (acoustic & electric bass) chops together at a high musical level. That group was one of the first who legitimately could go from playing Jazz to Hip-Hop/Funk… FOR REAL!!
Also, over the past 20 years other bands were born from Buckshot like Roy Hargrove & RH Factor who later influenced Snarky Puppy. Ever since meeting DJ Apollo Novicio in Buckshot, I wanted to incorporate a DJ into one of my bands! I finally did it in my "Music of the Phrase" project with guitarist Jef Lee Johnson and my Belgian family drummer: Patrick Dorcéan & DJ Grazzhoppa in 2008 and 2009.
AR: Let's move on to your work as a leader. Your last CD "Rainbow Shadow" was a tribute to the late and great Jef Lee Johnson. Jef was a truly amazing musician and I see he appeared on your 2012 album Freedom. I'd be interested to hear the back story for the project.
Simply, I wanted to continue Jef Lee Johnson's musical message. I've been a fan since we met in 1986! Sometimes the industry "validates" or gives praise to one artist and gives another artist who's just as talented/gifted no respect or praise at all! To me; Jef was one of those talents not to get the "dapp" he well deserved!
AR:. The follow up album for Rainbow Shadow aptly titled "Rainbow Shadow – Vol2" is out today. How does this album relate to the last one?
RW: I tried to do the same thing Jef was doing with his recordings. I wanted it to be a continuation of the 1st CD with a story to tell. There's been an upward evolution in the band and the concept. More use of Jef (via samples) by Grazzhoppa and me embracing the role of lead vocalist in the music! It's a new and interesting challenge for me as a leader and it makes me very excited about Volume #2!
The original core band of myself on basses & vocals, Marvin Sewell on an assortment of guitars (acoustic, electric, dobro, resonator), DJ Grazzhoppa on turntables and holding it down Patrick Dorcéan on drums is there. I asked some more friends of Jef's and lovers of his music to be guests on Volume #2 such as; guitarists Ronny Drayton, Jimi Hazel & Hervé Samb, keyboardist Federico Gonzalez-Peña, vocalist Monique Harcum, spoken word artist Tiboo and saxophonist John Massa!
AR: Recently I've been asking many of the musicians I interview a standard question that, at times, tends to provoke some controversial answers. So here we go, What is your opinion of the state of jazz today?
RW: I think the state of jazz and in general music today is at a crossroad. If we continue to do nothing to uplift it, there will be nothing of quality to give to the next generation! Artists need to know they have more of a responsibility to their listeners. Music can send a positive message to a lot of people quickly! Music heals the soul and I'm planning to heal as many souls as I can! We need to use this musical power to strengthen our global society and make this World a better place for our children. I personally want to bring the music to another level upward, like my forefathers did and pass on the torch as they did with me.
AR: To round this off, one last question – What's next for Reggie Washington.
RW: I'm ready to tour with Rainbow Shadow – Volume 2 in February 2018. This time I'll have my old "partner in crime" guitarist David Gilmore doing some dates with us in Europe instead of Marvin.
I have to write some new music and revamp some of the old material for my Quartet tour in May 2018 that leans a little bit more to the acoustic bass side of my personality. This quartet will be with Jacques Schwarz-Bart on saxophone, Bobby Sparks on piano & keys and E.J. Strickland on drums.
I have a tour with Mike Clark Trio, another CD recording with Lisa Simone (Nina's daughter), and I will participate in a multi-media project with drummer, producer Ulrich Edorh & producer/engineer Dume DTC.
Reggie's new album is now available at CD Baby and direct from Reggie at his website. Find out more about the album here.
Also take the time to check out Reggie's website and visit his YouTube Channel.
Featured Images by: David Crunelle
Last modified: June 10, 2018