The EFG London Jazz Festival is without doubt one of the greatest celebrations of jazz on the current festival scene. This year the festival features more than 350 performances in 60 venues throughout the city. During the 10 days in November the festival brings a wealth of international legends to London's venues presenting new music, emerging British stars and outstanding collaborations. The programming is diverse crossing many genre boundaries guaranteeing there is something for everyone.
Over the years, the Festival has made a steady transition from it's roots in north London to London-wide establishing today's multi-faceted 10 day event. The festival has grown to be not only London's largest city-wide music festival, but one of the major international jazz events. The highlights have been many – each year brings its own character and momentum, and the riches of the Festival can as easily be found in a packed club as in the concert hall.
Given the volume of performances it's impossible to cover all the act's and concerts, for this reason I've picked a number of my personal must see concerts to highlight. Those interested in seeing the full program can find all the details on the EFG London Jazz Festival website. So with no further ado here are out must see concerts during the festival.
Miles Mosley + Vels Trio | Sunday 12 November 2017, 7:30pm
Venue: Islington Assembly Hall
Upright bassist, composer and producer and founding member of the West Coast Get Down collective, Miles Mosley has been called the 'Jimi Hendrix of the upright bass' and was recently named one of Vanity Fair's Rising Stars. Miles is well know as a sideman having worked with an impressive list of artists including Jeff Beck, Rihanna and Christina Aguilera. In addition he recorded three tracks on Kendrick Lamar's Grammy-winning album 'To Pimp A Butterfly'; and is the upright bass player on long-time band-member Kamasi Washington's 'The Epic'- the critically acclaimed triple CD release.
Also performing is the Vels Trio ensuring a night that will thrill not only the seasoned jazz lover but also the ever-growing 'generation now' of curious, broadminded and savvy music lovers.
An evening with Pat Metheny | Friday 10 November 2017, 7:30pm
Venue: Barbican Theatre
One of the top international act's at the festival is Pat Metheny. For this concert Metheny will perform with his new quartet. In this new quartet, his unmistakable guitar style is matched with UK pianist Gwilym Simcock, joining the brilliant bassist Linda Oh and long-time Metheny drummer Antonio Sanchez, in a band that positively exudes class.
Scott Hamilton Quartet | Sunday 12 November 2017, 7:00pm
Venue: The Other Palace
Making his London Jazz Festival Debut is Scott Hamilton, one of the all time great American saxophone players will perform with his established trio of UK musicians. In the late 1970's Hamilton joined the Benny Goodman orchestra working consistently with the band until the early 1980s. In 1977 he formed his own quartet and along the way recorded albums with Tony Bennett, Ruby Braff, John Bunch, Rosemary Clooney, Woody Herman, Dave McKenna, Gerry Mulligan, Buddy Tate & Concord All Stars. More than fifty albums later he is still recording both as a guest solist and as a leader. Many of these albums have been recorded with his regular British quartet featuring John Pearce on piano, Dave Green on double bass and Steve Brown drums.
Christian Scott | Wednesday 15 November 2017, 8:00pm
Venue: Electric Ballroom
Ever-inventive and relentless trumpeter Christian Scott aTunde Adjuah combines instruments ancient and modern, acoustic and electronic — and some completely new — in a genre-splitting new vision of Stretch Music. Scott returns to the London Jazz Festival with a new band, new album, and new sound. His recent album "Ruler Rebel", the first record from his new series The Centennial Trilogy, details a new vision and sound for Scott and his band. Ruler Rebel promises an audio adventure in a way listeners never heard before and speaks to a myriad of issues from xenophobia to gender equality, evaluating the social political realities of the world using sound.
Joe Zawinul: Stories of the Danube | Terence Blanchard Quintet with the BBC Concert Orchestra
Sunday 19 November 2017, 7:30pm
Venue: Barbican Theatre
Marking the 10th aniversery of the passing of Joe Zawinul, this concert will present a rare performance of his grand orchestral vision of one of the world's great rivers, conducted by his friend Kristjan Järvi. In Stories of the Danube the rich textures of the orchestral palette meet the fire and momentum of contemporary jazz, as the music follows the course of the river through continental Europe and into the Black Sea.
Renowned keyboardist Django Bates has been added as featured soloist, alongside Jeremias Keller (bass) and Martin France (drums), for the first UK performance of Joe Zawinul's late masterpiece Stories of the Danube, with the BBC Concert Orchestra conducted by Kristjan Jarvi, close collaborator with Zawinul in the last years of his life.
Alongside the symphony the trumpeter and composer Terence Blanchard and his Quintet will join the BBC Concert Orchestra in the UK premiere of a new extended piece, Herbie Hancock: By Himself, which was inspired by Hancock's impressionistic piano solos. Complemented with music drawn from the composer's score for the recent Robert de Niro film The Comedians, it's a piece which harks back to that classic Blue Note sound of the 1960s and is a perfect accompaniment to the sweeping evocation of the Danube.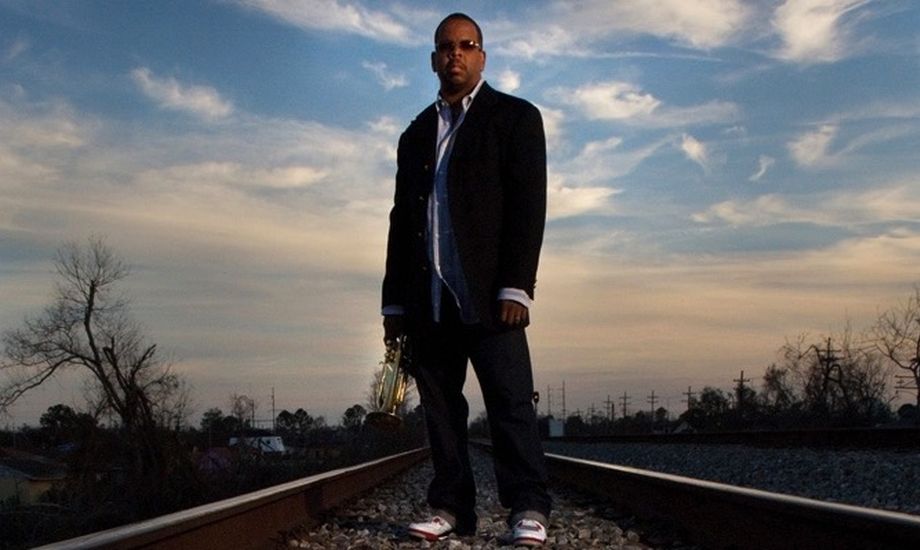 On 10 November at Rich Mix, Whirlwind Recordings head honcho, bassist, composer and producer Michael Janisch, premieres a terrific Stateside band on their first European tour-date with guitarist Rez Abbasi – rapidly emerging as one of today's major new voices on his instrument – alongside Grammy-winning alto saxophonist John O'Gallagher, trumpeter Jason Palmer and the brilliant drummer Clarence Penn.
Other notable performances include Trombone Shorty & Orleans Avenue, Courtney Pine featuring Omar, Eliane Elias, Dee Dee Bridgewater and the Quentin Collins Quartet.
As usual JazzFM's Chris Phillips will host the stations live coverage of the Festival, with a selection of guests and performances. And Erminia Yardley, Jazz In Europes London corrospondent and our house photographer Carl Hyde will be attending a number of performances.
More Information on these and all performances and venues can be found at the EFG London Jazz Festival Website.
Editors Note: With so much to see at this years festival, Jazz In Europe will be posting our daily concert picks in a series titled "London Calling". 
Last modified: July 15, 2018