Congas supremo, Snowboy, played two sold out dates at Ronnies last month. The gigs marked also a well deserved successful end of his UK tour. Snowboy and his Latin Section band were on top form, playing songs from his latest album "New York Afternoon" (Snowboy Records) creating an ebullient atmosphere at Ronnies, making it an even more special night. Some Latin Jazz
aficionados on the night had to literally restrain themselves in not dancing.
Anyone who owns the album by now will know that the cool looking figure of Snowboy is pictured sitting outside some steps (these are actually Ronnie Scott's steps!), he is leaning on his famous congas looking towards the left of the picture. Here is a trivia moment for you: I am proud to know the photographer who took that very picture for Snowboy  On a previous gig review of the band last year, I had noticed the formidable line-up, full of talents and charismatic musicianship. This time round, the vocals were to be offered by someone who was debuting in the UK with the band and who is also Snowboy's favourite jazz singer. Enter the jewel in the crown, Ms Jen Kearney. Boston born, Kearney's persona on stage was maximised by her crystalline strong voice.

Having been flown all the way from Boston to sing in London with Snowboy & co, Kearney proved a shining star from beginning to end. She sang on "Oxen Free", "New York Afternoon" and "Better", which, in my opinion, could not have been sung any better!! Moving and powerful in one.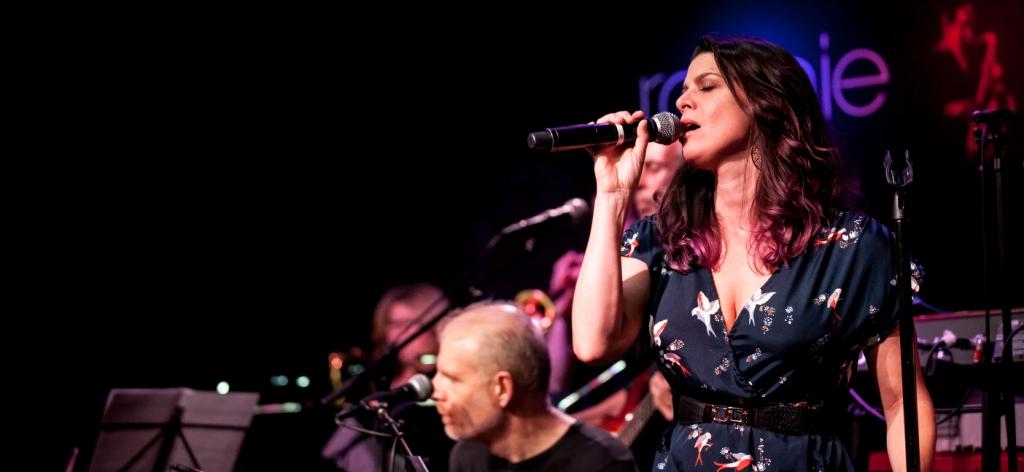 Songs like "Tres Tambores", "La Epoca del Palladium", "Olé Mambo" were just a few of the tracks from the repertoire played on the night, Snowboy's band, the Latin Section were impeccable. Where to start?… Nico Gomez on bass: slick, Davide Giovannini on drums, timbales AND vocals, just fabulous, Shanti Paul Javasinha's trumpet playing was cool as well as Dave Oliver on Hammond B3 and Fender Rhodes, effortless playing, but my favourite, if I can call her so, was the powerfully petite Lisa Grahame on tenor sax: an absolute joy!
A mighty end of tour gig with the European debut of Jen Kearney, I say: let's get her back soon, please!
Line up: Snowboy – congas; Jen Kearney – vocals; Dave Oliver – Hammond B3 & Fender Rhodes; Nico Gomez – bass; Davide Giovannini – drums, timbales & vocals; Dave Pattman – bongos; Shanti Paul Jayasinha – trumpet; Paul Taylor – trombone – Lisa Grahame – tenor sax
Text: Erminia Yardley and Photos: Carl Hyde
Find out more about: Snowboy
Last modified: July 15, 2018