Editors note: Next to our regular series of album reviews written by the Jazz In Europe review team, we have introduced the idea of "Peer Reviews". To launch this we have asked renowned Jazz /Soul vocalist Ola Onabulé to provide us with his thoughts on Fiona Ross's new album "Black, White and a Little Bit of Grey". We hope you enjoy reading Ola's thoughts on this album.
This is the second album release in 2017 from London Jazz Artist Fiona Ross ('The Jazz artist that gave Ed Sheeran his 'first push' Daily Express) who received rave reviews from her last album 'Just Me (and sometimes someone else)' and her live performances, in particular at the London Jazz Platform event.
Fiona Ross' new album: "Black, White and a Little Bit of Grey" is here, less than year after I listened to her stellar performance on 'Just Me (And Sometimes Someone Else)'
This concept album, which charts the arc of a seemingly doomed, dangerously passionate relationship, is a revelation. Fiona's story telling powers are at their zenith – both lyrically and vocally! She and band are not afraid of doing the necessary hard work in the studio either …and it shows. Each song is tight as a drum, the palette of instruments is spartan and disciplined, no over-produced clutter here and Fiona allows herself the occasional unison call & response style backing vocal, which is always very well specified and tastefully appointed.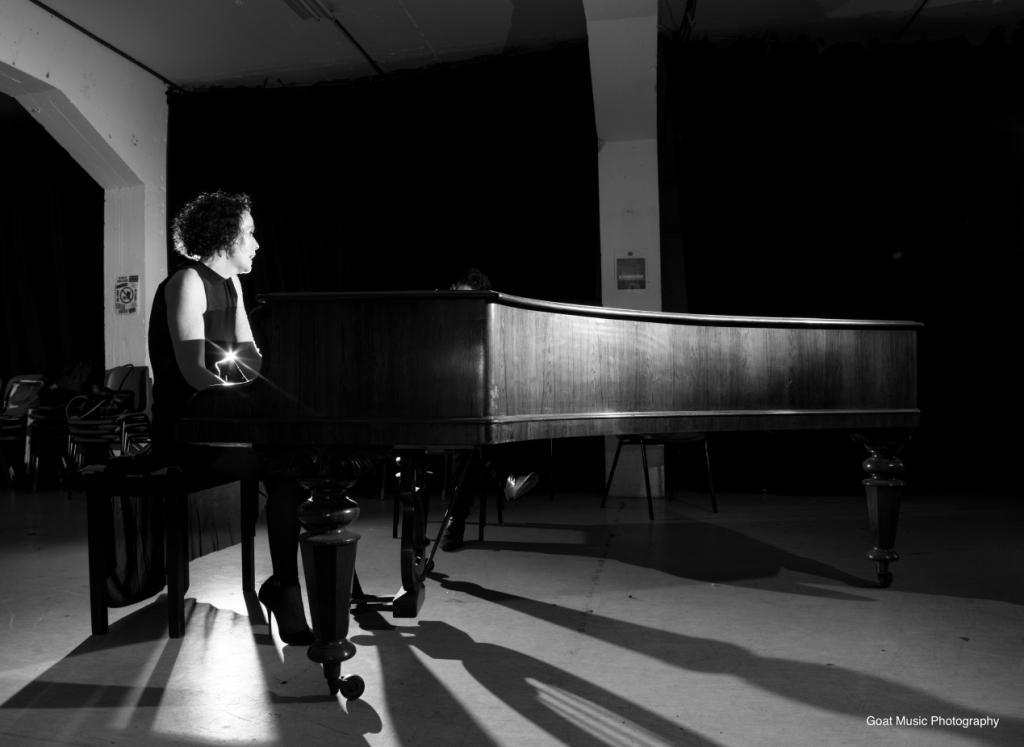 The entire album feels much experimental in terms of time-signatures and styles, with Fiona's nuanced songwriting being as much the star here as the playing, production or singing. I was very quickly captivated by the narrative and I got the sense of the music and libretto for a Bob Fosse era Jazz musical. Future possibilities maybe.
Favourite tunes include 'Touch Me, You Make Me Feel So' and the searingly honest 'The Evidence Suggests' A new anthem for the heartbroken but unbroken everywhere.
Text: Ola Onabulé
Artist: Fiona Ross – Direct Purchase:  iTunes
Album title: 'Black, White and a Little Bit of Grey'
Release date: November 17th 2017 – Record label: Therapy Records – Format: CD + digital download
Album credits:
All songs written, arranged and produced by Fiona Ross
Fiona Ross (Piano and vocals) – Gibbi Bettini (guitar) – Derek Daley (bass) – Marley Drummond (drums)
Kris Buzow (saxophone) – Simon Todd (congas)
Recorded at Studio XYZ, – Mixed by Warren Woodcraft at Highfield Studios – Mastered by Nick Watson at Fluid Mastering
Text: Ola Onabulé
Images: Goat Music Photography, Alexander Barnes-Ross, Cat Andrade,  Stefan Ferrol  & Adam Biggin Photography
'The new album, 'Black, White and a Little Bit of Grey', explores the story of a husband, a wife, and a mistress: a web of emotions, of desires, of regrets, of ecstasy. Situations are not always as clear-cut as they may appear as allegiances shift and betrayals become serpentine—not everything is black and white. Sometimes – when the victim becomes hazy, when pain and passion become intertwined—there's 'a Little Bit of Grey.'
Find out lots more about Fiona Ross at the links below:
Twitter @fifross – Instagram fifi_ross
YouTube  FionaRoss  – Spotify Fiona Ross 
Last modified: April 10, 2019