One of the pioneering figures of bebop, and a major innovator on his instrument, the extraverted trumpeter Dizzy Gillespie stood out as bop's greatest proselytizer. Dizzy called this "reunion" band "my best band since 1948", the year his big band first toured Europe. No wonder! It's stocked with Gillespie alumni, all major figures in the music – Saxophonists Cecil Payne, Sahib Shihab, and James Moody, along with trombonists Ted Kelley, and Curtis Fuller.
Add a blistering trumpet section and Dizzie's quintet rhythm section, and you have one hell of a band! Allmusic's Scott Yanow calls this version of Gillespie's visionary 1946 composition Things To Come "the most exciting ever recorded", as it jumps off at a frenetic pace with Gillespie's blistering solo in the lead. Of course, One Bass Hit features bassist Paul West as well as an astounding Gillespie solo. Frisco projects an Afro-Latin feel laced with funk and features James Moody's sterling flute solo.
Gillespie's Latin jazz standard Con Alma showcases alto saxophonist Chris Woods along with Dizzy. Past has become present in Dizzy's The Things Are Here, the younger brother to the opening piece. Like it's older sibling, it takes off at breakneck pace with Dizzy sharing the stage with the trumpet section. The saxes also get a taste, and there's a smoking chorus by trombonist Curtis Fuller. Gillespie closes out the album with a soulful solo on his blues-drenched Birks' Works. Allmusic stated that, "Joined by a particularly strong big band, the trumpeter is heard at his best on this hard-to-find but essential LP." Shaw 'nuff!
Label: MPS
Release Date: 20 October 2017
Format: Digital Release Only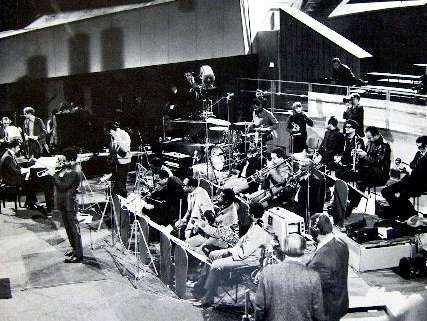 Line-Up:
Paul West (Bass), Candy Finch (Drums), Mike Longo (Piano), Cecil Payne, Chris Woods, James Moody, Paul Jeffery*, Sahib Shihab (Saxophone), Curtis Fuller, Ted Kelly, Tom McIntosh (Trombone), Dizzy Gillespie, Dizzy Reece, Jimmy Owens, Stu Haimer, Victor Paz (Trumpet)
More Information at the MPS Website
This Album was originally release in 1969 on Vinyl LP, This release is the first digital release of the album.
Last modified: July 15, 2018