Internationally acclaimed Scottish saxophonist Tommy Smith plays Ronnie Scott's in London on Monday 23 October as part of a tour to launch his latest album, Embodying the Light. In a strange quirk of fate, Smith will not be the only Thomas Smith appearing at the world famous jazz club that night. He won't even be the only saxophone-playing Thomas Smith appearing at the venue as the young London-based saxophonist-flautist-clarinettist Tom Smith leads his quartet in the Late Late Show following the headlining attraction.
The older Smith's current tour marks two anniversaries. This year is the 50th anniversary of the death of jazz icon and Smith's greatest inspiration, saxophonist John Coltrane. It is also Smith's fiftieth birthday year and he celebrated this with a sold-out, rapturously received concert with his new group, the Tommy Smith Quartet: Embodying the Light in his home town during Edinburgh Jazz & Blues Festival in July.
A presence on the global jazz scene since his teenage years with vibraphonist Gary Burton's Whiz Kids quintet, Smith keeps a busy diary. When he's not working with his own groups, directing the Scottish National Jazz Orchestra and overseeing the jazz programme he established at the Royal Conservatoire of Scotland in Glasgow, he tours the world with Norwegian bass master Arild Andersen's trio, which is widely regarded as one of the premier jazz groups working today.
The new quartet was formed specifically to play the music of Coltrane, a challenge Smith describes as daunting.
"I recorded one of Coltrane's tunes on my very first album, Giant Strides when I was sixteen, but I've never felt ready to do his music justice with a full tribute album or concert before," says Smith, who has previous appeared in West Kilbride Village Hall with Andersen's trio and in his own long-established duo with pianist Brian Kellock.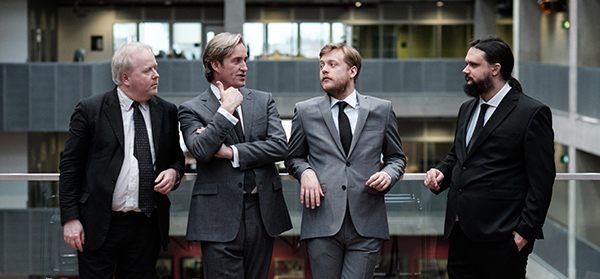 "I'm not sure I'm ready to tackle the Coltrane project even now, because he was so far ahead of his time, but these musicians I have with me are some of the best I've ever played with. They really inspire me to try and take my playing to the next level."
Smith's quartet features two of his prodigies from his youth orchestra, the Young Scottish Jazz Musician of the Year 2012, pianist Peter Johnstone, and bassist Calum Gourlay, who now features regularly with the Scottish National Jazz Orchestra. On drums is the hugely experienced Sebastiaan de Krom, who has previously worked with Herbie Hancock and Jamie Cullum.
The group, who play at West Kilbride Village Hall on Friday 27th October, four days after Ronnie Scott's, recorded their first album, Embodying the Light, in February and launched it to rave reviews in July.
In concert they play without amplification, an approach that Smith has long favoured in his duo with Kellock and one he prefers to follow whenever possible.
"I've nothing against amplified music," says Smith. "It just feels more natural to play acoustically. It makes us listen to each other more carefully and the audience gets to hear the true sounds of the instruments and the band. Besides, I know West Kilbride Village Hall. It's a great room to play in and I'm really looking forward to being back there."
Concert Details:
Date: Monday 23 October 2017
Venue: Ronnie Scotts Jazz Club
Time: Doors Open 6:00pm
Address: 47 Frith Street, Soho, London
Reservations: +44 (0)20 7439 0747
More Information and Bookings Here..
Opening for the tommy Smith Quartet will be Marco Panascia Trio.
Last modified: July 15, 2018