The portentous Royal Albert Hall hosted an early evening of jazz, Dixieland jazz, early jazz with someone who is a little bit of a legend in cinematographic terms, Woody Allen.
His band, The New Orleans Band, are with him on the night, in fact they have been playing together for decades, since "it all started with a game of poker in our living room" narrates the diminutive Allen, who continues saying that "people wanted us to play more and even get gigs" he tells a packed Albert Hall which is just happy to see him and laughs at his anecdotes.
Allen is the last one of the musicians to step onto the stage.  Once they are all ready to play, a little bit after 5pm on a beautiful Sunday afternoon, there is a rapturous applause, a meaningful one.
At 5.05pm the venue is full, nobody knows what will be played, not even banjo player, Eddy Davis who is the core of the band, but that should not represent a problem, and in fact, it is something refreshing on the night, and for a jazz improvisation fan like this writer.
For the readers in search of a little bit of trivia news, I seem to have landed amongst the celebrities side of the Stalls: Jools Holland is sitting only a row back to mine, whilst Danny de Vito and a few friends is only three seats away from me.
As the seven musicians start to play, something captures my attention: I notice how small they all look on that big stage, and as the first track begins, being a rather slow one, it makes the whole venue look even bigger, engulfing Allen & co. The gig is officially on, the crowd is expectant, and this time it is a rather mixed one, a fair mix of all ages, the curious, the jazz fan and the cinema buff, they are all here on the night.
Allen's clarinet squeaks at first,  notes come out, at times hard and imperceptibly harsh, he is sitting, crossed-legged, looking down, but he is attentive, perhaps a little tense, nodding his head to the tempo.   And as the music plays on, so it goes, the music that Allen has always loved is played with vigour and passion.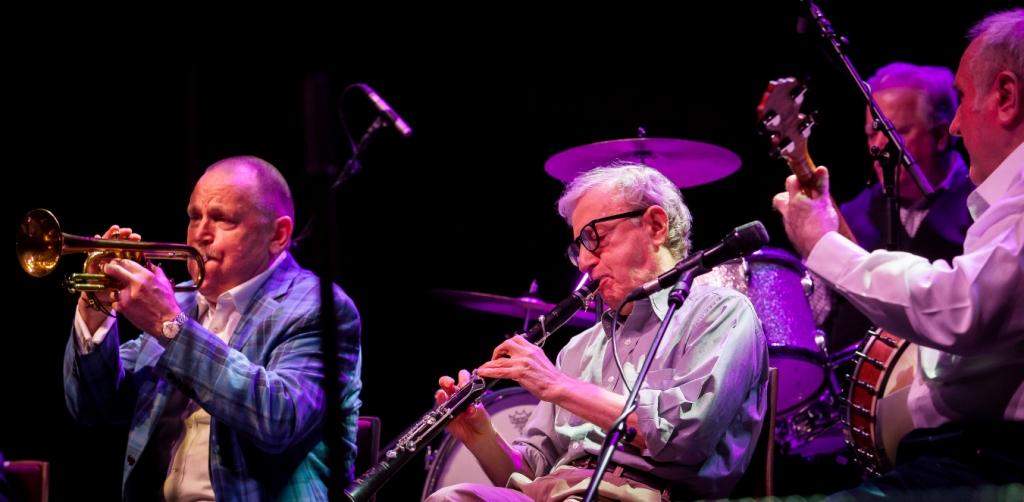 Eddy Davis, on banjo, Jerry Zigmont on trombone and the mighty Simon Wettenhall on trumpet made the whole gig even more special.  Whether upbeat tunes or slow spirituals, the band was a tight unit with Allen becoming more confident and at ease as the playing went on. His legs still crossed, but both feet tapping on the stage floor this time.  A mere sign he is enjoying the time and the music played in such an iconic place, the same place the Goon Show (ardently loved by Allen) had mentioned a few decades earlier, it had been stolen!…
After the brief "intermission", the band comes back on, and as the Beatles would have said, "now they know how many holes it takes to fill the Albert Hall" as the now super-charged crowd welcomes them back with a very euphoric applause.
A little bit of improvisation and interpretation with gusto were key factors on the night, whether playing Sydney Bechet's "Porto Rico" or "Sweet Georgia Brown", Woody Allen and his band were able to show that Dixie jazz is still alive and well.
Greg Cohen, a double bass player I could listen to for hours (think Masada or Ornette or Tom Waits collaborations to name a few), was another treat from a band that entered and left the Albert Hall's stage as they were meant to be seen: demure and yet passionate.
It doesn't matter that some people in the crowd were just there curious to see Allen play, it doesn't matter that at times they were taken by his story telling. What needs to be remembered here is that the small man that had stepped out of the black Merc a few hours earlier was there to enjoy AND be enjoyed and, humbly, at the end of the gig, he thanked the audience and received a standing ovation back!
Editors note: My thanks to Erminia Yardley for her first-hand concert review, and the wonderful photos taken by Carl Hyde.
Last modified: July 15, 2018