This week has been a rather legendary week for this writer.   One day I was watching Woody Allen play in one of the most iconic venues that London can offer and another I was grooving at the music and singing of another legend, George Benson, playing two shows at Ronnie Scott's.
Simon Cook, managing director at Ronnie's, introduces Benson for the second show of the evening which in the end doesn't start until 22.40 (almost half an hour later than planned) as George had finished the 1st show late, which is never a bad thing, of course!
As he steps on the stage, clad in a shimmery silver jacket, he is a man on a mission, he looks fresh, ready to play again and he is smiling.   He is happy to be there.  So when the first notes of "Breezin'" are played it feels like everything is just right as the evening has turned into night.  A song first released in 1976 (written by Bobby Womack) and the first jazz tune to go platinum.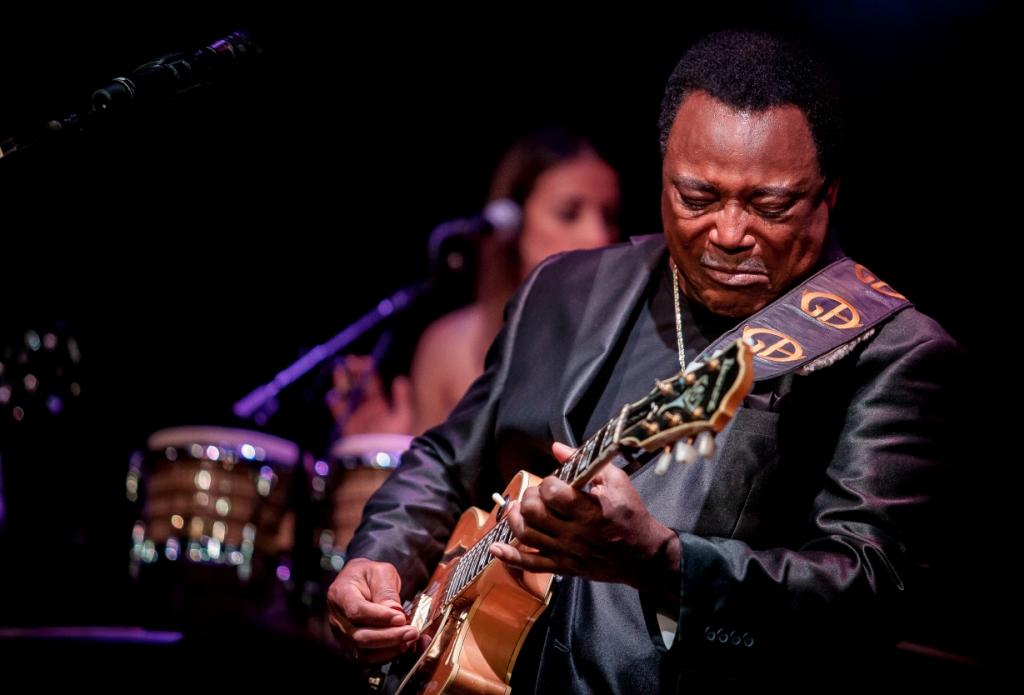 Benson first played at Ronnie Scott's in 1971.   Once on the stage, he takes the time to talk about the great Ronnie Scott and how important his role as a jazz musician was and still is. "Keep jazz alive" says Benson talking and applauding the great Ronnie.
But talks aside, Benson encapsulates a style of his own, he is relaxed, is humming along as he plays.  Bearing in mind this is the second show of the night, he looks utterly fresh, in his zone.
Let's look at the line-up: Randy Waldman on keys/ MD (on the left of the stage), Thom Hall on keys (opposite Waldman), the amazing Michael O'Neill on guitar, Stanley Banks on bass, Khari Parker on drums and Lilliana De Los Reyes on percussions and vocals.   A group of talented musicians playing in unison with the great master.   One could say a group of friends all playing together, such were the vibes transmitted by them all.
"Nothing's gonna change my love for you" (Masser/ Goffin) first recorded by Benson in 1984 (no, it's not just a Glenn Medeiros hit!) move waves in the crowd which is now standing up and moving along to the music.  This is one of those songs that makes one realize how great Benson is, he sings the words like a poet recites his own poem: with belief and strength.  Gorgeous!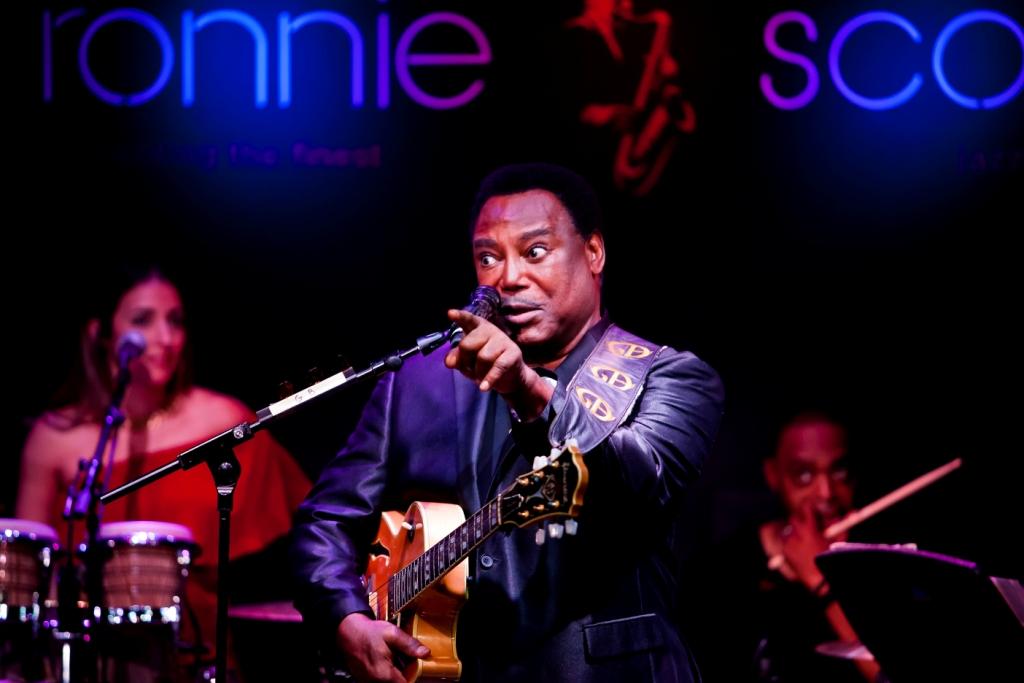 "Turn your love round", a 1981 song that also won multiple awards, sees Benson on good form, singing, dancing and gyrating his hips.  He is happy and in good form.  "In your eyes" sung by Benson is an emotional rendition of a very romantic tune with a great solo by Michael O'Neill on guitar.  A gem.
Back to back the tracks come on and it is astonishing to realize what an incredible repertoire this artist has.  "Kisses in the Moonlight" comes on, Benson still singing, his guitar waiting for him in the background.
As he keeps on reminiscing and praising Ronnie Scott's, there are other interesting anecdotes and one in particular on Wynton Marsalis.  "Jazz needs champions", Benson says and he includes Ronnie and Wynton in that league. How phenomenally humble does he know he is a champion, too?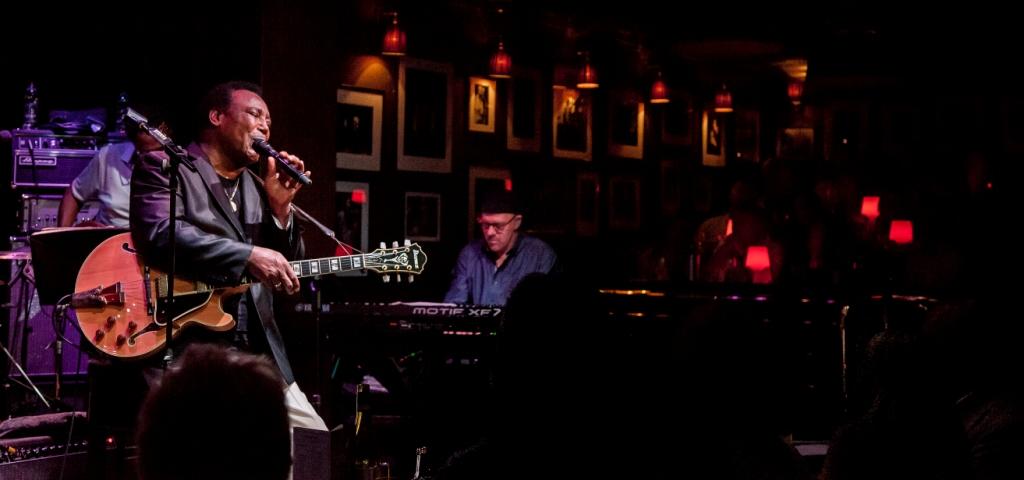 Apart from the sound of bagpipes, which is something that has intrigued Benson since an early age, and trying to emulate that particular sound on his guitar with "Danny Boy", he also tells the audience how much he loves (the late) Glen Campbell (the American country music artist) and starts playing "Wichita Lineman".
Then "Never give up on a good thing" comes on and what an apt song, a treasure amongst all the ones Benson has performed so far, but this one, in particular, has a certain meaning, whether we place it in the current political scenario or whether we just want to remind ourselves of what is really important in life. Benson et al. He awakens our inner funk and soul on the night.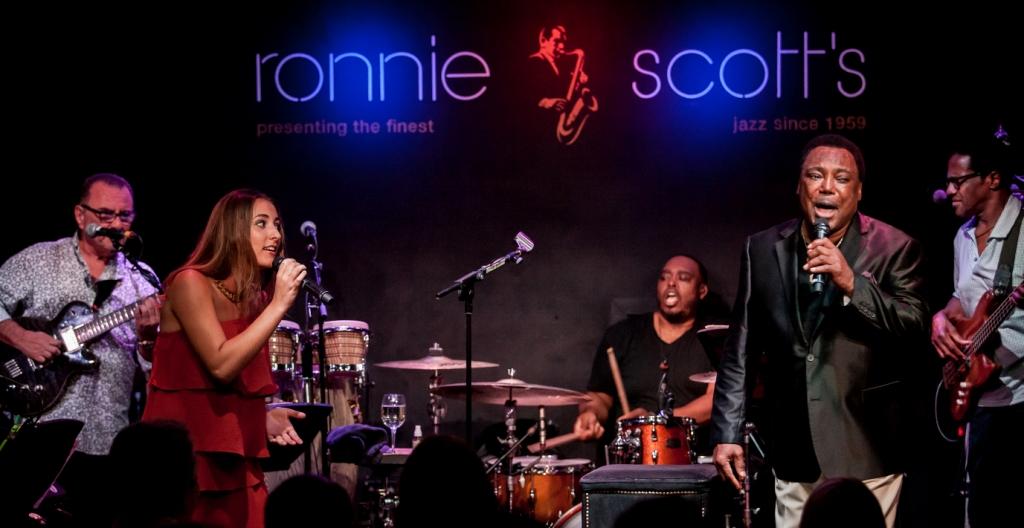 "Give me the night", a classic and a must, produces an electric shock with the crowd and everyone starts dancing.  Benson's slick guitar and his inimitable scatting are a treat.
"On Broadway" finishes the show.   Benson comes back on stage with a black top this time.  His humour and stamina have been remarkable.  There is a good solo by percussionist De Los Reyes followed by a drumming challenge by Khari Parker.
A long show, shaking people's hands as he walks off the stage. George Benson smiles warmly and waves at the crowd carrying a glass of beer in his hand.  He is officially a super hero!
Editors note: My thanks to Erminia Yardley for her first-hand concert review, and the wonderful photos taken by Carl Hyde.
Last modified: July 15, 2018