On the second day of the Bohemia Jazz Fest, so July 11th, on the Old Town Square in Prague, the Maciej Fortuna Trio plus a special guest drummer started their set in the daylight, promptly at 17:30. The audience for the Bohemia Jazz Fest, especially for the Prague concerts at this time of day, is a mix of the tourist hordes who just happen to be on the square at the time, along with some hard-core jazz fans, and the unemployed/pensioners and students who are there since it's a chance to hear free music.
With a low-key presence on stage, there is the young leader Maciej Fortuna on a muted and wired trumpet and live electronics, Roman Chraniuk, on a gorgeous black double bass and live electronics, and Frank Parker is on drums with guest drummer Jakub Miarczynski set beside the soundman. The two drummers give the group an enormous force of rhythm that suddenly overwhelms the square, while Fortuna fronts the group with either breezy or languorous tones then a futuristic or experimental roar.
There's no "hey people let's all have a good time today/tonight," instead the band is preoccupied, solely immersed in their low-key building to a thunderous groove with Fortuna and Chraniuk adding effects and live-recorded loops of their improvised excursions; songs seem almost at a standstill hovering in space, and in this case, Prague's Old Town Square at an unusual time for such soul-searching sounds.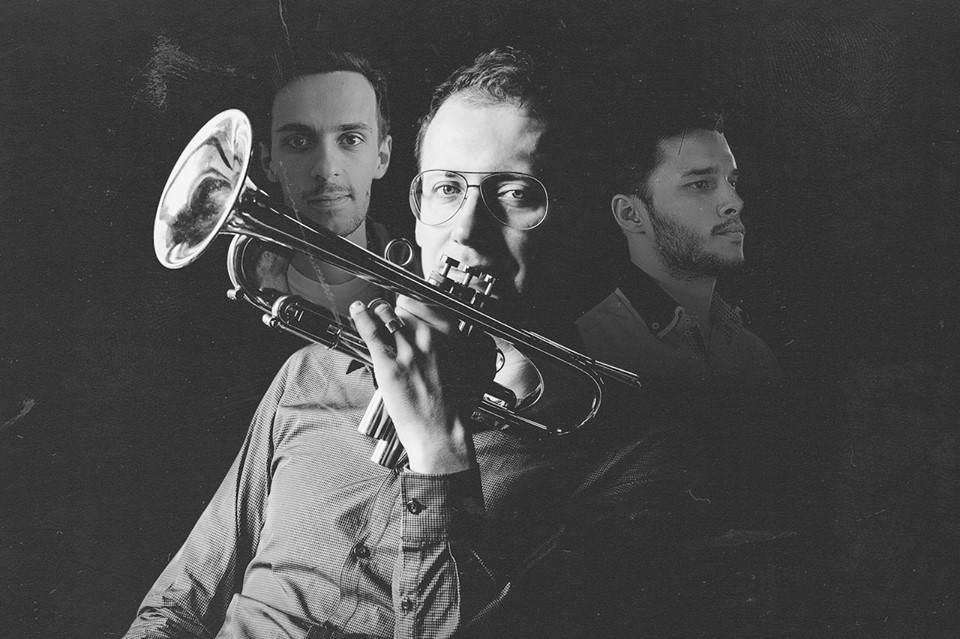 That said, their sound and approach on stage now calls to mind the performances and specifically the recording by Polish trumpeter Tomasz Stanko with his quartet, "Soul of Things" on ECM from 2002. But Stanko like his influences, meaning Miles Davis from the "Silent Way" sessions is a beguiled calm. Whereas, the Maciej Fortuna Trio plus one is a beguiled rhythm and groove gone orbital or celestial.
For half of the set, it does not sound like Fortuna is even playing the trumpet. Instead, he is making instrumental sounds that spur the imaginations of the audience.  Later, backstage after their set, Fortuna shared that his altered trumpet sound is influenced by Clark Terry, who first used the varitone on his trumpet in 1967, on "It's What's Happenin': The Varitone Sound Of Clark Terry" on Impulse Records.
Maciej Fortuna is from Poznan, Poland, and all of his many recordings are on the label Fortuna Music.
Meanwhile the Bohemia Jazz Fest ends July 17-18, 2017 in Brno, Moravia with headliners The Soul Rebels, ACM Trio with the Stano Balaz Folk Band, Mathias Heise Quadrillon, Pavel Hruby Between The Lines, and Paul Zauner and the Sweet Emma Band all performing gratis on Freedom Square.
Text: Tony Ozuna
Images and info about Maciej Fortuna
Last modified: July 15, 2018