Jazz Out of the Box at this 11th Annual Summer Concert Series Across the Czech Republic.
Jazz fans in the Czech Republic look forward every year to the Bohemia Jazz Fest, since it is the biggest festival for the lowest budget. There are free concerts in several old town main squares throughout Bohemia and Moravia, and they are always with first-rate groups from Europe and the USA.
Organized by Rudy Linka, a Czech jazz guitarist who lives between New York, Prague and most recently, south Bohemia, where he has a country cottage.  Linka started the festival in 2006, and since then he has brought jazz superstars like John Scofield, Medeski, Martin & Wood, Bill Frisell, Dave Holland, Dee Dee Bridgewater, and Cecile McLorin Salvant for free shows. While last year's biggest star was Charles Lloyd's New Quartet, performing in Prague's Old Town Square.
"I book people who I like," says Rudy Linka, who also leads his own jazz trio.
"So last year I was playing in New Orleans, and I saw the Soul Rebels. This was just a band that had so much fun on stage."
Now, they will be making their debut in the Czech Republic for two nights in Brno, to close the festival.
"For the three main headliners that we have this year, they are all within the jazz idiom, but for all of them, you can never put them in any box. And this is because they play songs that you would not expect them to play. More than ever for this festival, the groups are showing that the boxes are gone for jazz," says Linka.
The main headliners this year include John Scofield's Uberjam Band, The Bad Plus, and The Soul Rebels.
John Scofield's new album is called "Country for Old Men" (2016), and it is all country-western music redone in Scofield's versions, but for the festival, he is bringing back his Uberjam Band. Scofield was also in the first round of headliners, when the Bohemia Jazz Fest started up over a decade ago.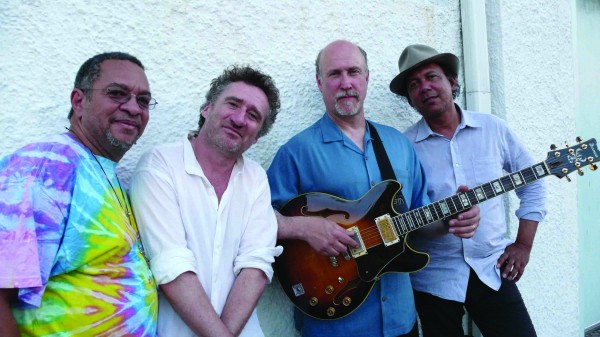 The Soul Rebels are a newer group from New Orleans. They are a groovy-soul and jazz brass band with vocals, that plays an eclectic mix of pop songs across decades including 80s pop like "Sweet Dreams (Are Made of This)" by Eurythmics, and contemporary pop like "Get Lucky" by Daft Punk.
However, the festival's biggest surprise this year is getting The Bad Plus for a show in the little town of Liberec, about 50 kilometers north of Prague. The trio is currently on its last tour (till the end of the year) with their pianist and co-founder Ethan Iverson. (Orrin Evans will join the trio as of Jan. 1, 2018.)
After all, The Bad Plus could be praised (or blamed depending on your musical taste) for igniting the trend of jazz covers of 70s and 80s rock, pop and punk hits: "Tom Sawyer," by Rush, "Everybody Wants to Rule the World" by Tears for Fears, "Iron Man" by Black Sabbath, and "Smells Like Teen Spirit," by Nirvana to name just a few of their choices to turn into complex jazz arrangements.
"The Bad Plus plays everything from Stevie Wonder to Stravinsky," says Linka, summing it up best.
Other highlights of the festival include young groups from across the spectrum: there is the Nat Osborn Band, from Brooklyn, playing big-band party jazz with horns; Mynth, an electronic dance music duo with vocalists Giovanna and Mario Fartacek from Austria; and the Mathias Heise Quadrillon from Denmark, which is a tight neo-fusion group, led by Heise who plays keyboards and harmonica.
The Bohemia Jazz Festival always kicks off in Prague, and for the opening night, the headlining act includes Rudy Linka playing with the legendary Czech bassist Miroslav Vitous, who emigrated to the United States in the mid-60s, and was soon playing with Clark Terry and Miles Davis. By 1970, Vitous was a founding member of Weather Report (with Joe Zawinul and Wayne Shorter); as a leader, he has had his own groups as quartets or trios with the best, including Herbie Hancock, John McLaughlin, Jack DeJohnette, Joe Chambers, Chick Corea, Roy Haynes, and Jan Garbarek, to name just a few.
Vitous now lives in Italy and the Czech Republic, and for the concert in Prague, he'll open with drummer Roberto Gatto, from Italy, then they'll be joined by Linka for a trio. Then Vitous will perform with the Czech Radio Big Band. This year, it will be the first time that a Czech musician is awarded the Bohemia Jazz Award, and this musician will be, of course, the legendary jazz bassist Miroslav Vitous.
Since Rudy Linka lives much of his life these days in the Sumava mountains of south Bohemia, nearby Bavaria, living in a Jet Stream trailer and an old country cottage, he now takes a new view of his role as organizer of the festival. "I'm trying to grow something that's like in a garden, and the festival does that for me. Always trying to find the sun for the flowers to bloom, and that's when everything comes together with the music and the audience. That's how it is with me for this festival," says Linka.
Bohemia Jazz Fest, July 10-18, 2017
July 10, Prague, Old Town Square
Miroslav Vitous, Rudy Linka, Roberto Gatto, and the Czech Radio Big Band
Pavel Hruby Between The Lines
Otto Hejnic Trio
July 11, Prague, Old Town Square
John Scofield Uberjam Band
OSA Competition
Maciej Fortuna Trio
July 12, Pilsen, Republic Square
John Scofield Uberjam Band
Pablo Held Piano Trio
Maciej Fortuna Trio
July 13, Liberec, Edward Benes Square
The Bad Plus
Matej Fortuna Trio
Pablo Held Piano Trio
July 15, Domazlice, Peace Square
Nat Osborn Band
Mynth
Mathias Heise Quadrillon
July 16, Tabor, Zizkov Square
Nat Osborn Band
Mathias Heise Quadrillon
Mynth
July 17, Brno, Freedom Square
The Soul Rebels
ACM Trio with the Stano Balaz Folk Band
Mathias Heise Quadrillon
July 18, Brno, Freedom Square
The Soul Rebels
Pavel Hruby Between The Lines
Paul Zauner and the Sweet Emma Band
YT Video Teaser: Bohemia Jazz Fest
Images: Bohemia Jazz Fest
Last modified: July 15, 2018