Mladi Ladi Jazz Festival presents a nation-wide tour (in the Czech Republic) of Oran Etkin's various projects: Timbalooloo concerts for kids, Gathering Light concerts and a collaborative concert with traditional Roma musicians on April 6 (Thursday).
During the first two weeks of April, the multifaceted jazz man Oran Etkin (proficient on clarinet, saxophone and guitar) will be leading workshops, including ten concerts, with Roma and non-Roma children across the Czech Republic. This is Etkin's Timbalooloo program for kids from 2 to 12-year-olds as part of the Mladi Ladi Jazz Festival, a festival to promote jazz to the younger generations. In addition, with such a mission, the Israeli-born and New York City-based Etkin has a project aimed at the core.
"Whenever I tour I like to share my music but also really engage the local culture and have a two way conversation with the rich traditions that I can learn from as well," says Etkin.
Etkin says that this is the third time that he's been invited to perform at the Mladi Ladi Jazz Festival and last year, they organized a ten-concert tour throughout the country for mixed audiences of Roma and non-Roma children (i.e. ethnic Czechs from Bohemia or Moravia).
"The workshops and concerts for kids are based on the Timbalooloo Method, which I developed," he says. "In Timbalooloo all the instruments come to life and talk through their music so that the children conceive of playing music not as 'you have to play this not because it's on the paper' but actually as performing the magical act of breathing life into your instrument and making it talk – making it express itself and have flowing conversations with the other instruments!"
So Etkin comes to the concert with his friend "Clara," whose last name is "Net," and this special friend also happens to be his clarinet.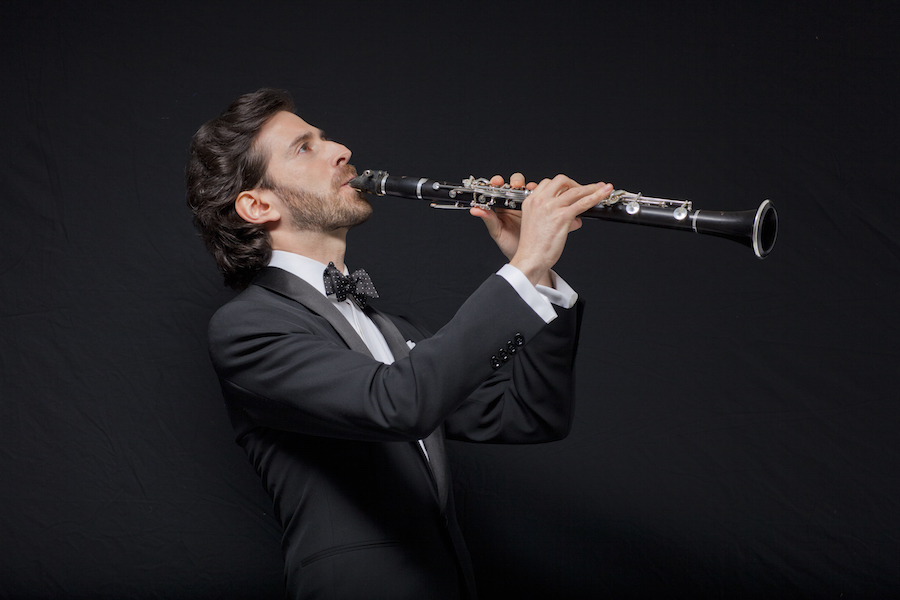 "Clara is so tired so that she has to come to the concert in her bed, so the children help me wake her up.
Clara wakes up and calls for her mama, which is Big Mama Bassa (the upright bass), which makes an entrance from the back of the audience," he says.
Together with his entire band, Etkin then takes the kids on a musical journey around the world introducing them to his "friends" like Duke Ellington, Tito Puente, and Herbie Hancock, and songs by these friends, so for example, in Herbie Hancock's case, the classic "Watermelon Man." In these workshops, Etkin also incorporates the Roma music of the Czechlands, which has a long-standing history in the region, and music of older, traditional Yiddish folk music of the Eastern Europe region.
Beyond the kid's stuff, Oran Etkin will be performing in a collaborative concert (not for children) between his trio and traditional Roma musicians in Brno, and in Prague, he'll have a finale concert with his trio, including a long-time collaborator of his, Marcos Varela from New York, and the young Czech drummer Dušan Černák, playing mostly selections from his two most recent albums, "Gathering Light" (2014, Motema Music) and "What's New? Re-imagining Benny Goodman" (2015, Motema Music).
April 6 (Thursday), Oran Etkin Trio at Jazz Dock, Mladi Ladi Jazz Festival, Prague, Czech Republic
Text: Tony Ozuna
Images: John Abbot
YT Video: Timbalooloo
Last modified: July 15, 2018