The délicieuse Gabrielle Ducomble took to the small stage of Crazy Coqs downstairs at Brasserie Zédel on time and with a slight timid approach.  One could see already from the sold out area that there were many fans in the crowd, and the applause welcoming her on stage said it all.
As part of the "French Fest" at Zédel, the beautiful art deco venue that is Crazy Coqs, saw Ducomble sing the music of the late French songwriter, Claude Nougaro.   Nougaro, himself, from a family of musicians (father an opera singer and mother a piano teacher), was raised by his grand-parents in Toulouse which influenced him greatly and was the theme of one of the songs he wrote, also sung by the alluring Ducomble during the gig. Singing in French throughout the gig, Ducomble's voice was fresh, clear and seductive all in one. Out of 14 tracks on the night, one, "Les roses et leurs épines" was her own creation, inspired by the very same Claude Nougaro.
La belle chanteuse announced her songs from time to time, her soft voice being mindful that everyone could hear and by the third track, feeling more relaxed.
When she sang, "Rimes" (Rhymes), her eyes develop an air of sadness.   Her attire gave out a sense of style, wearing an elegant black silk dress accessorised with a thick turquoise bracelet; her presence was well defined on stage.
At times the sound of "chanson parisienne" was mixed with jazz and a sambaesque sound that moved.   John Bailey on piano, responsible for playing his keys and moving everyone in the audience, his solos, bringing a sense of individuality but also emotional somber notes to the evening.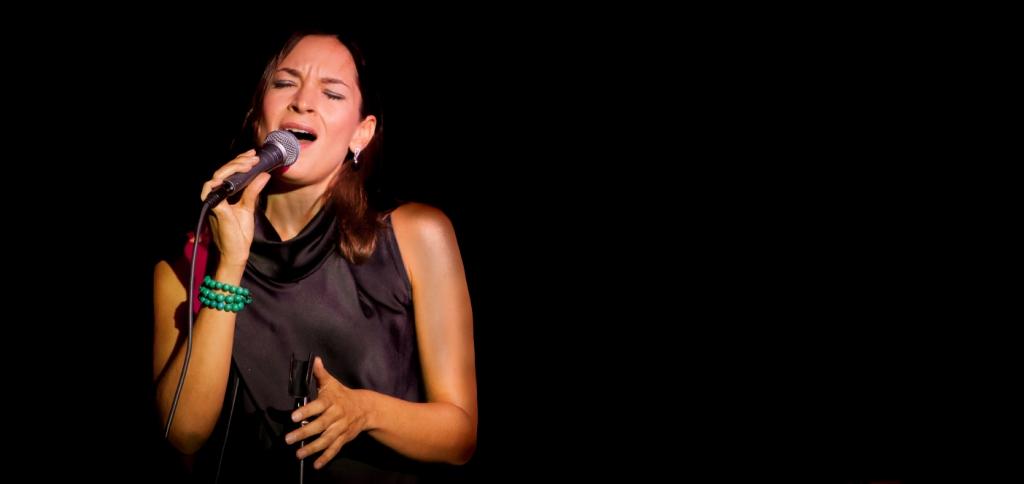 From Nat Adderley to Edith Piaf, Ducomble sang her heart out, but softly with high notes that were indeed so high, they could shatter hearts.  Her rendition of "Sous le ciel de Paris" (written by the French composer Hubert Giraud in 1951) was enchanting and suave.   A song that in itself, whether sung by Edith Piaf or Juliette Gréco, gives goosebumps.
"Cinéma", a song co-written by Nougaro with Michel Legrand (the film composer and jazz pianist), carries a little funny story attached to it as "they didn't have enough money to make a movie together", says Ducomble, "they decided to write a song together"!
The songs were performed with style: a striking one being "Île de Ré" (a location near La Rochelle, towards the south-west coast of France), "Les Mots" (Words) a no-frills song, an emotional one that takes the audience towards the end of the gig.
A great combination: Ducomble's voice and panache portraying the poetry of Nougaro's writing.
Parfait
Personnel:
Gabrielle Ducomble – Vocals
John Bailey – piano
Ben Hazleton – bass
Fergus Gerrad – percussion
Words: Erminia Yardley
Photos: Carl Hyde
Video: Gabrielle Ducomble YT Channel
Last modified: July 15, 2018