An 80th birthday bash is, normally, a very special event indeed, but it would become even more special if, the birthday boy in question is, as in our case, the mighty Louis Hayes, Mr. Hayes stepped on the vintage Ronnie Scott's stage with panache and started playing, a glimmer in his eyes, grateful to be there and still play.  And what playing!
In the words of Jeremy Pelt, trumpet player, entertainer and super stage presence, Louis Hayes is the "quintessential" one!
There was style, slickness, concentration and smiles all round from the stage. Hayes played like the devil: talking to himself, looking down onto the drums, a scintillating sound created by him.   The crowd's eyes are on him, whilst Pelt's sharp and voracious trumpet hypnotises all.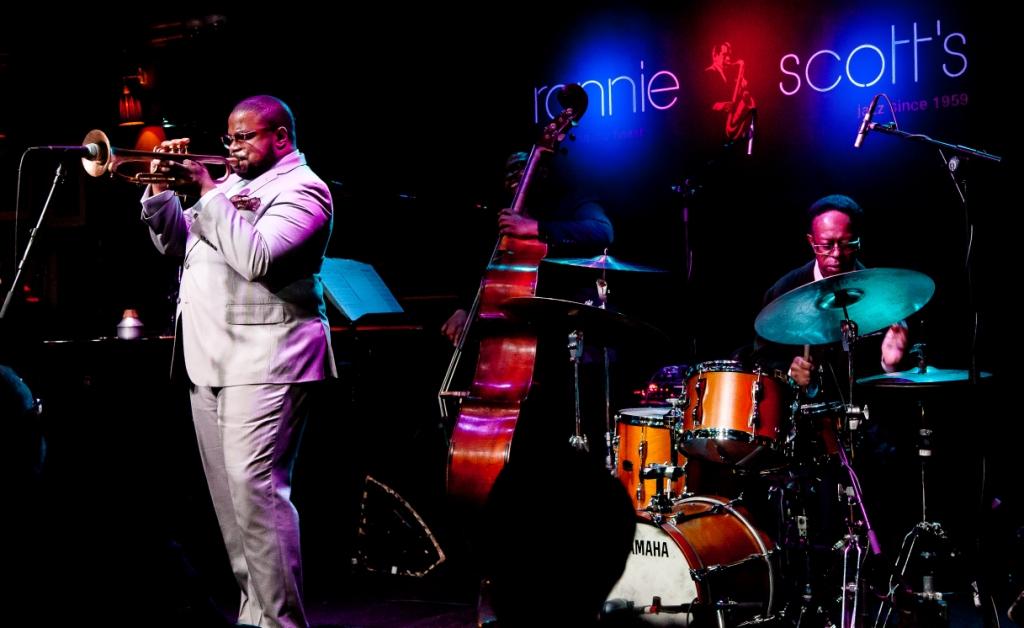 As an original member of the "Cannonball" Adderley Quintet (Cannonball also being one of my heroes, it has to be said), Hayes plays impeccably, effortlessly, the sign of a true gentleman of jazz,  with tracks from Donald Byrd which make the audience nod along, always a good sign, the first set flows and flies away.
As the second set starts, Pelt takes to the stage with a vengeance, an enormous energy radiates from him, infectious, beautiful, the stuff jazz should be made of. And then a real treat: the band play Coltrane's "Black Pearls", such a classic and innovative track, I find myself staring towards the stage.
This quartet is tight and sinuous, Grissett on piano, his notes played dazzling and with tenderness, Douglas on bass, his eyes closed, such absorbed look.

And then, there is the wondrous Hayes.  I have to say I was mesmerised by his humble stage presence, a totally different experience,
Jazz is freedom and has no age, Hayes certainly proved that on the night!
A la prochaîne, Mr. Hayes!
Personnel:
Louis Hayes – drums
Jeremy Pelt – trumpet
Danny Grissett – piano
Dezron Douglas – bass
Words: Erminia Yardley
Photos: Carl Hyde
Last modified: July 15, 2018