By: Peter McLaren | Photos Courtesy of the Louis Armstrong House Museum.
Some weeks back Dot Time Records announced an agreement with the Louis Armstrong Educational Foundation to release four albums of previously unreleased music by Louis Armstrong.
With this news having peaked my attention, today when I received a press release from the label, announcing that the first edition of their collector's edition was on sale, I had immediately had to follow this up. What I discovered was not only have these recordings never been released, they also stem from Louis Armstrong's personal collection. When Armstrong passed in 1971, his collection of memorabilia including: 5,000 photographs, 85 scrapbooks, 650 home recordings, and five gold-plated trumpets was acquired by Queens College in New York. Until now, none of this material has been commercially released to the public.
It's thanks to Dot Time Records and producer Jerry Roche, highlights of this collection will for the first time be available to the general public. Jerry Roche, the head of Dot Time's Legends Series, was in search of undiscovered gems by Armstrong and was stunned by what he found when researching the archives at Queens College. "When I heard this music by Louis Armstrong", said Roche, "I was totally overwhelmed. Producing this music would mean people could connect again with the greatness of Louis Armstrong."
The Dot Time Records Legends Series, will release a series of four albums of material currently held in the archive. The first release in the series "The Standard Oil Sessions" went on sale as a pre-order today exclusively at the Dot Time Records Website. What's on offer is the collector's edition, a special version of the regular release that will be available on May 12. This collectors edition includes, 20-page booklet, including rare photo material and liner notes written by Ricky Riccardi – Director of Research Collections for the Louis Armstrong House Museum and author of best selling book "What A Wonderful World."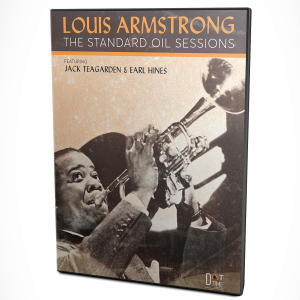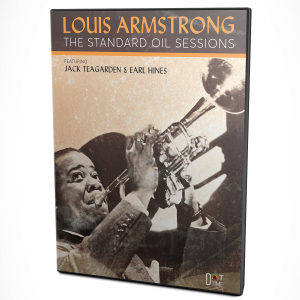 The first release "The Standard Oil Sessions" is a 55 minute recording made in San Francisco, California on January 20, 1950 by the Standard Oil Company for their radio show, "Musical Map of America." The recording was episode 19, "Musical Story of New Orleans," and featured Louis Armstrong, Jack Teagarden and Earl Hines. For reasons not known, the broadcast was never made and Louis was personally given the acetate discs of the sessions.
Future releases will feature selections of recordings of concerts that date back to the 1950's and 60's, including the 1957 South American Tour, which will be a double CD release. Some of the musicians that performed with Louis on these concerts were Jack Teagarden, Earl Hines, Cozy Cole, Edmond Hall and Trummy Young just to name a few.
In this day and age of content overflow and regurgitated re-releases, to be able to hear music from Louis Armstrong that has never before seen the light of day is amazing. This series maybe the most historically significant jazz release of the decade. I can't wait!
For more information visit Dot Time Records Website.
Last modified: July 15, 2018