Paul Jost is a prolific arranger and composer. As the front man for The Jost Project, which  is dedicated to bringing new audiences to jazz by creating innovative arrangements of classic rock and folk, he has been instrumental in developing new jazz standards of Aerosmith, Led Zeppelin, The Beatles, Blind Faith and many others. So it was not a problem when he took on the challenge of arranging a jazz interpretation of Bruce Springsteen's iconic album "Born to Run" to celebrate its 40th anniversary in 2015.
Michael Kline, who founded and produces the Exit Zero Jazz Festival in Cape May, NJ commissioned Paul in January of 2015 before the festival scheduled for that coming May and asked him to do it with the idea that he would headline at the Festival presenting it. He shared arranging responsibilities with good friend and legendary musician Barry Miles. It was a labor of love and Paul was determined to bring his own style to it. After the concert, Kline said, "Paul was amazing.  The concert belongs on performance stages everywhere."
That was in 2015. Since then "Born to Run Reimagined" has been performed in several venues and, coincidentally, Charlie Calello, the original conductor and string arranger of Born to Run, was in the audience in a Philadelphia concert. He lauded the performance stating, "Paul is brilliant. He's the real deal. I'm a really tough critic and he knocks me out. Barry Miles' arrangement of Jungleland is better than mine."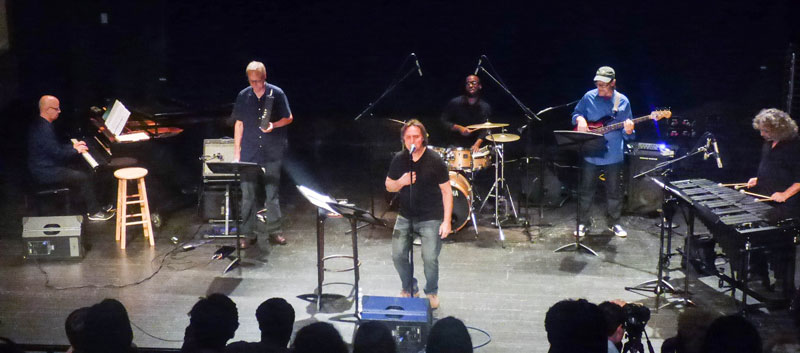 Originally a drummer, over the years Paul's musical talents extended to guitar and harmonica, but it's his voice that truly makes him a standout. His vocals are so soulful that music journalist Buster Maxwell wrote, "He nearly single-handedly reclaims the male voice as a valid and critically important jazz instrument."
His latest recording "Breaking Through" as well as the Jost Project "Can't Find My Way Home" (both on Dot Time Records) illustrate this view.  Peter McLaren reviewed  Jost's recording "Breaking Through" on this site stating, "Paul Jost is a creative force that deserves to be added to the list of great male jazz vocalists of all time. He has shown that he is a force to be reckoned with and an artist that deserves to be seen on all great festival stages worldwide." Read the full review here.
Johanan (Jo) Bickhardt, president of Dot Time Records once stated that Paul's output has its own genre…he called it Jost Jazz!
When Bruce Springsteen debuted Born to Run live in 1975, it was at The Bottom Line in Greenwich Village, around the corner from The Bitter End.
On Tuesday, October 18 at 7 p.m., Paul is bringing his jazz interpretation of Born to Run to The Bitter End, the iconic club that rests on 147 Bleecker Street, NY.
Tickets are available here.
Last modified: July 15, 2018