The term "future jazz" went out of fashion over a decade ago, but the evolution of progressive jazz and improvisation and experimentation with electronic technology has continued–most impressively and consistently in Scandinavia, and Norway in particular. The Norwegian trumpeter Nils Petter Molvaer (born 1960) has been a central figure in this genre, recording for years with ECM, until 2009, when he founded Sula Records, named after an island on the west coast of Norway, where Molvaer grew up.
Molvaer's newest recording "Buoyancy" was recorded and released in 2016 by Sula Records and Okeh, a jazz imprint under Sony, and this one continues his journey of studio adventures with sound exploration and besides playing his trumpet; he uses electronics with his voice, loops and handclaps.
His quartet of fellow Norwegians is at least a generation younger, including Geir Sundstol, who plays pedal steel, shankar guitar, electric guitar, guitar banjo, national resonator guitar and handclaps; Jo Berger Myhre plays double bass, bass-, baritone-, 12-string and electric guitars, synths and electronics, radio and noises, handclaps; and the veteran Erland Dahlen plays drums, hand bells, blossom bells, rack bells, marching toms, drum machine, frame drums, log drum, xylophone, metal plate, piano, shakers, handclaps (just like the others), but to top it off, though, he also plays knives and forks.
As a collective, the group creates a new jazz exotica, but unlike the Tahiti or jungle-inspired tunes of 1950s and 60's era, Martin Denny, and beyond the ambient recordings of Jon Hassell, or along the dreamiest electro-jazz by Miles, Nils Petter Molvaer's exotica conjures up lesser-explored terrains like the North Pole, Death Valley, the interiors of non-active volcanoes, or deep caves and under-seascapes. Song titles from the album, like "Moute Cave," "Jackson Reef," "Lamna Reef," and "Kingfish Castle" perhaps serve more than anything as the guideposts or inspiration for the musicians sonic explorations.
Aptly titled, "Buoyancy" begins with a softer progressive/indie dream pop sound, like the group Beach House, then the atmospheric collection of songs veers back and forth from ambient and minimalist sections to deeper beats, or back to dream pop and slow-building, powerful, or even outright searing sound explosions, with the band utilizing their arsenal of instrumentation like musical commandos, reaching for the future. This is the way jazz (even beyond Scandinavia) will sound 20-30 years from now, if not sooner.
Nils Petter Molvaer is touring for his newest recording with his quartet in October, and from mid-month, you can them in the club, city and country below.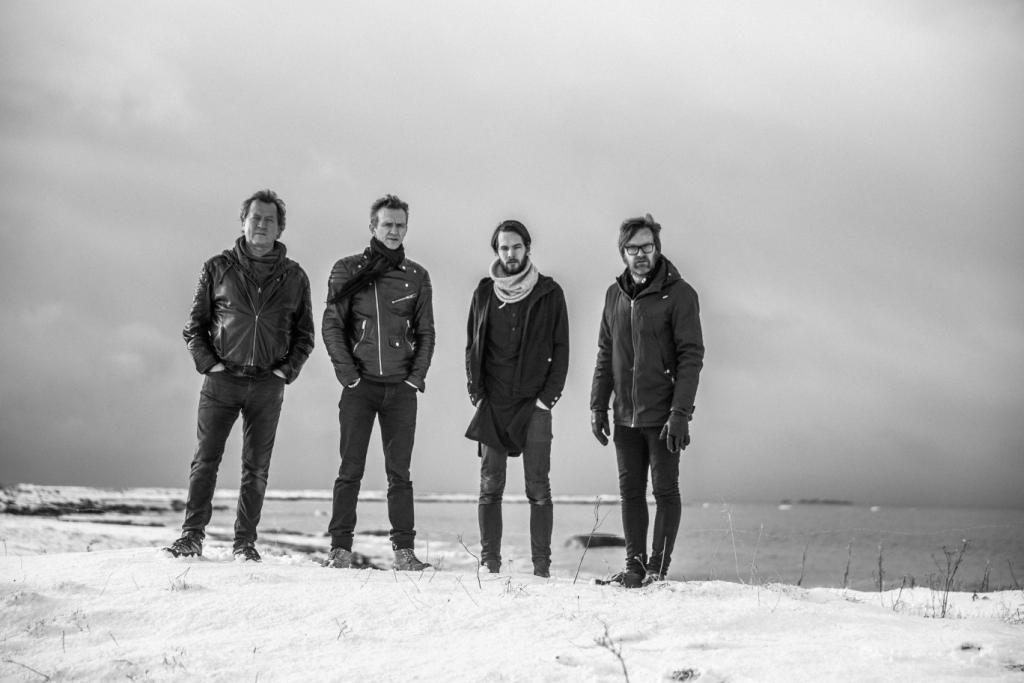 Oct. 15—Amalgame, Yverdon, Switzerland
Oct. 19—CCRD Opderschmelz, Dudelange, Luxemburg
Oct. 20–Jazz Dock, Prague, Czech Republic
Oct. 21—Paradox, Tilburg, Netherlands
Oct. 22—Kunsthaus Mousonturm, Frankfurt am Main, Germany
Oct. 25—Ronnie Scott's Club, London, England
Oct. 26—Alte Feuerwache, Mannheim, Germany
Oct. 27—Moods im Schiffbau, Zurich, Switzerland
Oct. 28—Le Singe, Biel, Switzerland
Oct. 29—Schinkel-Kirche, Neuhardenberg, Germany
Images: NilsPetterMolvaer.com |
Johannes Luvand | Peder Otto Dylovik
Last modified: July 15, 2018