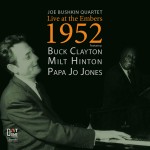 Dot Time Records is announcing its third release of its 'Legends' Series, Live at the Embers 1952 The Joe Bushkin Quartet featuring Buck Clayton, Milt Hinton and Jo Jones.
One night in early 1952, the violinist David Sarser, who played his prized Stradivarius under Toscanini with the NBC Symphony Orchestra, lugged one of the first Ampex reel-to-reel tape decks into a popular Manhattan nightclub on East 54th street called The Embers. Sarser was an innovative audiophile and his mission was to record some of the excellent music being served up nightly by four of the world's top Jazz musicians at the top of their game.
Joe Bushkin, the leader, was a gifted pianist who emerged during the pioneer days of American Jazz, with a gregarious style containing hints of Art Tatum, glints of Teddy Wilson, and touches of Earl Hines. Joining him were Buck Clayton on trumpet, and "Papa" Jo Jones on drums, legendary veterans of Count Basie's band. Trumpeter Jonah Jones was asked about Bushkin having Buck Clayton playing, he said,  ''Bushkin was the only pianist powerful enough to get a trumpet in the Embers,'  Rounding out the group was a young bassist from Chicago, Milt Hinton, whom Joe had summoned from the road with Cab Calloway's band. Later nicknamed "The Judge" for his impeccable, swinging timekeeping, this engagement was Hinton's first big break that brought him to New York.
When Bushkin's quartet opened at The Embers for a two-week engagement in the Fall of 1951, they caused such a sensation that owner Ralph Watkins held them over for 16 weeks. Patrons would congregate nightly at the El Morocco club across the street to wait for a table at The Embers to open up.
On the heels of his success at The Embers, Bushkin inked a deal with Capitol Records in 1955, featuring his trio in the company of a large orchestra, which reached a wider audience. Bushkin passed away in 2004 at the age of 88, achieving his stated goal of living for as many years as there are keys on the piano.
But back to David Sarser, and his mission. In addition to being a superb violinist, Sarser was an innovative audio engineer and electronics designer who worked with Les Paul in the early days of recording technology, developing the first multi-track recording device, an 8-track tape recorder made by Ampex. He built A&R Recoding Studios in 1960 for producer Phil Ramone. Sadly, his "Zimbalist" Stradivarius violin was stolen in the 1960's and he was so heartbroken, he never played the instrument again. But his zeal for recording led to his capturing the superb sounds that have been thankfully preserved and presented on this album. Live at the Embers 1952 The Joe Bushkin Quartet is scheduled for release on September 15th, 2017.
The "Legends Series".
In 2015, Dot Time records launched its "Legends Series" featuring previously unreleased historical recordings from many of the greatest legends of the jazz genre. Dot Time Records believes that these recordings form an important part of the history of jazz and it is our goal to make these recordings available to jazz lovers around the globe. All recordings are painstakingly restored and newly re-mastered with the goal of presenting these recordings in a modern format while striving to keep the original atmosphere of the recordings intact.
Heading up the Dot Time Records "Legends Series" is jazz historian Jerry Roche. Jerry has a long established track record in the Jazz world. Jerry worked for 13 years with Blue Note subsidiary Mosaic Records, the preeminent Jazz reissue company. During his time at Mosaic, Jerry was involved with the selection of projects and assisted with research, production and packaging. Notable releases included the Grammy Nominated Mosaic Bix Beiderbecke Set (Best Historical Recording) as well as the Venuti/Lang & Prima/Manone sets.
Releases under the "Legends Series" are available on CD, Vinyl and as digital downloads and come with a comprehensive digital booklet that includes extensive liner notes and images.
More Information: www.dottimerecords.com
Last modified: November 28, 2019