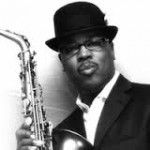 Greg Osby is one of the most remarkable jazzman in the contemporary jazz scene. Not just for his artistic career as one of the greatest musicians during the last two decades, but for his work as a producer and educator.
This saxophonist has established himself as an influential professional due to his persistence in developing his own playing style. As an acclaimed music interpreter and composer, his work has been in the spotlight in recent years through the record label "Inner Circle Music". This active jazz label represents Osby's eagerness to keep jazz alive by pushing forward new young talent in the hope of facilitating their professional careers across the globe.
In recent years you have focused all your energy on your label Inner Circle Music. Why did you put yourself in a secondary place to focus on young talented musicians?
This is a very important question to me and there are several answers. Firstly, because I got bored being a leader and touring a lot because I have been touring for 33 years and I was just bored. Secondly, I was teaching full time at Berklee College of Music in Boston and I took that job because I was bored of touring. Then I became bored teaching full time and that's another reason I wanted to come back to the world. Finally, when I was a young musician the older musicians were really, really, kind to me, very helpful and very generous with information: anything I asked they helped me with because they knew that I was serious. I felt it is my obligation to do the same thing. It is very important to me because those musicians are not around anymore so I have to pass on the information and stories they told me. It has to continue, that's the way the music survives.
That's the "life component" of jazz.
Yes, otherwise, you would get the education in schools, universities and conservatories and that's not always the best environment because it is exclusively academic and this music is something you have to participate and you live it. It is a human thing.
Do you think music institutions are wrong in the way they teach music as the mentor figure is missing?
Absolutely, that's exactly the problem. The problem is that the students are purely academic. The schools teach music like mathematics but they don't teach it like the healing process that it is: a social process. Music is much more powerful than just somebody playing the same beautifully notes on a paper. A lot of teachers teaching in these institutions have never played anywhere else; in fact they graduated in the institution they teach. So they don't have any real experience, they've never toured or anything. So I think that half of the teachers in these institutions should be working musicians. So they would tell a story, they would tell the truth not something they´ve read in a book. This is a big issue in a lot of conservatories and institutions. Most of the teachers do not seem to know how to play well themselves.
Many  students can play better than their teachers!. So how is the student going to respect someone who can't really play? It is unbalanced and the methods that they use to teach they need to be updated, they need to embrace the concerns of the contemporary musicians. You know, social media, the Internet, promotion, management, negotiation, contracts… not just playing nice. They have to teach musicians how to find work and make a living.
So that's what you do with Inner Circle Music.
Yes, that's why I wanted to start the label. I wanted to give young musicians an opportunity to express themselves with the platform I´ve created. I like to give them access to the professional circle. I just love it and I wish I could open more doors; there are so many great people.
How has this adventure changed your life and musical career?
It changed my life in a way that I´m able to affect the output of creative musicians by not changing what they do. So I am helping them by influencing them only a little without changing them. Since sometimes, when they sign to a big label, the label says "do these songs", "get these musicians" and I don't want to do that, I want them to be natural and honest by helping them in any way possible. So when I do this and they become successful then it changes my life because I know I was responsible but I didn't change their soul. That's what I tell young musicians: you are the master of your art, so don't sign with someone who is going to change your soul.
You experienced the New York jazz scene in the 80s. What are the main changes that young musicians have to face nowadays?
As I said, the main music masters are not around anymore. They didn't need to talk, they just played and there you had a lesson. There was also the spirit, you could feel the love come to the music, now it is only competition, like the Olympics: they want to play faster, louder and longer than the other guy. It kills the spirit of the music because it is not about telling a story, it is about "I am the best" and that's not the foundation of music. There are not as many clubs anymore, a lot of the clubs closed so that a lot of musicians can't find gigs. Lastly,  there are too many musicians in New York because now there are more universities and conservatories than ever before, when they graduate they come to New York in hundreds. The clubs are packed with musicians with BA and MA degrees and they all fight for a few gigs.
And it's not about the number of musicians, right? It's also about the high level of musicians which makes the competition harder, isn't?
You can't just be good; you also have to be exceptional. You have to be super-special. Otherwise nobody will notice you because everybody is really skilled now. People are becoming good faster and younger than in my time. I´ve heard teenagers who play like an old man because they have the Internet now and they can get really good before going to the university. So they are all playing on a high level.
You share musical experience with young musicians. Do you feel there is a jazz language generational gap between you?
Absolutely, when I was their age I was concerned about personality in playing. I wanted to have identity so I worked on things I could be recognized for in a short time and a lot of players don't do that today, as they all seem to imitate the same people. For example a lot of young alto players; instead of coming up with their own style they copy Kenny Garrett, the tenor players Mark Turner, Joe Lovano or Chris Potter, the young piano players copy Brad Mehldau or Robert Glasper…. and as a result the language shrinks, that's the problem. That's something I talk about a lot; developing identity. Because when you´ve heard jazz musicians at the golden age you knew who they were immediately. That's the goal of every progressive thinking musician: to be identified immediately. It should be a priority and that's the main difference between jazz and classical music. In jazz you are supposed to sound like yourself.
After so many years at the front line of jazz what motivates you to keep moving forward?
Progression. I know that not everything has been said yet and not everything has been played yet. There is so much more that can be done. There are so many possibilities. Musicians just have to be brave, keep experimenting by trying new things. I like the idea of experimentation in music when it is true fusion, when you put two things together that are not supposed to work together. You just have to be brave enough to do it, to look for something challenging and inspiring. That's how we achieve to a lot of things in jazz.
By Marta Ramon.
More Information www.gregosby.com
Last modified: July 15, 2018