October 2015 marks the release of 'Kansas Smitty's', the eponymous debut album from the Kansas Smitty's House Band. Formed in London, the Kansas Smitty's House Band are eight of the capital's finest young musicians who are revolutionizing the way the public enjoys jazz music.
Driven by a plethora of styles and disciplines, combined with a need to free their art from the constraints of many of London's live music venues, the band pioneered performances in everything from underground tunnels to East-end warehouses. In the year that this album was recorded and while maintaining an active performance schedule (including Ronnie Scott's and Wilderness Festival), the band opened its own bar in the heart of East London's Broadway Market. This album is a glimpse into a burgeoning musical movement, united by the    's unpretentious portrayal of jazz music across its full spectrum.
Their debut album is an expertly crafted blend of Kansas City jazz, New Orleans funk, trad and swing, with a touch of improv. It is a dynamic body of work that seamlessly fuses these genres, staying true to the original spirit of their influences, but adding a unique take that could only be created by each individual bringing their particular skills and passions to the table. 'Kansas Smitty's' is a refreshing new offering for the jazz community, adding an innovative perspective to big band and swing music, distinctly modernising this sound for a 21st century audience.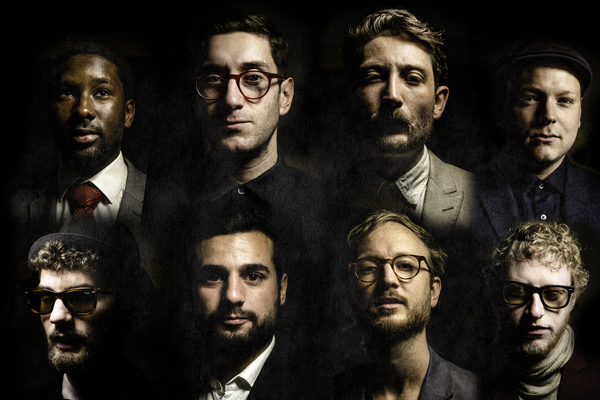 The album was recorded on analogue equipment, direct to tape in one take, which has created an organic live sound filled with subtle nuances. The overall vibe that has been created on the album captures the enigmatic nature of the band's live shows. Like the great studios of the 60's and 70's, Smitty's are aiming to create timeless music through the care and effort taken with their recording techniques.
The Kansas Smitty's House Band have created a name for themselves in underground circles, regularly performing live at their own bar and across the capital, along with a whole host of special guests. They are leaders of a new generation of jazz musicians helping to redefine traditions, introducing their take on jazz to a swathe of discerning music lovers, as well as providing seasoned experts with something new.
In support of the Kansas Smitty's House Band's debut album, The band will be playing a series of concerts at London's best basement bars.
Oct 6  – THE NIGHT JAR
Oct 13 – BASEMENT SATE
Oct 20  – B&H BUILDINGS CLUB ROOM
Nov 3 – EL CAMION
Nov 10 – B&H BAR
Nov 24 – THE ORIOLE
The Kansas Smitty's House Band Are:
Pete Horsfall (trumpet, vocals) Giacomo Smith (alto sax, clarinet) Ruben Fox (tenor sax) Theon Cross (tuba, trombone) Dave Archer (guitar) Joe Webb (piano), Ferg Ireland (bass), Pedro Segundo (drums)
Last modified: July 15, 2018